Curio-ddities: A Curious Collection of Art and Items, Both Weird and Wonderful
Henning Cultural Center
923 South Ruth Street

Sulphur, LA 70663
Presented By:

Henning Cultural Center

Dates:

March 29, 2021 - May 7, 2021

Recurrence:

Recurring weekly on Monday, Tuesday, Wednesday, Thursday, Friday

Location:

Henning Cultural Center

Time:

M-F 10am -12pm & 1-5, Sat 10am - 2pm

Admission:

Free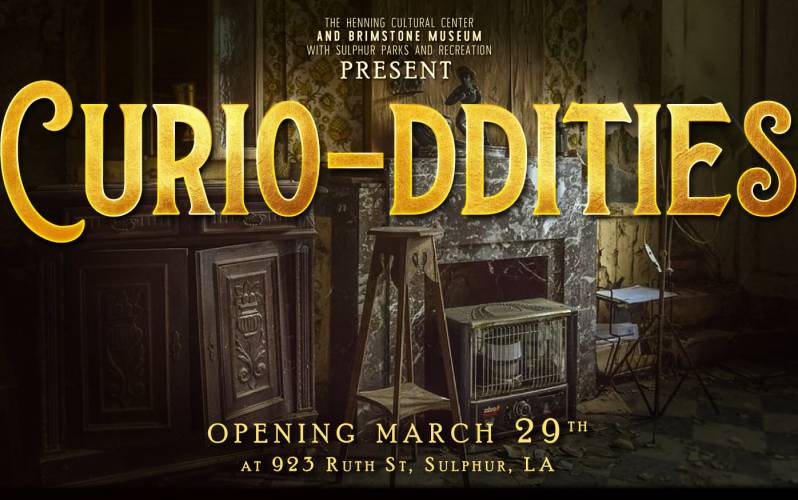 A gallery show about the treasures we keep...
Want to submit artwork or items for this show? DM us about entries today! The drop-off deadline for artwork and items is Saturday, March 20th.
This show will open on Monday, March 29th and will be on display through May 8th.
M-F 10am -12pm & 1-5
Sat 10am - 2pm
We are looking for interesting objects, exotic furniture, weird and wonderful art, and anything that evokes a sense of wonder or history. Submissions do not have to fit a specific form to be considered. In addition to paintings and other art, we are looking for unique knick-knacks, family heirlooms, old portraits, artisan objects, things that have a story or history, and much more. Whatever you think might suit this show, you're probably right! Please don't hesitate to ask!
Our gallery does not charge an entry fee. Submissions may be placed up for sale in the show, at the owner's discretion, and no gallery fee for sales will be collected. All proceeds are directed towards the owner/artist.
Please contact us through our Facebook page for more questions, or call during our business hours.
The Henning Cultural Center is located at
923 Ruth St., in Sulphur, LA
Admission is always free.