Gallery Promenade
Downtown Lake Charles & Various Locations
809 Kirby Street, Suite 202

Lake Charles, LA 70601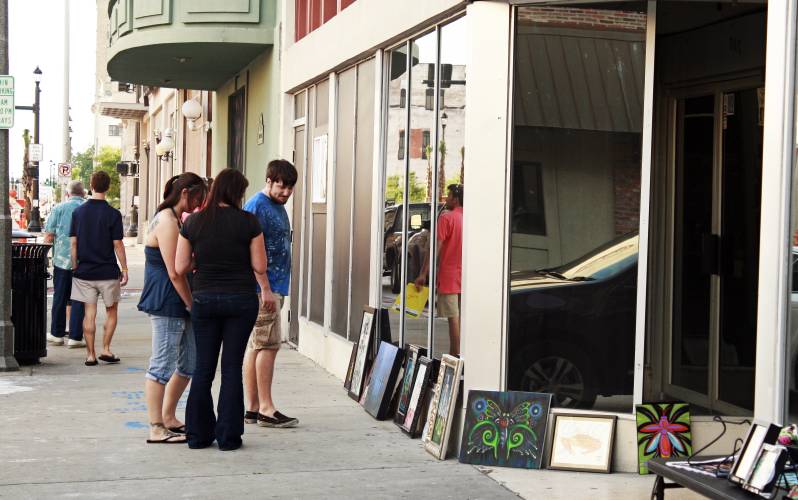 This driving tour features a diverse group of homegrown artworks on display throughout the Lake Area, and celebrates the art spaces, galleries, and museums that work year-round to provide cultural resources, exhibits, and opportunities for both artists and residents.

For one evening, participating art spaces will open their doors to showcase current and one-night-only exhibits, performances, live music, and culinary delights.

Venue application and full list of exhibits and venues will be available at www.artscouncilswla.org.

For details, call the Arts Council of SWLA at (337) 439-2787.
Example of 2018 Participants. New List Coming Soon.
1) 

Art Associates Gallery

 

@ Central School


(809 Kirby St., Suite 208)
"Art Associates Gallery Celebrates 20 years," an evening of art, music, champagne, and more.

Exhibited works by Rex Alexander, Heather Arsement, Kathy Colpitts, Meghan Fleming, Charlene Kaough, Heather Kelley, Lisa Reinauer, Larry Schuh, Frank Thompson, Lyd Walls, & Sue Zimmerman

Live music by: Justin Martindale

2) 

Berdon-Campbell Building 

(619 Ryan St.)

Morgan Allain (The Inkling Girl), Daneisha Davis (Pixel & Ink Creative)
Live music by: James Guillbeaux
3) 

Cajun Gypsy Corner Market 

(729 Ryan St.)
Amy DeLand (A DeLand Art)

Live music

4) 

The Frame House Gallery


(1640 Ryan St.)
Featured artist: Jamar Simien

Additional works by: Nancy Melton, Isa Coleman, Susan Hebert, Rhea Gary, & Fred Hannie

Music by: Caroline Lawrence, violinist

5) 

Historic City Hall


(1001 Ryan St.)
1st Floor– Artisan's Gallery; featuring 24 local artists

2nd Floor- Fluctuations: An Installation of Handmade Paper by Meghan Fleming

3rd Floor- Bulber Youth Orchestra Concert & Silent Auction; selections including Hoe Down, a Pirates of the Caribbean medley, and an arrangement of Come Thou Fount of Every Blessing

6) 

Grand Gallery

, 

Shearman Fine Arts, McNeese State University


(4205 Ryan St.)
Annual Faculty Exhibition featuring works by Lisa Reinauer, Ken Baskin, Cynthia Howes-Baskin, Meghan Fleming, Lydia Powers, Samantha VanDeman, Jacob Dugas, Heather Ryan Kelley, Lynn Reynolds, Larry Schuh, Lisa Reinauer, Tom Galmarini, and Robbie Austin, whose work will be displayed in the Abercrombie Gallery
7) 

Grand Gallery Mezzanine

, 

Shearman Fine Arts, McNeese State University


(4205 Ryan St.)
Student Art Association Exhibit
8) 

Standard Mortgage Association

(949 Ryan St. Suite 110)

Jeremy Price will present the options for his next mural. Vote on which is your favorite and have part in choosing the newest artwork to grace the scenes of Lake Charles!
9) 

Crying Eagle

(1165 E. McNeese St.)

Parris Duhon and Billie Scalisi

Live music by: Corey Sellars

10) 

Calcasieu Parish Public Library

(301 W. Claude St.)

Live 3D printing and painting by Jacob Hughes
Live digital drawing by Chyenne Bertrand
11) 

Empire of the Seed

(844 Ryan St.)

ZydePokes Band and MSU Student Art Exhibit
12) 

The Art Factory

(1753 Common St.)

Community Art Exhibition featuring Tracy LeMieux, Kyrie Berezyk, Cory Duplechain, Kip Tete, Nanci Charpentier, Louis DeAngelo, Elizabeth Guinn, Jillyan Bevelaqua, and over 50 others from the community
Summer Art Exhibit featuring the work of children who attended the Summer Art Experience
13) Central School 1st Floor

(809 Kirby St.)

CF Warriors by Brookin Alexander
14) 

Blue Dog Café

(609 Ryan St.)

Alana Tezeno, Dwayne Derouen (D Paul Fine Art) & Mary Williams (Vibrance Jewelry)
15) 

ALA Gallery by the Lake

(106 W. Pryce Street)

In Love with Horses and Soft Pastels by Sheila Babineaux
Our Feathered Friends; member show
Watercolor students of Sue Zimmerman (in the Creative Arts Center)
16) 

Pujo Street Café

(901 Ryan St.)

Ben Von Duke and Fred Hannie
Additional works by: Kevin Leveque, Julie Goth, Jamar Simien, Evan Johnson, Lyd Walls, Jody Brierty, Candice Alexander, Greta Painter, Katherine Petty, Jonathan Nutt, & Chloe Luna