Jen Van Putten: Laughing in the Dark
Imperial Calcasieu Museum
204 W. Sallier Street

Lake Charles, LA 70601
Dates:

January 16, 2020 - February 29, 2020

Recurrence:

Recurring weekly on Tuesday, Wednesday, Thursday, Friday, Saturday

Location:

Imperial Calcasieu Museum

Time:

Tuesday-Friday 10 AM to 5 PM; Saturday 10 AM - 3 PM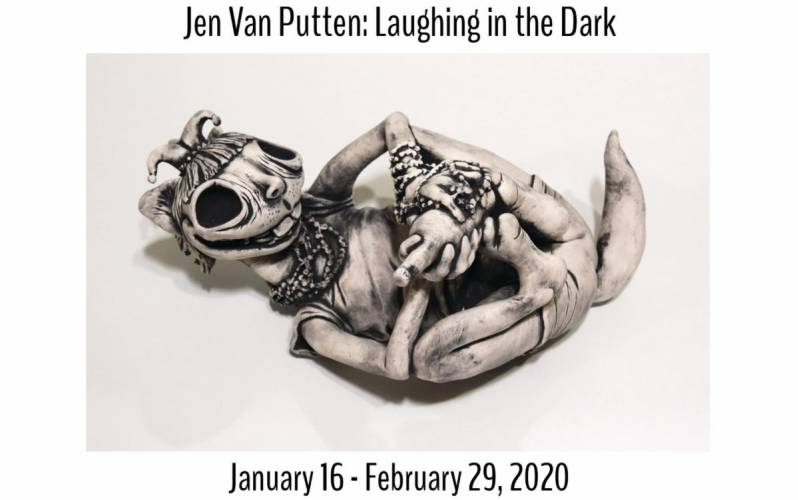 The Imperial Calcasieu Museum will host a public opening reception this Thursday, January 16, 2020 from 6 to 8 P.M.
Please join us to explore this new exhibit. Free to the general public. Light hors d'oeuvres and refreshments will be served. This exhibit will feature new ceramic works, drawings and paintings by local artist Jen Van Putten. The artist will be in attendance to speak about her works. The exhibit will be on display through Saturday, February 29th.
Being born of an artist, Jen Van Putten had the opportunity to work with various mediums including oil and chalk pastels, macramé, acrylic paints, and modeling clay, since she was a child. Jen was born in Morristown, New Jersey on Jan 30, 1989, but grew up in Lake Charles, Louisiana for the majority of her life. She grew up with two brothers experiencing the nature of the southern environment in a thriving child-ridden neighborhood whilst being raised by two vastly different New Yorkers.
Jen received a Bachelor of Fine Arts with a concentration in ceramics in 2012 from The University of Louisiana at Lafayette under the guidance of John Gargano. In May of 2019, she received her Associate of Applied Science in Dental Hygiene from Lamar Institute of Technology in Beaumont, Texas and is currently working at a local dental office providing education on oral health as a registered dental hygienist.