Krewe of Krewes Mardi Gras Parade
The dates for this event have passed. Please check back again for new dates.
Downtown/Midtown Lake Charles
Ryan Street (See route in details)

Lake Charles, LA 70601
Dates:

February 25, 2020

Location:

Downtown/Midtown Lake Charles

Time:

5:00 PM

Admission:

Free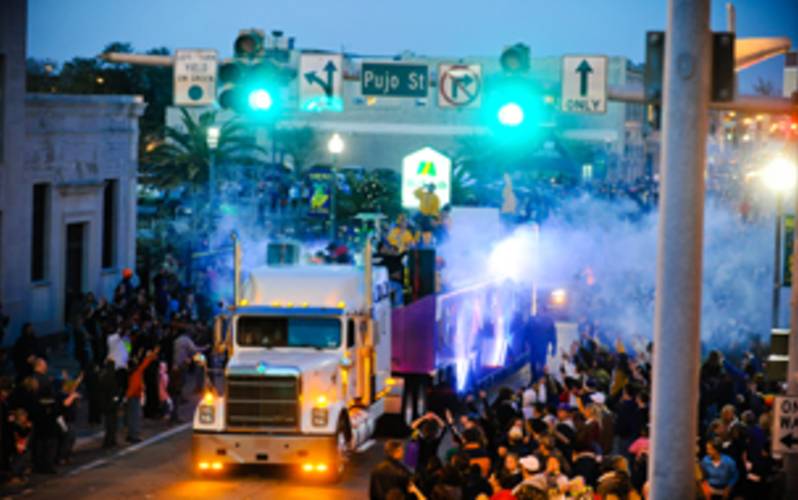 Get your purple, green and gold – it's time to be a little bit gaudy! The Mardi Gras season builds to this moment with the Krewe of Krewes Parade winding through four miles of Lake Charles tossing thousands of beads, cups, doubloons, and other fun items to cheering crowds. The atmosphere is nothing short of electric. It is the norm for individuals to line Ryan Street in Lake Charles the morning of the parade to claim their spot and tailgate with friends all day.
Over 60 krewes participate on floats of varying sizes blasting music and creating a fun party atmosphere. All you have to do to enjoy yourself if hold up your hands and yell "Throw me somethin' mister!"
Downtown-Midtown Lake Charles - parade rolls at 5 p.m. More than 100 elaborate krewe floats, costumes, beads and more wind through the city in the culmination of the Fat Tuesday celebration.
Parade Route:
Will begin at the north end of Bord du Lac Drive, cross over Lakeshore Drive onto West Mill Street, turn right onto Ryan Street and continue south on Ryan to Sale Road where the parades will end.