Lake Area Ballet Theatre Spring Gala
Tritico Theatre/McNeese State University
4205 Ryan St.

Lake Charles, LA 70605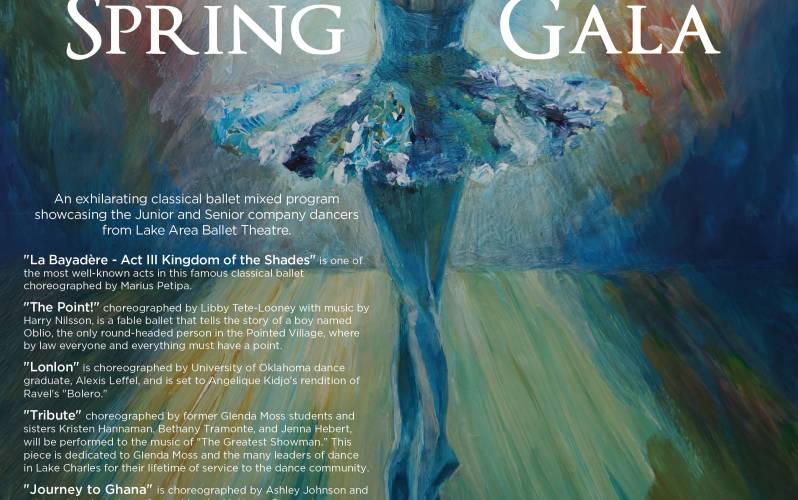 Spring Gala 2020 will be held 7:00 pm Fri. March 27th and 2:00 pm Sat. March 28th at the Tritico Theatre at McNeese. This mixed repertoire is performed by the over 50 LABT Jr. and Sr. company members and features the company's versatility.

"La Bayadere - Kingdom of the Shades" is one of the most famous ballets by Marius Petipa. Set in legendary India, La Bayadère tells the story of the doomed love between the noble warrior, Solor, and the beautiful temple dancer, Nikiya. Audience members can look forward to its famous entrance of ACT III.

One of the four new pieces to be showcased includes "The Point" choreographed by Libby Tete-Looney with music by Harry Nilsson. The music was commissioned as the soundtrack to an ABC television special in 1971 with a voiceover narration by Dustin Hoffman. The Point! is a fable of a boy named Oblio, the only round-headed person in the Pointed Village, where by law everyone and everything must have a point. This new work is a celebration of diversity and acceptance.

"Lonlon" is choreographed by University of Oklahoma dance graduate, Alexis Leffel, and is set to "Bolero" by Ravel. "Tribute", choreographed by former Glenda Moss students and sisters Kristen Hannaman, Bethany Tramonte and Jenna Hebert, will be performed to the music of "The Greatest Showman" and is dedicated to three iconic dance figures in the lake area: Mrs. Ida Winter Clarke, Mrs. Lady Leah Hathaway and Miss Glenda Moss for their lifetime of service to the dance community.

"Passports 4" is choreographed by Ashley Johnson and set to original music performed by the McNeese Percussion Ensemble under the direction of Mr. Brian Nozny in collaboration with Dr. Lonny Benoit. The LABT's "Passports" series began 3 years ago as a way to showcase the university percussion students. Each year the selected music takes audience members on a "vacation" to another part of the world.

For more information about the Lake Area Ballet Theatre's 2019 - 2020, please visit www.lakeareaballettheatre.com.