Lake Charles Mardi Gras Twelfth Night
The dates for this event have passed. Please check back again for new dates.
Lake Charles Civic Center (Convention/Entertainment Center)
900 Lakeshore Drive

Lake Charles, LA 70601
Dates:

January 4, 2020

Time:

7:00 PM

Admission:

$7 in advance, $8 at the door. (Children under 5 are Free)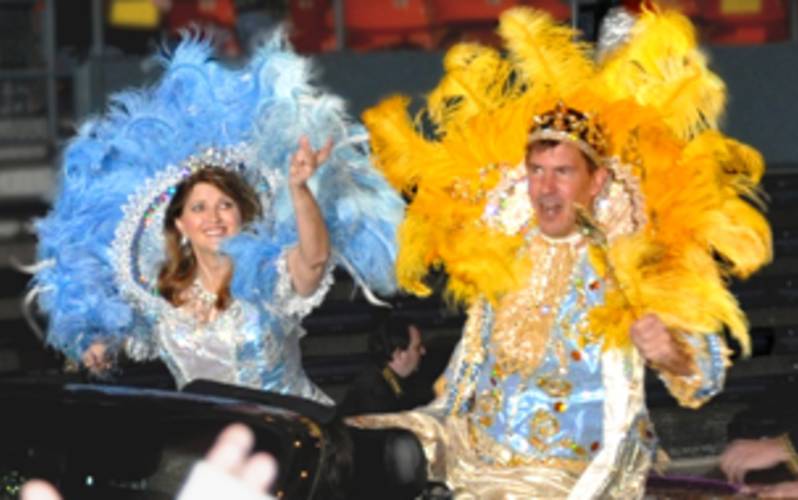 Mardi Gras makes its flamboyant entrance with the Twelfth Night Parade Extravaganza inside the Lake Charles Civic Center Coliseum. There will be a lively, mini-parade featuring members of Krewe of Krewes under the direction of Mardi Gras of Southwest Louisiana. Doors open at 6:00 p.m. and the event begins at 7:00 p.m.
The audience has a chance to win grand prizes, dance and hail the kings and queens of more than 60 krewes. Guests in the Twelfth Night audience, who find "babies" in their pieces of King Cake, win lavish grand prizes which will include prizes from local merchants and businesses of Southwest Louisiana. Tickets are $7 in advance or $8 at the door. Children 5 and under are admitted free.

Twelfth Night-twelve days after Christmas-is the legendary beginning of the Mardi Gras season prior to Lent. Following tradition, Mardi Gras royalty of last year waves their symbolic good-byes to the thousands who turn out to see the grand fanfare of costumes and to greet the new season. Many of the fabulous costumes will take their places in the Mardi Gras Museum of Imperial Calcasieu.
The Southwest Louisiana version of Carnival is unique with its family-oriented mambo and Zydeco, glittering costumes, rollicking parades, spicy gumbo, Cajun cuisine, and genuine Louisiana music and dancing, attracting half a million guests each year. The Lake Charles Twelfth Night is exceptional because it presents the extravagant costumes of more than 60 private krewes to the general public.
Twelfth Night is sponsored by Mardi Gras of Southwest Louisiana, Inc., a non-profit organization that promotes more than 20 family-friendly events.