Memorial Day Avenue of Flags 🔴⚪🔵
Orange Grove/Graceland Cemetery
Broad Street

Lake Charles, LA 70601
Dates:

May 31, 2021

Location:

Orange Grove/Graceland Cemetery

Time:

7:00 AM to 4:00 PM

Admission:

Free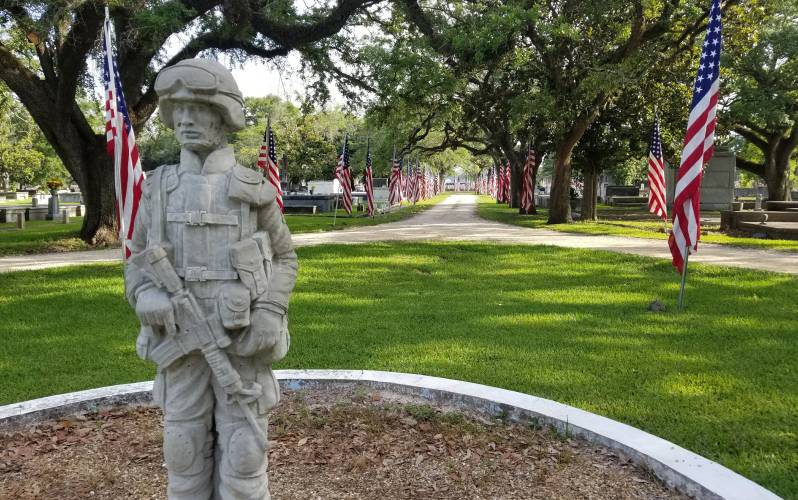 Updated 4/6/21
See patriotic spirit in all its glory at the Orange Grove/Graceland Cemetery. Casket Flags line the drive through the cemetery in honor of fallen men and women. These flags were donated just for this day and special memoriam. The flags will be on display from 7 a.m. - 4 p.m. on Memorial Day. In addition to the memorial flags, the Avenue of Flags also features a history circle where replicas of eight previous United States flags are flown. The memorial flags measure 5 ft. by 9 1/2 ft., and are generally too large for proper display at home.
The flags are displayed two times a year on Memorial and Veteran's Day.
*In cases of inclement weather, flags will not be displayed.
**Volunteers will be needed to start putting up the flags at 6:00 a.m. and retire them at 5:00 p.m. We always need as many volunteers as we can get to help raise over 1080 memorial flags. It only takes one volunteer hour in the morning and two volunteer hours in the afternoon. To volunteer contact Chancie Stanley at 337-436-8940 or email: chancie.stanley@nm.com