Obama: An Intimate Portrait
1911 Historic City Hall Arts & Cultural Center
1001 Ryan Street

Lake Charles, LA 70601
Presented By:

1911 Historic City Hall

Dates:

June 12, 2021 - July 31, 2021

Recurrence:

Recurring weekly on Tuesday, Wednesday, Thursday, Friday, Saturday

Time:

10:00 AM to 6:00 PM

Admission:

Free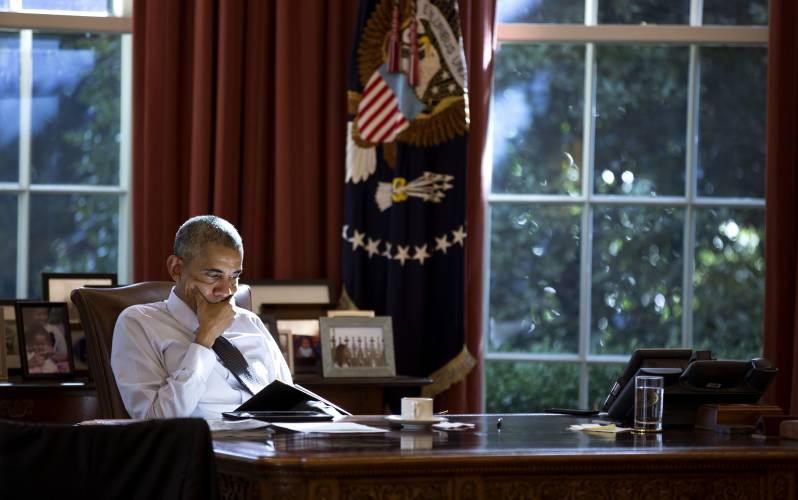 Black Heritage Gallery opens with "Obama: An Intimate Portrait," a collection of photographs of Barack Obama's presidency taken by Chief Official White House photographer Pete Souza. Souza is famous for first photographing former President Ronald Reagan.

The exhibition features 50 photographs that were personally chosen by Pete Souza, and his photographs put viewers in Obama's daily life according to Souza. "Starting on Inauguration Day, January 20, 2009, I was determined to create the best photographic archive of a President that had ever been done. That meant I needed to always be around. Every day."

This exhibit will be on view through Saturday, July 31. It is presented by Black Heritage Gallery with support from the Community Foundation of Southwest Louisiana and the Lake Charles Chapter of Southern University Alumni Federation. The exhibition was organized by art2art Circulating Exhibitions.
Historic City Hall is resuming its normal business hours, Tuesday through Saturday, 10 a.m. to 6 p.m. Admission is free. Charlestown Farmers' Market is open on Bilbo Street behind the center every Saturday 8 a.m.-noon. For more information, please call 491-9147 or visit www.cityoflakecharles.com.
View Details

1001 Ryan Street, Lake Charles, LA 70601