Red, White, Blue and You! 4th of July Celebration 2020 🎆🔴⚪🔵🎇
Stream Online
Recurrence:

Recurring every July 4th

Location:

Stream Online

Time:

7:15 PM

Admission:

Free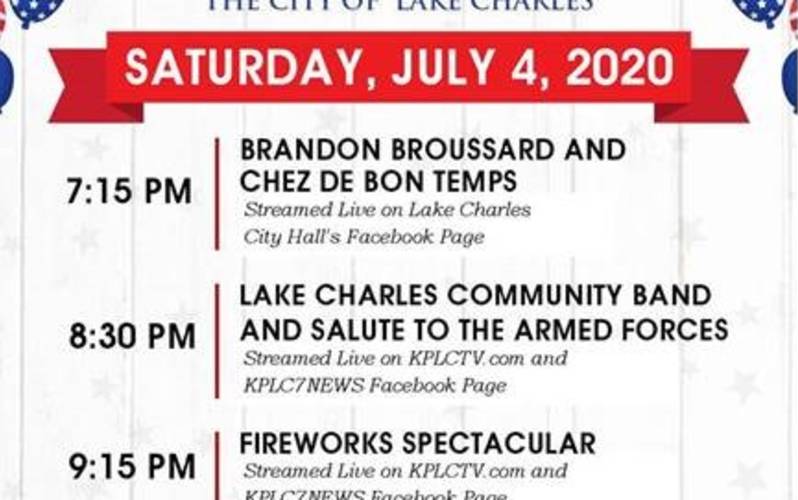 The City of Lake Charles invites everyone to celebrate Red, White, Blue and You - virtually! The concerts will be live-streamed on Facebook and on KPLC's Channel 7. Brandon Broussard and Chez de Bon Temps will play from Historic City Hall from 7:15 - 8:15 p.m. The Lake Charles Community Band will put on a patriotic concert and Salute to the Armed Forces featuring a veteran from each branch of service in Central School's Auditorium. The event will be closed to the public, but everyone can view it on KPLC 7 News from 8:30 - 9:15 p.m. The fireworks will not occur over the lakefront this year, but they will be launched at 9:15 p.m. into the night sky and live-streamed by KPLC at 9:15 p.m. *I-10 North Beach will be closed beginning Wednesday, July 1, 2020.
The City of Lake Charles will also host a drive-through flag giveaway on July 4 at Historic City Hall, 1001 Ryan Street. Volunteers will be passing out hand-held American flags, along with a children's prize, to each car from 1 to 6 p.m. Participants will be asked to post their family's photo with the flags to social media with the hashtag #redwhiteblueandyou in support of past and present men and women in uniform. The drive-through will also serve as an American flag depository for old or worn-out American Flags that are no longer a fitting emblem of display, which will be properly retired with the respect and gravity that it is entitled. 
"Red White Blue & You" t-shirts will be for sale in the drive-through for $5 at Historic City Hall. This year's logo was designed by Sowela Technical Community College student John Latham.
"Red White Blue & You" is presented by the City of Lake Charles, Coca-Cola, Entergy, KPLC 7 News, and the Lake Charles/SWLA Convention and Visitors Bureau. Additional support is provided by American Press, Billy Navarre Auto Group, DW Jessen & Associates, KBYS, Phillips 66, Pumpelly Oil Co., and Turner Industries.