Southwest Louisiana Hot Air Balloon Festival and Beerfest 2019
Chennault International Airport
3650 Senator J. Bennett Johnston Ave

Lake Charles, LA 70615
Dates:

July 19, 2019 - July 20, 2019

Recurrence:

Recurring daily

Location:

Chennault International Airport

Time:

See descriptions for details

Price:

See description for details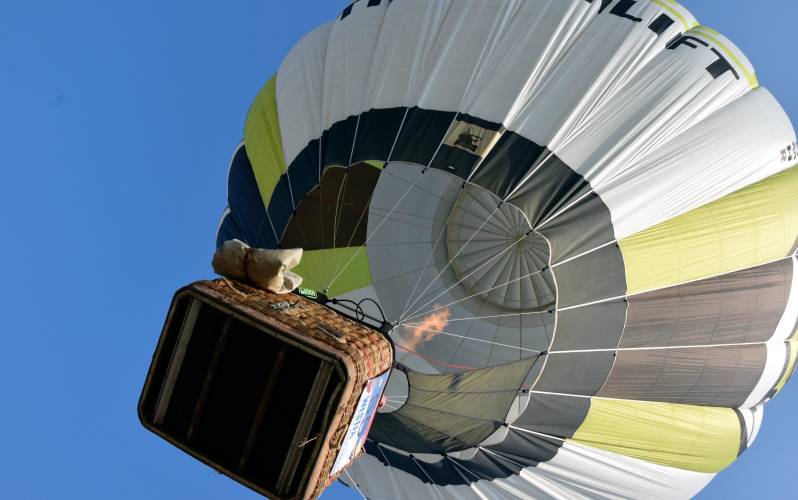 The festival is inviting everyone to be a part of the official kick-off news conference presented by SpringHill Suites. The news conference will be located at 1551 W Prien Lake Rd. starting at 9 a.m. on Friday, July 19. SpringHill Suites is the official hotel of the SWLA Hot Air Balloon Festival.
Southwest Louisiana Hot Air Balloon Festival will kick-off festivities on July 19th and go through July 20th. Each day will bring you a different experience; it will feature a balloon glow and fireworks display each night at 8:30 pm, a barbecue competition, and a beer festival on Saturday.
Schedule:
Friday is Faith and Family Night (Alcohol-Freel Free)

3:00 pm - Gates open for VIP/youth group church groups

5:30 pm - General Admission gates open

Worship Groups/Artists

Main Stage

Chasing Lions- 5:30 pm

Trinity Baptist Church- 6:30 pm

Lacey Sturm (Flyleaf)- 7:45 pm

Jeremy Camp- 9:10 pm

Second Stage

No Supervision (Dance Team)- 6:00 pm
Church of the King- 6:30 pm
Movie Night Showing of "Up"- 9:10 pm

8:45 pm - Balloon Glow

9:00 pm - Fireworks

Saturday is the Sanctioned Barbecue, Beer, and Balloons

Noon- Festival Gates Open

3:00-7:00 pm - Beerfest and Tastings (requires a Beerfest or VIP Pass)

Local Artists Concert

 Main Stage

Louisiana Express- 4:30 pm

Rayo Brothers- 5:45 pm

The Rougaroux- 7:00 pm

Dustin Sonnier- 9:10 pm

The Molly Ringwalds- 10:30 pm

Second Stage

Dance Team- 5:00 pm
The La-Di-Das- 5:20 pm
Gimmie the Key- 6:20 pm
Rosedown Rockers- 7:30 pm
Movie Night Showing of "Up"- 9:10 pm

8:45 pm - Balloon Glow
9:00 pm - Fireworks
Accommodations
SpringHill Suites and Residence Inn are offering promotional discounts on rooms for out-of-town guests who use the promotional code "hotair19"
Tickets:
General Admission

: Free tickets. These tickets are provided complimentary by our participating sponsors. These are available only while supplies last at Cutters Outdoor Power Equipment, Mr. Gatti's Pizza, Maplewood Burgers, and Lake Street Liquor. 

Dispersal rules may vary by location. 

Ticket Discounts

: Market Basket is the exclusive discount ticket location. Visit any courtesy booth at the locations listed HERE to receive $5 off a General Admission Ticket.

General Admission anytime:

  $15 festival entry anytime. Kids 14 and under will be free.

Beer Festival Pass: 

 Receive early entry at 3 pm to festival grounds and experience craft beer at its best. Your pass will allow you to sample over 100 beers. This pass includes a souvenir glass for endless sampling from 3pm-7pm

VIP Pass:

  A true VIP experience! You get early entry to the festival, a t-shirt, a souvenir glass, unlimited beer sampling, access to VIP air-conditioned tent, access to air-conditioned restrooms, special seating for concerts, VIP Parking, and a group meet and greet with the artists.
Tickets can be purchased online here.
FAQs
What forms of payment will be accepted at the festival?
- Credit Cards Only will be accepted at all admissions booths for day of ticket sales. Cash only will be accepted for tethered balloon rides. Food Trucks and Craft Vendors accepted forms of payment may vary. ATM's will be available on site.
Can I bring my pet?
- No pets will be allowed inside the festival gates.
Can I bring in a cooler?
- No outside food or beverage will be allowed inside the festival gates.
Is smoking allowed?
- Smoking will not be allowed inside the festival gates.
I purchased my ticket online but have the printout, now what?
- No problem! Check your email for the bar code sent to you after purchase. This can be scanned from your email at the festival gates.
Will the balloons be in the air all day?
- Balloons will only be in the air during the balloon glow where they will rise slightly in the air while igniting the gas to fill the balloons. Tethered rides will be floating up and down throughout the day for purchased riders.
What if it rains?
- The SWLA Hot Air Balloon Festival is a rain or shine event meaning entertainment, food and event festivities will continue as long as the weather permits. No refunds will be given in the event of weather complications. Tickets do not expire and may be used for next years event. Management reserves all rights.
Will there be an RV area on-site?
There will not an RV area on-site at the Airport. Please feel free to visit local RV Grounds if interested in camping in the Lake Charles area during the festival weekend.
Do any hotels in the area offer rates?
- Yes! Visit our lodging tab for links to local hotels and exclusive room rates!
How many people can go on the tethered ride at one time?
- Tethered rides will be for four to eight riders and could vary due to weight and pilots discretion.
Tickets can be purchased online here.