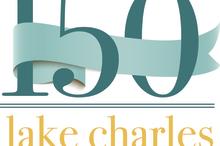 Time Capsule Opening: 3:00 p.m.
Parade: 4:30 p.m.
Family Concert: 5:30 p.m.
Background:
During the City of Lake Charles Centennial Celebration, Mayor James Sudduth buried a time capsule at what is now 1911 Historic City Hall. When the capsule was buried, instructions were left to open it at the City's Sesquicentennial Celebration in 2017.
Items sealed in the capsule include: Centennial edition of the Lake Charles American Press, McNeese State College Log roster of the Newcomer's Club, Centennial Program book, Centennial Parade picture story, Centennial coins and souvenirs, prayer book from Temple Sinai, complete sound recording of Centennial events and a tape recorded message to the Governor in 2017 from Gov. John McKeithen. There's also tape recorded messages from Mayor James Sudduth, Police Chief J.E. Pete Stout, State Representatives Mike Hogan, A.J. (Tubby) Lyons and Harry Hollins, State Senator Jesse Knowles and a few others.