Veteran's Day Avenue of Flags
The dates for this event have passed. Please check back again for new dates.
Orange Grove/Graceland Cemetery
Broad Street

Lake Charles, LA 70601
Dates:

November 11, 2020

Location:

Orange Grove/Graceland Cemetery

Time:

7:00 AM to 4:00 PM

Admission:

Free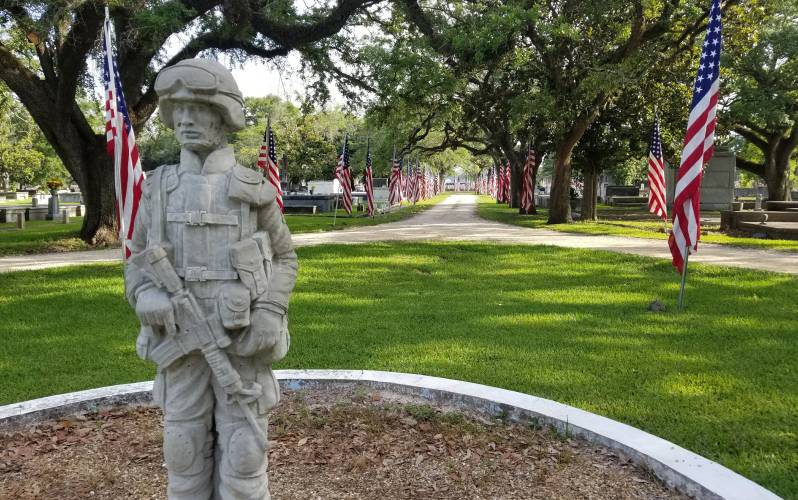 See patriotic spirit in all its glory at the Orange Grove/Graceland Cemetery. Casket Flags line the drive through the cemetery in honor of fallen men and women. These flags were donated just for this day and special memoriam. The flags will be on display from 7 a.m. - 4 p.m. on Veteran's Day. In addition to the memorial flags, the Avenue of Flags also features a history circle where replicas of eight previous United States flags are flown. The memorial flags measure 5 ft. by 9 1/2 ft., and are generally too large for proper display at home.
*In cases of inclement weather, flags will not be displayed.
Info for November 2020
More than 1,000 flags will be flying on Veterans Day for the Avenue of Flags Display, 7 a.m.-4 p.m. Wednesday at Orange Grove Graceland Cemetery, 2023 Broad St.
Ted Harless, event director, said the upcoming display is special because it's the first one since Veterans Day 2019. This year's Memorial Day display, set for May 25, was rescheduled because of COVID-19. The cemetery was also damaged by Hurricanes Laura and Delta.
"We're going to show our patriotism, respect and thanks to all the veterans in the Lake Area," Harless said. "The area needs a boost, and when you put the flags up, it gives pride to everybody. We appreciate our freedom; that's another reason we respectfully fly the flag."
Harless said the display is made up of casket flags that are donated by the families of veterans. Roughly 50 new flags are donated each year, he said.
"That's what makes it so special," Harless said. "We're still getting flags from World War II that have 48 stars."
Harless said Orange Grove Cemetery lost more than 50 large oak trees after Hurricanes Laura and Delta.
"For the last two months, we've been working in the cemetery to clean up the debris," he said. "We hired a tree service for six days to get the trees down and out. You can't imagine the amount of debris."
The exhibit suffered a setback in January 2019, when two trailers containing more than 1,000 flagpoles were stolen. Harless said Southside Machine Works has since replaced the flagpoles, with the Southwest Louisiana Convention and Visitors Bureau supplying three new trailers.
At least 200 volunteers are needed to help set up the flags, Harless said. Those interested in volunteering should arrive at the cemetery by 6 a.m. Wednesday. He said another 200 volunteers will be needed to take down the flags and fold them after the display closes.
Harless said each Avenue of Flags display attracts roughly 500 visitors. Some past displays have brought in as many as 1,000 visitors.
Because of COVID-19, Harless encourages spectators to stay in their cars while viewing the exhibit. The exhibit is open to walking and bicycle tours.
'The area needs a boost, and when you put up the flags up, it gives pride to everybody.'
Ted Harless
Avenue of Flags director