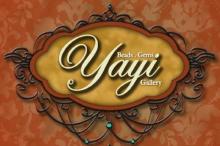 This is a great class for those looking to take that next step in jewelry making – whether you are currently a jewelry maker looking for new techniques, or simply a lover of jewelry! Gain confidence with a small butane torch which opens up multiple possibilities in the jewelry world. This class will cover torch safety and techniques as well as tips and hints from the instructor that she has learned from years of creating silver jewelry. Students will learn how to solder sterling silver jump rings closed and make ear wires. You will take home a beautiful pair of Sterling Silver earrings to show to all your family and friends.
Although the class includes access to instructor's tools & soldering materials (soldering block, flux, sand paper etc.), please feel free to bring your own tools such as flat chain nose or round nose pliers and cutters. Should you already have your own butane torch etc. feel free to bring that with you so you will be using things that are familiar to you . If not, no worries as we will have extra torches and tools on hand for you to use or purchase from Yayi.
Students should bring a work apron, a small notebook and pen, and reading glasses if extra magnification is needed.
Supply List: See List Below
Kit Fee/Supply List: Purchased from Yayi Beads
            2 each 10mm sterling silver jump rings
            1 each 5 or 6 mm sterling silver jump rings
            10 inches of 18g sterling silver wire
            Soldering pick
            Tweezers  and soldering block
Skill Level: All.
Note: Due to the length in some classes feel free to bring a snack or sack lunch as we will take a short break during the class.