NEW BALANCE
FUTURE STARS SERIES
Lake Charles & Sulphur, LA

The New Balance Futures Stars Series (NBFSS) National Championships and Combines kick off Tuesday, June 29th with weeks of high-caliber competitive baseball tournaments featuring the top amateur baseball players from across the country. The prestigious high school baseball tournaments will call Southwest Louisiana home for the next three years.
With some of the top talent in the country on display, college coaches and professional scouts from around the country will be in Southwest Louisiana to see these young men perform. 
For additional details on the tournament, log on to www.futurestarsseries.com or follow #MakeYourName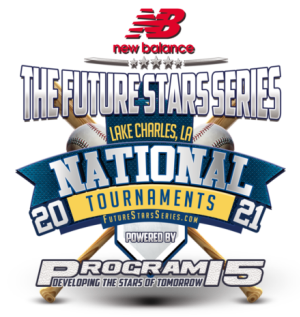 Schedule:
The series will utilize fields at McMurry Park, Westlake High School, Sam Houston High School, Barbe High School, and McNeese State University. For more information visit, www.futurestarsseries.com.
Class of 2022: June 29 – July 4
Class of 2023: June 29 – July 4
Class of 2024: July 6 – 11
Class of 2025: July 16 – 20
College Pre-Draft Combine: June 30 – July 1
High School Pre-Draft Combine: July 2 – 3
National Combine: July 19 – 22
Underclass Combine: August 2– 5
🎥 Watch Live on