Mallard Cove Golf Course - Temporarily Closed
Lake Charles
4300 Mallard Cove St

Lake Charles, LA 70615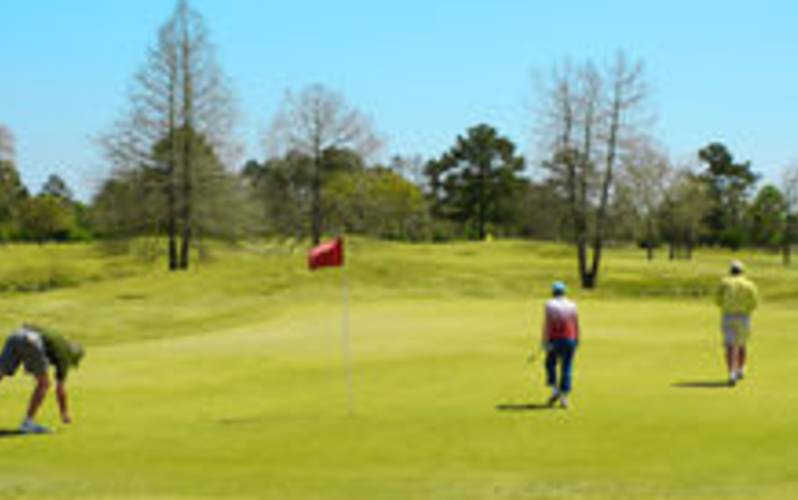 [Updatef 05.04.2020]:
MALLARD COVE GOLF COURSE RE-OPENING GUIDELINES
Mallard Cove Golf Course will be re-opening to the public on Monday, May 4, 2020, with the following guidelines in place. Social distancing will be practiced at all times.
Tee Time Reservations:
Call ins to the Pro Shop will be the most effective procedure to follow: (337-491-1204)
Tee Times will be in 10 minutes increments to encourage additional spacing
Reservations can be made up to 2 days in advance
Pro Shop Check in:
Credit cards will be the only form of payment until further notice
Only 4 or less golfers will be allowed in the pro shop at any one time
Social distancing with a minimum of 6 feet spacing will be enforced by utilizing designated marked areas
Customers will enter the Club house from the north door entrance (near stair well) to enter pro shop and will exit to patio area to retrieve golf cart.

All other access points will be locked and unavailable

Golf Cart Usage: Each group will be limited to a maximum of 4 golf carts per group (one rider per cart).
Walking is encouraged
Golf club rentals will be unavailable until further notice
Club House info:
Seating in the club house or on the patio will not be available at this time
Touch points throughout the club house and golf course will be kept to a minimum; All touch points, including but not limited to, counter tops and entrance doors will be sanitized by the staff throughout the day
Golfers will be responsible for removing their own golf clubs, personal items and trash from their carts at the completion of play
Golf carts will be returned promptly to the south side of the club house(near putting green) after each round to ensure use by other golfers
Golf Carts will be cleaned and sanitized by golf course staff after each round
The snack bar will be open for take-out only to allow for the purchase of pre-packaged snacks and canned drinks. The dining area will be closed and credit cards will be the only form of payment accepted. Golfers can order snacks ahead of time for pick up by calling 491-8650.
On Course Information:
Flagsticks are to be left in the hole. Please do not touch flag sticks
Please refrain from handshakes, high fives, etc. while playing and/or in the club house
Golf lessons and tournaments will not be available until further notice
The following will be eliminated around the golf course:

Ball Washers
Bunker Ranks
Sand Bottles will be removed from all of the carts
===
Mallard Cove Golf Course, located on 200 acres, is a championship layout design with Women's, Senior, Medium and Championship tees. The course features 25 large bunkers and water hazards on 12 of the 18 holes. The course rating is 73.0 and the slope is 128. The course includes a driving range, putting green, and media area. The clubhouse is equipped with a fully stocked pro shop, concessions, and lockers and showers for men. Hosts all of Lake Charles' City Championship, including the annual Summer Shoot-Out Series. 
Hours:
Golf Course 7 a.m. – 8 p.m.

Driving Range 7 a.m. – one hour prior to dark.
General

Hours of Operation:

Daily Dawn-dusk; Tues. Close at 4 p.m.

General

Temporarily Closed: