Outdoor Adventures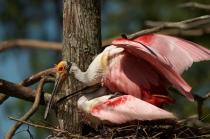 Visit the Creole Nature Trail All-American Road for alligator adventures, airboat tours, shelling on the Gulf beaches or bird watching. Download the free Smartphone app so you'll have a virtual tour guide in your car! Hire a charter guide to take your crew saltwater fishing in the abundant waterways throughout Southwest Louisiana.  www.creolenaturetrail.org ​

 View Creole Nature Trail & Outdoor Itineraries
Sign-up for our E-newsletter
The Game Plan is a great way to stay in touch with interesting stories and events happening in Southwest Louisiana. Get featured videos and interesting stories on a bi-weekly schedule.
Adventure Attraction
Kick off your Creole Nature Trail journey at Creole Nature Trail Adventure Point—a free, fun attraction that immerses you in nature and Louisiana's unique culture. Through imaginative, hands-on displays sure to inspire, you can learn the best places to spot alligators and migrating songbirds, take a peek at wildlife found in bayous and marshes, smell mouthwatering aromas of Cajun/Creole cooking, and "play along" with a Cajun and Zydeco band.
Outdoor Adventures in SWLA | #CreoleNatureTrail