Iowa
Iowa (pronounced eye'-oh-way) beckons travelers from nearby Interstate 10 to stop off and relax awhile. Located just off I-10 and only fifteen minutes from Lake Charles, Iowa, Louisiana is one of the smaller municipalities that make up Calcasieu Parish and also one of the busiest.
Iowa is a town on the grow with some of the highest rated public schools in the parish, a professional police department and volunteer fire department. It has all the conveniences of a big city with the cozy flavor of a small town. While visiting Iowa, Louisiana, take the opportunity to sample some of their famous Acadian Creole cuisine.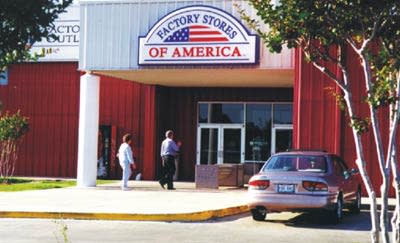 Factory Stores of America in Iowa, Louisiana
Credit: Photo by Jim Dunn
You might like to take some time to enjoy the City Park located behind City Hall at 115 North Thomson Avenue. If you're in the mood for shopping, you'll definitely want to visit the indoor, climate controlled outlet mall; then cruise downtown and see what unique items the Iowa, Louisiana merchants have to offer.
If your visit falls during the third weekend in March, you can enjoy the celebration of the Iowa Rabbit Festival, complete with live Cajun music, delicious authentic foods, carnival rides and much more. Remember, though, if you stop long enough to enjoy the quiet beauty of Iowa, Louisiana, you may soon find yourself living there… and that would be just fine with them!
Click here for more information on Iowa, Louisiana.