Nellie Lutcher Cultural District
A Legacy of Music 🎹 🎙️
The Cultural Districts program was formed in 2007 as a way to encourage community revitalization as well as local economic growth. The program aims to build partnerships between artists, business owners, and local and state government while at the same time creating an incentive for communities by providing state historic preservation tax credits for renovations done to historic structures within the district.
The City of Lake Charles has taken an active role to officially designate the Enterprise Boulevard area as the Nellie Lutcher Memorial Cultural District, which will help redevelop the entire area.  Her legacy and musical talents are making Enterprise Boulevard a destination for music and entertainment.
Born in 1912, Lutcher's family home was located on Enterprise Boulevard, which is the heart of the district.  She was the oldest of 15 children and grew up in a musically inclined family.  She moved to Los Angeles in 1935 and some of her musical hits include "The One I Love Belongs To Somebody Else," "Hurry On Down," "He's a Real Gone Guy," and "Lake Charles Boogie."
Nellie Lutcher Cultural District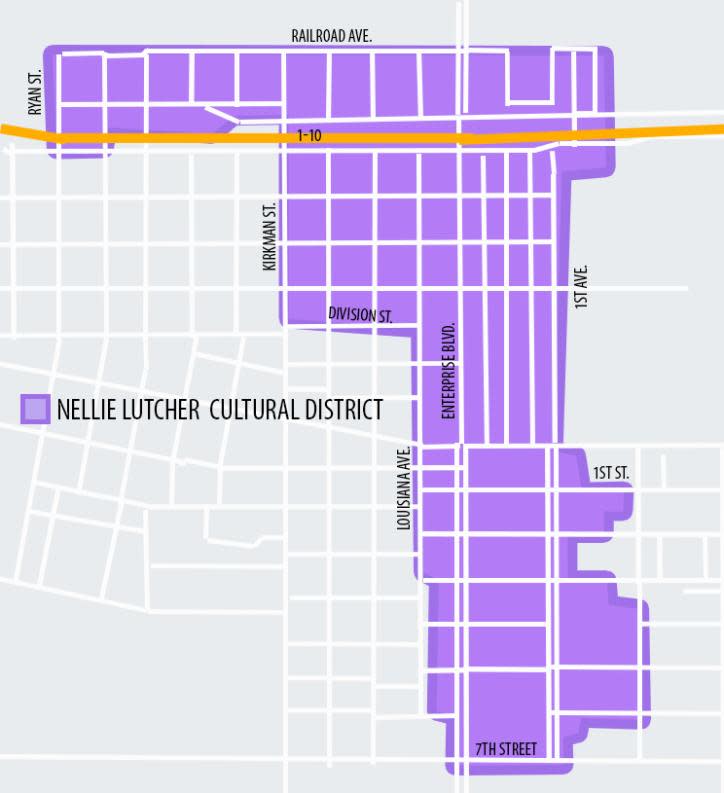 (Click Map to Enlarge)
For more information on the Cultural Districts program, call the Arts and Humanities Council of Southwest Louisiana at (337) 439-2787 or visit www.ArtsandHumanitiesSWLA.org.