Westlake
Westlake, nestled among cypress trees along the Calcasieu River, is a friendly community and an integral part of an ever expanding industrial area that includes a population of over 5,000 people. Westlake, Louisiana features 175 diversified businesses, 5 financial institutions, 18 churches, and 4 schools. Westlake's beautiful lakeside casino and hotels are the areas most popular attractions. Westlake, Louisiana's beautiful parks are another of its assets, featuring facilities for swimming, softball, basketball, boating and fishing.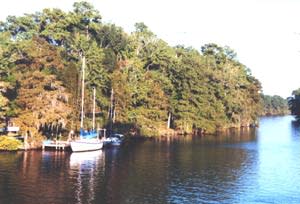 Beautiful Calcasieu River
As a gateway to Sam Houston Jones State Park, the community of Westlake has flourished with amazing dexterity and zeal. Improvements have been taking place rapidly making Westlake, Louisiana an ideal place to live.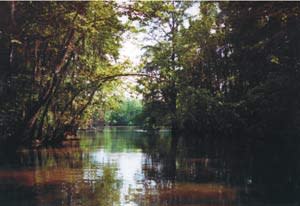 Scenic Calcasieu River
Prior to being known as the lumber and shipbuilding capital in West Calcasieu Parish, Westlake was known as "Rio Hondo" (No Man's Land) to cattle rustlers, pirates and renegades. In the early 1800's settlers came to the area and purchased land. The first official recorded land transaction was made on November 1, 1824 which was the purchase of 640 acres that included part of the area now known as Westlake, Louisiana. A post office was established around 1883, which lead to the eventual establishment of the Westlake area. A few years later the town became known as Westlake, Louisiana. The city was officially incorporated in 1945.
For more information about Westlake, Louisiana visit the Westlake city website.