Creole Nature Trail Itineraries
(Self-guided or a step-on tour guide can be arranged for motorcoach groups)
One of only 43 so designated scenic byways in the USA, and affectionately known as Louisiana's Outback. With a total of 180 miles – you might want to break up the trip. Here are 2 itineraries that will take you along both the east and west sides of the trail. Feeling adventurous? Take on the full driving loop! Let's gas up the car and start road-trippin' Lake Charles-style!
Experience the Louisiana Outback
Creole Nature Trail App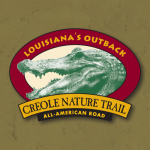 Louisiana's Creole Nature Trail All-American Road is a hands-on opportunity to experience one of America's untamed natural wonders near Lake Charles, LA. Feel inspired and amazed as the Creole Nature Trail All-American Road leads you into the unsurpassed splendor of Louisiana's renowned coastal wetlands, wildlife refuges, and rippling marshes.