Family Fun & Festivals
Reasons you'll love Lake Charles/Southwest Louisiana:
1. We're are extremely family-oriented.
2. There are loads of things to do!
Here are a few things to enjoy while in Lake Charles. *Remember – these are just ideas. Enjoy your visit your way!* 
Click here for Printable Version.
Opt Outside (or Inside)
Start the day with a walk along the wild side with a visit to Creole Nature Trail Adventure Point. Adventure Point brings the outdoors inside with imaginative, hands-on displays sure to inspire your little ones to head out on the Creole Nature Trail All-American Road.
Check out our Outdoor Adventure ideas here.
For more interactive fun for the kiddos, head downtown to Lake Charles' Children's Museum. The three-story Children's Museum is exciting for the entire family! Check out all 8 of our museums here.  
Park Plans
With more than 15 parks in the area – we have plenty of space for everyone to run, play, or just stretch out and relax. We even have special parks for your furry, four-legged family members. Millennium Park is the perfect place to picnic along shimmering Lake Charles.
Tag! You're It
Laser tag that is! Step aboard the USS Orleck Naval Museum for an exhilarating game of laser tag.  
Festival Fun
You're in the Festival Capital of Louisiana! We host more than 75 fairs, festivals and special events each year.  Depending on the time of your visit – you could experience a wide variety of cultural festivals.
Mardi Gras in Lake Charles is family-friendly and super-sized with the second largest Mardi Gras festival outside of New Orleans. Visit www.swlamardigras.com for a full listing of events.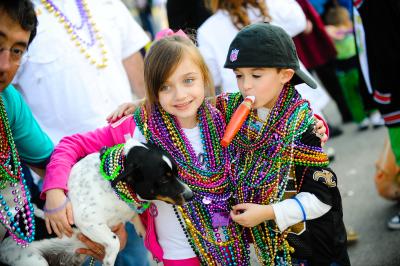 Visiting during the first 2 weeks of May? Watch out for pirates arriving for Louisiana Pirate Festival. Shiver Me Timbers! Don't miss the "storming of the seawall," walking parades of buccaneers, live music and carnival rides. Check www.louisianapiratefestival.com for festival details.
In March, the Sulphur Mines Festivalcelebrates the history and vitality of one of our six cities.  April brings the Original Downtown Crawfish Festival, the Louisiana Railroad Days Festival in DeQuincy and the Westlake Family Fun & Food Festival. Music is hot with the Live at the Lakefront Series, Downtown at Sundown Series and Cajun music at the Cajun Music & Food Festival and the Marshland Festival throughout the spring and summer. Also, October rounds out with the Cal-Cam Fair and Vinton Heritage Festival. It's definitely the most wonderful time of the year in December when the area celebrates the Christmas Lighting Festival. Full calendar of festivals at www.visitlakecharles.org/events.
Mardi Gras Mambo – All Year Around
Speaking of Mardi Gras – make sure to visit the Mardi Gras Museum of Imperial Calcasieu. No matter the time of year you can experience the feelings of Cajun Carnival with displays of lavish costumes, animated mannequins and "parade float" where you can practice "Throw me something, Mister!"
Meal Time – Family Style
Treat your family to the flavors of Cajun Country with a great meal from one of our Top 20 Local Favorites restaurants. The youngsters are sure to remember their first bowl of gumbo or taste of crawfish! 
Seasonal Fun
Southwest Louisiana also features seasonal fun like splashing around at Sulphur Parks and Recreation's (SPAR) Waterpark (open during the summer months) or the family-friendly Lost Hollows Haunted Attraction trail (open Oct 2-31). Not to forget our fantastic Cajun Christmas festivities! Click below for more information on seasonal activities.
Winter (Christmas): Check back for Winter seasonal activities. 

Fall (Halloween & Fall Festivals): Check back for Fall seasonal activities.