National Plan for Vacation Day
January 26, 2021
#PlanForVacation
National Plan for Vacation Day, celebrated on the last Tuesday of January, is a day to encourage Americans to plan their time off. Join us on January 26 and help get Americans to commit their time off for the rest of the year at the start of the year. Regardless of travel style, our country offers something for everyone.
Facts about Vacation
Americans who plan out their time off take more time off—but more than one-quarter (28%) of American households don't do this simple step. As a result, they lose or have to forfeit these days. Planners prioritize traveling with their paid time off, a trend that is expected to continue to rise in 2021 where 32% of planners anticipate traveling more than previous years versus 21% of non-planners. Taking time off benefits Americans - it's essential to a person's overall wellbeing: it strengthens personal relationships, improves professional performance, and promotes overall health and wellness. The best way to encourage American workers to use all their vacation days—AND to use many of those days to travel—is to encourage planning in advance.
Planning: A Key to Happiness
Planners are happier in general, with everything from their personal relationships to their health and wellbeing and their job.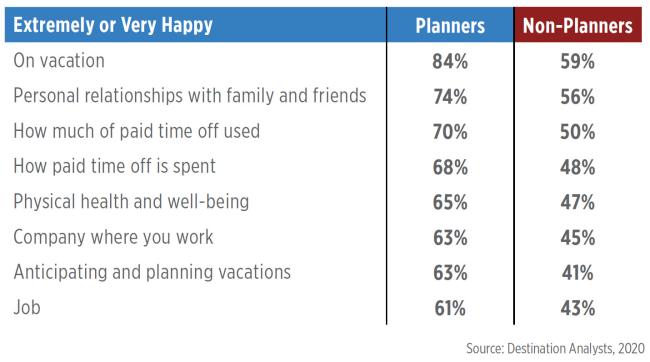 Need some vacation ideas? Lake Charles, Southwest Louisiana offers good company and quiet reflections, historical sites, and luxurious accommodations. Prepare for some good old southern hospitality and great times. Here are a few itinerary ideas to get you started. 
Use the vacation planning tool and get to know the upside of downtime.