#PowerOfTravel • #LouisianasPlayground
 

National Travel &
Tourism Week 2021
National Travel and Tourism Week is an annual tradition for the U.S. travel community. It's a time when travel and tourism professionals across the country unite to celebrate the value travel holds for our economy, businesses and personal well-being. 2020 proved challenging for the Hospitality Industry the world over given the pandemic, but no destination was impacted by more external factors than our own resilient Southwest Louisiana. Through it all, we are pushing forward with a vision for a better and brighter tomorrow, and the area continues its rapid recovery.   
Help us show off #LouisianasPlayground to inspire visitation! 
Check out things to do in the area for ideas:
Businesses, the arts, and events are coming back strong. As you indulge in Cajun/Creole cuisine, live music at outdoor venues, luxurious casino resorts, shopping opportunities throughout the city or natural wonders found along the Creole Nature Trail All-American Road, share your pictures on social media with #LouisianasPlayground. Near the lakefront, the heart of downtown Lake Charles thrives with locally-owned restaurants, art studios and shops, vintage finds, jazz brunches, live music, and seasonal events. From the Southwest Louisiana Boudin Trail to the Brews & Spirits Trail including Crying Eagle Brewing, Bayou Rum, Acadian Coffee Roasters, and Yellowfin Vodka, you can truly enjoy authentic local products wherever you go. Be sure to get on the water or out in nature too with the myriad of wildlife refuges and local outfitters to rent kayaks, or boats to glide out onto waterways and more. Share your favorite experiences with #LouisianasPlayground. 
The State of Tourism Across the U.S.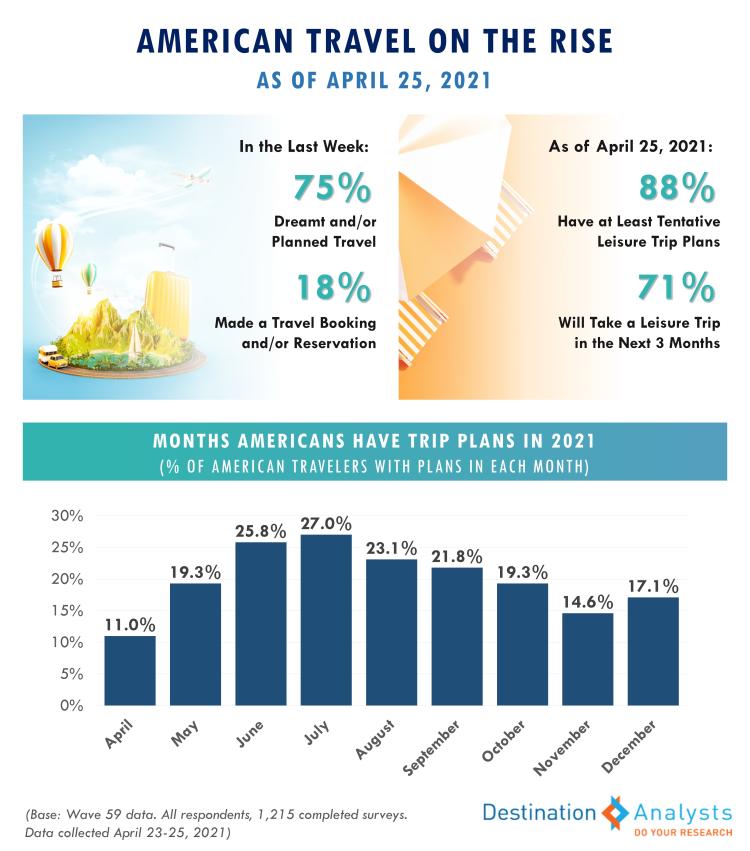 According to the latest Longwoods International tracking study of American travelers, 42% are fully vaccinated for COVID-19, up from 24% in March and significantly higher than the 26% vaccination rate for the general U.S. population.  Another Longwoods International study says 88% of people now have travel plans in the next six months, the highest level in more than a year. Americans are also showing that they are open to even more travel beyond what they may currently have planned, with high levels of excitement and openness to travel inspiration. All good news for our local economy.
The State of Tourism in Louisiana
In Louisiana, as our attractions, hotels, restaurants and more were unable to welcome visitors, our once thriving travel and tourism industry was no longer the significant economic driver it had been.
In 2019:
Domestic and international travelers spent $13.9 billion exploring our state
For every $1 million spent in Louisiana by domestic and international travelers, 8.7 jobs are created
The 121,010 travel-supported jobs represented 7.5% of Louisiana's total private industry employment, without which our unemployment rate of 4.7% would have been 11.9% of the labor force
Travel spending generated $1.6 billion to federal, state and local governments, which help fund jobs and public programs such as police, firefighters, teachers, road projects and convention centers
 
Louisiana experienced severe losses in 2020
Spending by domestic and international travelers declined by 35%, shuttering many local businesses and putting our residents out of work
Due to the decline in spending, federal, state and local tax receipts declined by 28%, jeopardizing jobs and public programs—which we need more than ever as we work toward recovery
 

The State of Tourism in SWLA

Destination: Determination
by Angie Manning
"A hero is an ordinary individual who finds the strength to persevere and endure in spite of overwhelming obstacles." – Christopher Reeve
Grit, determination, hardship, adversity, spaghetti models, boots on the ground, chainsaws, debris, grief, rebuilding, gas cans, humming generators, heroes and everyday angels. There were so many words that surfaced to my mind when reflecting on 2020. On a lighter note, if I never see another spaghetti model again, I'll be just fine. I prefer my spaghetti with a side of garlic bread anyway. The quote from Christopher Reeve seemed appropriate for Southwest Louisiana. Of course, Reeve played Superman on the silver screen, and in real life, after surviving an accident that paralyzed him from the shoulders down, he still pursued the arts and even wrote two autobiographical books, Still Me and Nothing is Impossible. He moved forward with grit and resiliency.  
Our community is moving forward with determination too – focused on the future. It takes all of us, every hidden hero in the shadows or standing in the spotlight to make things happen. We know this. We know our heroes well from firefighters to police officers, city and parish employees, non-profits, compassionate residents, business owners, the hospitality community, faith-based organizations, and of course, the linemen. The linemen who worked tirelessly post Hurricane Laura and Hurricane Delta were extraordinarily dedicated to rebuilding power grids destroyed by the hurricanes of 2020. All this context is set against the background of a pandemic which indelibly touched the lives of people that we know. 2020 is a heartbreaking story, and the impact of the events that occurred will remain as soft whispers in the wind that play a powerful role in shaping our communities for many years to come.

"The word 'resilient' truly has its own meaning for people who live in Southwest Louisiana. There is no doubt that the community has pulled together to walk through the back-to-back storms and challenges surrounding the pandemic. The hospitality community is interconnected across many sectors, and it's remarkable to see the outpouring of support that we all share in rebuilding Southwest Louisiana from both business and humanitarian standpoints," said Kyle Edmiston, President/CEO of Visit Lake Charles.  

Example of an ad from the 2020 Visit Lake Charles branding launch.
At the start of 2020, Visit Lake Charles had just officially launched a new brand for the area at the Golden Nugget Lake Charles, surrounded by colleagues, community leaders and hospitality industry executives from around the country. Miles Partnership, a strategic marketing company focused exclusively on travel and tourism, conducted an extensive and detailed research study to determine the brand essence of Southwest Louisiana. The idea that rose to the top across all market segments is that Lake Charles is a mixture of contrasts. There is an intriguing juxtaposition that exists to create the identity of Lake Charles as a destination. It's what makes Lake Charles stand out when considering the abundance of gaming resort experiences compared to the natural wonders found alongside the Creole Nature Trail All-American Road. The idea of Lake Charles as "Louisiana's Playground" was born.
Soon after launching the campaign in earnest in early 2020, COVID forced a shutdown of the travel industry with a mandated quarantine. This depressed the tourism economy along with other sectors throughout the nation. Visit Lake Charles turned its attention to supporting local businesses within the destination. Immediately, new search abilities were implemented on the website from restaurants that had pick-up, delivery or outdoor dining options. Twice per week, every restaurant in the Lake Area was contacted for updates as hours of operation and services changed practically weekly. Creative engagement on social media was key in keeping the spirit of the travel industry vibrant, connecting the community with outdoor options, and inspirational ideas of safely exploring Southwest Louisiana to boost the morale of the community.
"The quarantine experience was a challenge for the communications department as huge sections of our programming and website were no longer available for promotions. We dug deep into the passion that we all have for the area and worked with our partners to create fresh content to highlight our shining gems the best way we knew how. I was proud of the entire Visit Lake Charles team for showing up every day with new ideas and inspiration," said Angie Manning, communications director.
The summer months brought more promise as businesses were able to open to more capacity, and more was understood about safety protocols. The intent to travel had regained strength as well. However, hurricane seasoned loomed on the horizon, and in true 2020 fashion, no one could have predicted the cloudy swirl of devastation tucked away in Lake Charles' crystal ball.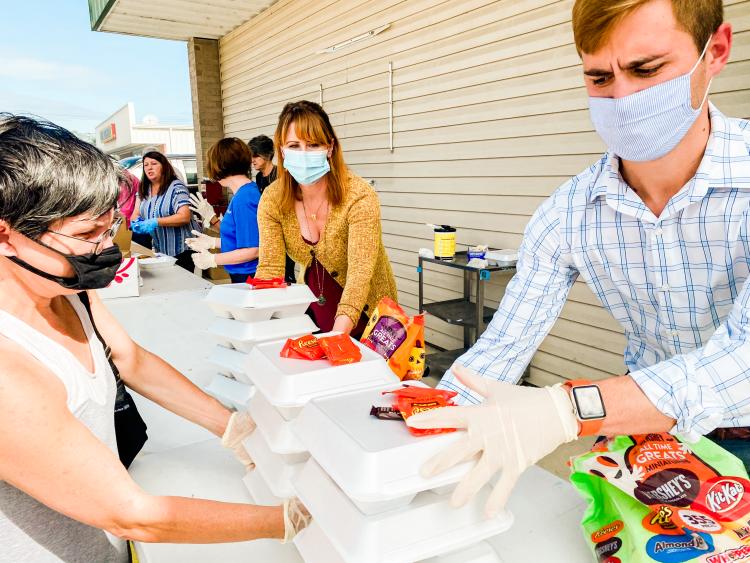 Visit Lake Charles Staff volunteers helping to feed locals after the storms.
When Laura came ashore in August as the most powerful hurricane to hit Louisiana in 150 years followed by Delta in October, the road weary evacuees of Southwest Louisiana started to assess and clean up. The Visit Lake Charles Welcome Center was devastated as Hurricane Laura ripped off a major section of the roof. Six months later, the staff is working from Creole Nature Trail Adventure Point, the bureau's satellite office and interpretive center with staff working in make-shift office space. The hotel inventory was hit hard, and even to this day, properties are being rebuilt, including the Isle of Capri property, now owned by Caesar's Entertainment which is slated to reopen in the spring of 2022. Thankfully, the Golden Nugget, L'Auberge Casino Resort and Delta Downs Racetrack Casino Hotel were able to reopen with attractions such as Crying Eagle Brewing Company providing a Back in Flight benefit concert and much needed outdoor musical entertainment, along with Rikenjak's and Paul's Rib Shack, for a large portion of 2020. Many press conferences, emergency meetings and insurance claims later, stories of hope from the community began to rise almost as if a phoenix from the ashes.   
"The one-two punch of the hurricanes of 2020 was felt throughout a widespread area. Upon return and realizing the extent of the damage, we were initially down to almost half the original inventory of hotel rooms in Southwest Louisiana. Our office is currently being renovated, and we understand the hardship of rebuilding and finding materials to get the job done. We are optimistic that in 2021, we will start to see more and more growth so that 2022 can start off on a positive trajectory," said Kyle Edmiston, President/CEO of Visit Lake Charles.
The communications department was inundated with media calls, and the team meticulously reached out the travel media and travel writers who have come to Southwest Louisiana or had longstanding relationships with the destination. Several of the main highlights from hurricane recovery stories included 5 separate stories from Good Morning America with 4.06M potential reach per story; two Southern Living stories with 9.4M unique users and 36M page views; The New York Times with151M online users globally and 6.1M from print, and PEOPLE Magazine with a potential reach of 28.1M. Total number of Hurricane Laura and Delta stories reached 88.1k since August 25.
"Having a featured story in The New York Times brought a feeling of much needed energy after the first few months following Hurricanes Laura and Delta. This one story led to dozens of public relations and media opportunities and exposed Lake Charles' story to a much wider audience. I received words of encouragement and support from people all around the world who were eager to follow our journey to a full recovery and bright future for Southwest Louisiana through rebuilding efforts," said Kathryn Shea Duncan, media/public relations manager.
Great story from The New York Times! "How can I make this place better? How can I leave it better for the next generation?" https://www.nytimes.com/2020/11/07/style/lake-charles-hurricanes-tourism.html

Posted by Rebuilding SWLA on Tuesday, April 27, 2021
In addition to hurricane coverage, there was a variety of stories running the gambit from Mardi Gras to culinary delights, the Creole Nature Trail and golf. Several major wins for public relations included Reader's Digest: What Is King Cake? History and Meaning of the Mardi Gras Tradition; Country Living Magazine: 7 Virtual Mardi Gras Events That Let the Good Times Roll; Thrillist: The Best Scenic Drive In Every State; HowStuffWorks: Why Boudin Is Cajun Country's Most Famous Sausage; Houston Chronicle: Lake Charles gets its groove back; Matador Network: Craft spirits and Creole favorites make Lake Charles, Louisiana, the South's summer hub; and Sarasota Herald-Tribune: Oh my!: Gators, fish, birds and more await along the Creole Nature Trail. 
From March all the way through the end of 2020, the sales department focused on reaching out to clients for support, to revise contracts, and manage expectations during a difficult year. The good news is that the seeds that were planted in 2019 for 2020 will continue to bring business to the area as many of the events secured in 2019 were multi-year contracts. The 2020 LHSAA Marsh Madness State Basketball Tournaments started out business as usual, but they were modified at the very end of the tournament to only allow athletes and tournament personnel to attend. Being flexible while hosting was put into practice starting in March of 2020. Fast forward to March of 2021, the area once again hosted a portion of the Louisiana High School (LHSAA) Girls' Basketball State Championship Tournament Burton Coliseum followed by the LHSAA Boys' Basketball Championship Tournament at Burton Coliseum.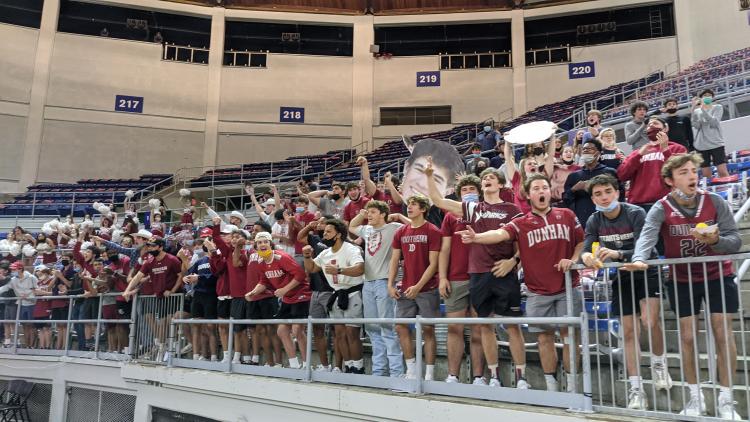 Fans attending LHSAA Marsh Madness at the Burton Complex.
"It was refreshing to have fans in the stands for the 2021 LHSAA State Basketball Tournaments after the championship games last year lacked the atmosphere that truly adds to the overall experience for these student athletes who worked so hard to reach this level of play. There is no substitute for hearing the fans cheering on their teams, and I am glad these athletes were able to once again, feel that energy," said Eric Zartler, sales director at Visit Lake Charles.   
Several national sports events that were secured in 2019 include multi-year contracts. Visit Lake Charles was able to land Pro Watercross in 2019 with only three weeks' notice, and then, established a three-year commitment to host the event which was extended due to COVID in 2020.  It's all about personal relationships and the willingness to go the distance to make events happen, and that's what the team at Visit Lake Charles strives to do each and every day.      
Another national sports event is the New Balance Future Stars Series National Championships, the largest single sporting event in the history of Southwest Louisiana, which brought in a significant number of teams, players and scouts to the area amid a global pandemic June 30-July 25, 2020. These events started out with four National Championship events and quickly, in year one, turned into seven events!  The top High School baseball players in the nation descended upon our area attracting nearly 100 scouts from Major League Baseball teams. Incredibly, it was through social media that contact was made to land the New Balance Future Stars Series, which turned into an estimated $7 million win for Southwest Louisiana.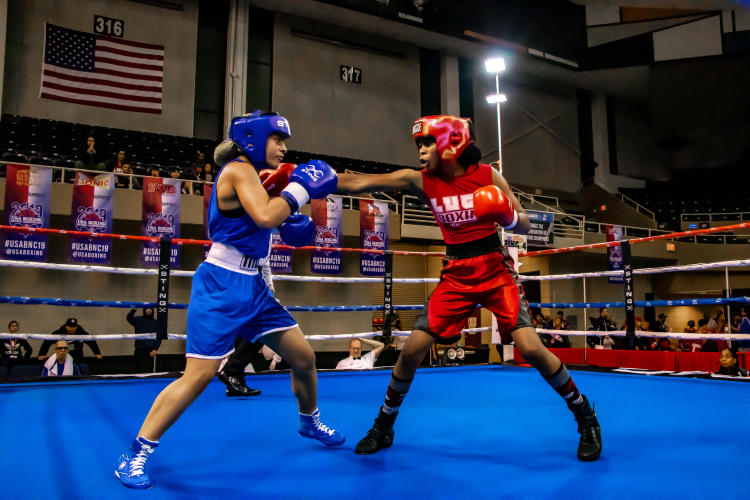 USA Boxing National Championships in Lake Charles, LA.
USA Boxing which was slated to return to Lake Charles in 2020 will be back at the Lake Charles Civic Center December 2-11 for the USA Boxing National Championships bringing in over 1,500 boxers along with their coaches, trainers and families! The Lake Area will be teeming with boxers from all over the country, and Visit Lake Charles invites everyone out to see the athletes compete.  
Also, secured in 2019 with a five-year commitment was the inaugural PSA TOUR Korn Ferry Tour Lake Charles Championship. Unfortunately, the inaugural event was not able to occur in March of this year; however, plans are underway for 2022. Owned and operated by the PGA TOUR, the Korn Ferry Tour identifies and develops those players who are ready to compete and win on golf's biggest stage, and there is a five-year agreement in place through 2024. This tournament is a big win for Lake Charles, and the community will be able to see incredible golf in the coming years through this commitment.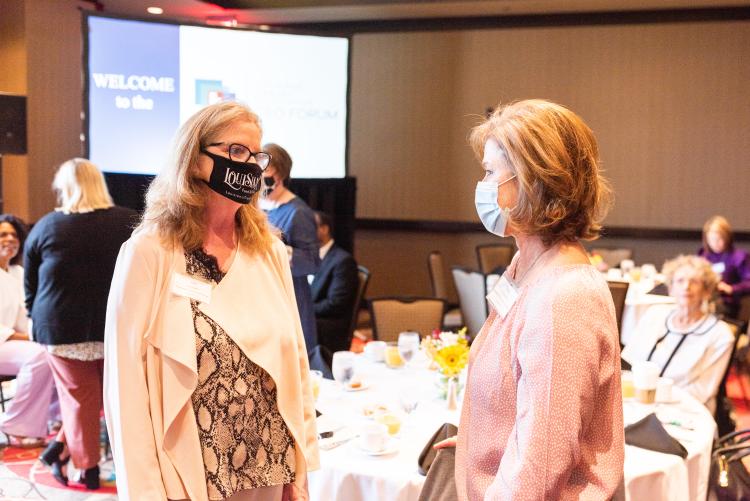 LTPA Summit Meeting 2021.
In addition to sports business, VLC will host the first international conference in Southwest Louisiana's history, "The 18th CWC World LNG & Gas Series: Americas Summit & Exhibition," to be held in November of 2021. The event has only been held four times in the United States in New Orleans, Houston, San Antonio and Austin. Key partnerships emerged to make this dream a reality along with Visit Lake Charles: City of Lake Charles, the Port of Lake Charles, Cameron Parish Port, Harbor & Terminal District, the Cameron Parish Police Jury, the Southwest Louisiana Economic Development Alliance and the Calcasieu Parish Police Jury.  
"We are fortunate to be able to bring together so many organizations which helped secure the World LNG & Gas Series: Americas Summit to be held in Lake Charles and Southwest Louisiana. The ability to tap into the industry which makes this region thrive was essential. We are the epicenter of the LNG industry, so we truly are the perfect fit for this annual meeting, and hopefully being able to show off our area to CEOs and industry decision-makers will continue to bring additional growth in the future," said Taylor Beard Stanley, senior sales manager.  
As many of the group events were canceled in 2020, unfortunately, Lake Charles was unable to hold the Lt. Governor's Travel Summit in last year. However, as the tourism industry rebuilds in Louisiana as a whole, the Lake Charles area will be able to host tourism professionals from around the state in 2022 for a chance to showcase the growth and resiliency of Southwest Louisiana. The last time that the conference was held in Lake Charles, the attendance numbers broke records, and we are looking forward to that same energy next year.
For now, the staff at Visit Lake Charles is working out of Creole Nature Trail Adventure Point while the office on Lakeshore Drive is being repaired following the storms. The staff is collaborating with agencies in the area to create synergy for the rebuilding of Southwest Louisiana and volunteer opportunities. Angie Manning and Amos Orr worked with the Community Foundation of Southwest Louisiana, City of Lake Charles, Calcasieu Parish Police Jury, Cameron Parish, City of Sulphur, Southwest Louisiana Economic Development Alliance and United Way of Southwest Louisiana to create www.RebuildingSWLA.com and the Facebook group www.Facebook.com/RebuildingSWLA with Kathryn Shea Duncan managing social media content. The eight community communications teams are sharing content about resiliency stories and progress being made in the area, so be sure to check out the website and social page!   
As the area rebuilds, Visit Lake Charles is here to promote new openings, businesses and opportunities for visitors to experience what the area has to offer. If you would like to receive updates from Visit Lake Charles or submit events or news about your place of business for the Visit Lake Charles website, please connect with us at www.visitlakecharles.org/RebuildSWLA or on social media channels. The staff at Visit Lake Charles is looking forward to a more prosperous 2021 and inviting the community back to the Welcome Center on 1205 N. Lakeshore Drive in the near future.