Charpentier District
The Charpentier Historic District is on the National Register of Historic Places and covers more than 40 blocks of turn-of-the-century buildings of mixed styles with turrets, towers, gables, shingling, leaded glass and gingerbread accents on the porches and railings. The Charpentier (French for "carpenter") District stands in homage to the carpenter architects who freely designed as they built, creating a unique Lake Charles style.

Click here to download the Historic Calcasieu Parish Guide! 
Photo Credit: www.monsoursphotography.com
Lake Charles Historic Tour App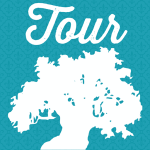 The Charpentier Historic District has been brought to life with the historic app can be downloaded in multiple languages including English, French, Spanish, German and closed-captioning. It will give visitors a guided experience through the 40-block area on the National Register of Historic Places with a choice of a 30 minute tour a 1 hour tour or a Calcasieu Ghost Tour. 
Charpentier Historic District Map