Swamp and Marsh Tours 🗺️
Immerse Yourself in Nature
Lake Charles/Southwest Louisiana offers several ways to experience our abundant nature. Kayak through dense cypress forests, expansive wetlands and see an array of wildlife on one of Lake Area Adventure tours. You'll never forget your awe-inspiring boat ride Grosse Savanne Eco-Tours. This is the best view of our area. You can even stroll or bike through parts of Sam Houston Jones State Park for a look at Spanish moss strewn swamp settings.
If you want to take a look at the area at your own pace, there are several self-guided nature drive options including the Pintail Wildlife Drive, Price Lake Nature Drive, and Lacassine Wildlife Drive. You will also be able to stretch your legs at the Wetland Walkway and the Pintail Boardwalk.

Click here to see the Creole Nature Trail map. 
Creole Nature Trail App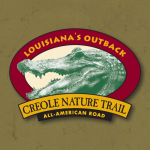 Louisiana's Creole Nature Trail All-American Road is a hands-on opportunity to experience one of America's untamed natural wonders near Lake Charles, LA. Feel inspired and amazed as the Creole Nature Trail All-American Road leads you into the unsurpassed splendor of Louisiana's renowned coastal wetlands, wildlife refuges, and rippling marshes.