Restaurant Updates
 

Hungry for delicious food? Enjoy a taste of Southwest Louisiana! At the moment, restaurants in Southwest Louisiana may be limited in capacity but they aren't limited in flavor. Visit Lake Charles has compiled a list of various ordering options that local restaurants are offering. Happy ordering, and enjoy your meal!
This is a difficult time for the service industry and many of our friends and family are being affected. Help us do all we can to support them through this trying time. If you do not see a particular restaurant on our list and would like to add them, please update restaurant information HERE.
*Restaurant hours, menus, and services may change. Please call restaurants ahead of time for details on ordering.
July 4 - Holiday Weekend:
Visit Lake Charles Welcome Center & Creole Nature Trail Adventure Point Building will be closed July 4 & 5. 
I-10 North Beach will be closed beginning Wednesday, July 1, 2020 until further notice.
Reopening Updates
Louisiana Governor John Bel Edwards issued a notice that following continued improvement in Louisiana's COVID-19 outlook and a significant increase in testing capacity and contact tracing, Louisiana is ready to move to Phase 2 of the White House's reopening strategy on June 5. Many businesses and events have adjusted to accommodate patrons during this time.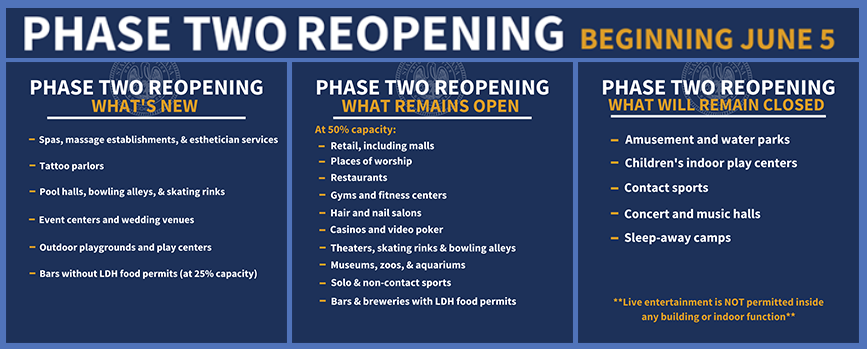 The Governor also announced a new text alert system for COVID-19 updates. Residents can opt-in by texting LACOVID to 67283.
Additional Resources:
​Submit an Update
If you have information that you think would benefit the community to know, whether it is about a particular business, event or another item, we would love to know so we can help spread the news.