Essential Services 
Services are limited in Louisiana's Outback so we want to make sure you know where each and every one is. Whether you need a restaurant or a restroom, a gas station or accommodation, simply click on one of the categories to your left for all available services along the Creole Nature Trail.
A FREE personal tour app is also available in iTunes and Google Play (just search "creole".) App is available in English, French, Spanish, German, Mandarin Chinese and Japanese.
Creole Nature Trail App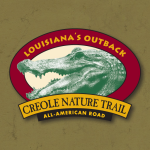 Louisiana's Creole Nature Trail All-American Road is a hands-on opportunity to experience one of America's untamed natural wonders near Lake Charles, LA. Feel inspired and amazed as the Creole Nature Trail All-American Road leads you into the unsurpassed splendor of Louisiana's renowned coastal wetlands, wildlife refuges, and rippling marshes.