Many manmade structures along the Trail were destroyed by Hurricane Laura (August 27, 2020.) Natural constructs, and wildlife, are still present and thriving. Plan to bring supplies (food, drink, mosquito spray, etc.) and get fuel for your vehicle before you head out on the trail. The most up-to-date information available is on CreoleNatureTrail.org. 
Creole Nature Trail Adventure Point
Hours of operation:
Mon.-Fri.: 8:30 a.m. – 5 p.m.
Sat.: 8:30 a.m. – 4 p.m.
Kick off your Creole Nature Trail journey at Creole Nature Trail Adventure Point—a free, fun attraction that immerses you in nature and Louisiana's unique culture. Through imaginative, hands-on displays sure to inspire, you can learn the best places to spot alligators and migrating songbirds, take a peek at wildlife found in bayous and marshes, smell mouthwatering aromas of Cajun/Creole cooking, and "play along" with a Cajun and Zydeco band.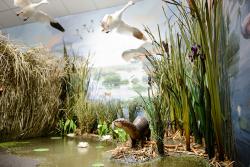 The Creole Nature Trail Adventure Point will bring to life many of the intrinsic qualities that make this area a unique destination. People who experience the exhibit displays will walk away with a vivid understanding of the wildlife and landscape along the Creole Nature Trail as well as our culture and way of life in Southwest Louisiana.
Adventure Point is located at 2740 Ruth Street in Sulphur, La., just south Exit 20 on Interstate 10. Call 337-502-4358 to speak with an Adventure Guide. 
Get the App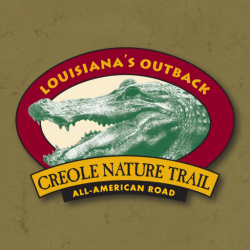 Louisiana's Creole Nature Trail All-American Road is a hands-on opportunity to experience one of America's untamed natural wonders near Lake Charles, LA. Feel inspired and amazed as the Creole Nature Trail All-American Road leads you into the unsurpassed splendor of Louisiana's renowned coastal wetlands, wildlife refuges, and rippling marshes.