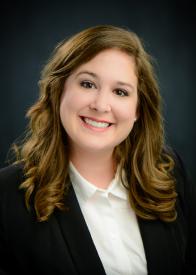 Visit Lake Charles is thrilled to announce that Taylor Beard Stanley has been named one of Destinations International's 2020 30 Under 30 recipients. The 30 individuals, 30 years of age and under, will have the opportunity to engage in professional development opportunities throughout 2020 and beyond. The honorees originate from a variety of destination organizations of all sizes and countries, however, Taylor is the only Louisiana representative chosen this year. 
A graduate of Grand Lake High School and McNeese State University, Taylor began her career at Visit Lake Charles in October 2016 as Sales Manager. After being promoted to Senior Sales Manager in March 2018, she aligned her vision on how Visit Lake Charles could provide added value and educational opportunities to hotel partners. Taylor has recently developed and launched Destination SWLA to educate hotel partners' front-line and management on the role of Visit Lake Charles and how to strengthen our relationship and create a better experience for visitors.
"I am very proud that our very own Taylor Beard Stanley has been honored to participate in Destination International's 30 Under 30 program," said Kyle Edmiston, Visit Lake Charles President & CEO. "Taylor has proven her commitment to the advancement of Visit Lake Charles by garnering valuable relationships with our partners, coupled with innovative product development. This is our second Visit Lake Charles staff member who has been selected since the program's inception, and Taylor gives us a glimpse into a very bright future for our tourism industry in Southwest Louisiana."
She has also developed and organized Baton Rouge and Houston sales missions to market Southwest Louisiana as a corporate, associate and group business destination. Among her many sales accomplishments, Taylor has worked to bring the 18th CWC World LNG & Gas Series: Americas Summit & Exhibition to Lake Charles, which is the first-ever international conference to be hosted in Southwest Louisiana. 
"I am so unbelievably honored to have been selected for Destination International's 2020 30 Under 30 Class. When I started my tourism career in 2016, I never expected all of these amazing opportunities which I've been blessed with," said Taylor Beard Stanley. "I am so grateful to each person that has supported and mentored me along the way. I look forward to utilizing the new skills I will gain through this program to continue to serve our wonderful community here in Southwest Louisiana!"
She currently serves on the board of the Louisiana Society of Association Executives and is a proud graduate of the Louisiana Tourism Leadership Academy. Taylor was also awarded the Louisiana Travel Association's Rising Star Award earlier this year. 
"The 30 Under 30 program remains critical to our organization's vision and mission," said Don Welsh, president and CEO of Destinations International. "Especially in these uncertain times, we are especially excited to announce these young professionals as they are the future of the travel and tourism industry.' 
The program will focus on year-round professional development, including regular interactive webinars and an online community to share ideas.
The 2020 30 Under 30 Class Includes:
Christina Amrhein, VISIT FLORIDA
Lisa Baird, Visit Oakland
Rebekah Baughman, Kansas City KS Convention & Visitors Bureau
Meg Berno, Dublin Convention & Visitors Bureau
Tyler Edic, Visit Savannah
Christine Felton, Visit Austin
Stephanie Fred, Visit Tampa Bay
Taylor Fry, Pasadena Convention & Visitors Bureau
Taylor Greenwalt, Galveston Island Convention & Visitors Bureau 
Michael Hensley, Great Lakes Bay Regional Convention & Visitors Bureau
Diana Kelterborn, Visit Loudoun
Wesley Kirkpatrick, Visit Anaheim
Kylie Leslie, Visit Phoenix
Tiffany Lutka, DuPage Convention & Visitors Bureau
Courtney Manson, Travel Alberta
Ronneisha Mayo, Cincinnati USA Convention & Visitors Bureau
Jordan McCauley, Travel Oregon
Michelle McKenzie, Visit Vancouver USA
Jonathan Neis, Providence Warwick Convention & Visitors Bureau
Hayley Radich, Travel Lane County
Erica Riddle, Destination DC
Amelia Ritter, Livingston County Convention & Visitors Bureau
Amanda Scherlin, Visit Casper
Erin Setter, Brand USA
Ryan Shehu, Visit Ithaca
Steph Snelling, Destination Greater Victoria
Taylor Stanley, Visit Lake Charles
Michelle Vilas, Discover Puerto Rico
Jessie Walker, Visit Baltimore
Rebecca Wu, Tourism Richmond
Now in its 10th year, the 30 Under 30 program is supported by founding program partner, SearchWide Global and sponsored by Fired Up! Culture, MMGY Global, Northstar Meetings Group and Pandora. 
For more information on the 30 Under 30 Program and the 2020 30 Under 30 class, please visit destinationsinternational.org/general-information/30-under-30.
###
About the Destinations International Foundation:
The Destinations International Foundation is a nonprofit organization dedicated to empowering destination marketers globally by providing education, research, advocacy and leadership development. The Foundation is classified as a charitable organization, under Section 501 (c)(3) of the Internal Revenue Service Code and all donations to the Foundation are tax deductible. For more information visit www.destinationsinternational.org.  
 
About Destinations International:
Destinations International is the world's largest resource for official destination organizations, convention and visitors bureaus (CVBs) and tourism boards. Destinations International is about serving destination marketing professionals first and foremost. Together with almost 6,000 members and partners from nearly 600 destinations in 13 countries, Destinations International represents a powerful forward-thinking, collaborative association: exchanging bold ideas, connecting innovative people and elevating tourism to its highest potential. For more information, visit www.destinationsinternational.org.