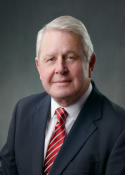 W. Brent Lumpkin Appointed to
Visit Lake Charles' Board of Directors
LAKE CHARLES, La. (January 22, 2020)— W. Brent Lumpkin was recently selected by the Lake Charles City Council to serve on the board of directors for Visit Lake Charles, representing the Southwest Louisiana Lodging Association.
Lumpkin is a highly involved leader in community development and was appointed to serve on the I-10 Bridge Task Force to study the aging bridge along with avenues of funding to replace the bridge. He also serves on committees at both McNeese State University and SOWELA Technical Community College in planning for both institutions' future growth. Lumpkin serves on the Calcasieu Parish Industrial Development Board where he currently presides as president. He has also served on the Salvation Army Board and the Southwest Louisiana Community Foundation Board. Lumpkin's leadership, with its focus on improving Southwest Louisiana's community's quality of life, led to the upcoming Contraband Bayou Bridge, to include dedicated pedestrian and bike lanes, which is the first bridge in Southwest Louisiana to incorporate these amenities. He also served on the Strategic Planning Committee of the Baton Rouge Area Foundation (BRAF).
Lumpkin has served on and been active in numerous civic groups and public boards. These include the Lake Charles Jaycees, Southwest Louisiana Trade Expo Board, Education Treatment Council (ETC) Board, where he served as president, SOWELA Board of Advisors, and the Chamber Southwest Board of Directors, serving as vice chair of economic development. He was also chairman of the Chamber's "Sailors Make Good Neighbors" campaign. Lumpkin studied at Louisiana State University and became a licensed real estate broker in 1973. Over the past forty-seven years, he has focused on real estate, investment, and development projects. Lumpkin's real estate holdings include Marriott hotels, shopping centers, industrial parks and various other commercial properties.
 "With Brent's extensive background in business leadership, civic organizations and brick-and-mortar community development projects, myself and staff at the CVB are eager to work with him during this time of prolific economic growth in Southwest LA with additional attractions and businesses coming to fruition along with new conventions and events that are packing the calendar in 2020," said Kyle Edmiston, president and CEO of Visit Lake Charles.
The CVB is governed by an 11 member board of directors. Oliver G. "Rick" Richard III, representing the Arts & Humanities of Southwest Louisiana, is chairman of the board, and Jonathan Ringo, appointed by the Calcasieu Parish Police Jury is the vice-chairman. Willie Mount, representing the Chamber Southwest, is the secretary/treasurer.
For more information on Visit Lake Charles, log onto www.visitlakecharles.org or call 337-436-9588.
###