One of the thrills of exploring the Creole Nature Trail is spotting alligators lurking near the many waterways you'll discover along this All-American Road. But there is so much more to see throughout "Louisiana's Outback." Don't limit yourself to gator seeking! Here are several suggestions to add excitement to your adventure.
Begin your journey at Adventure Point. This unique visitors' center entertains kids and gets the whole family excited for the day ahead. The knowledgeable staff can answer questions and offer maps and helpful brochures. Visit the gift shop for souvenirs.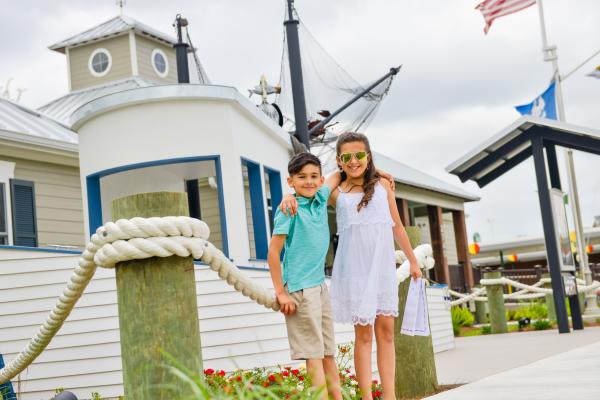 Stop for provisions at Brown's Food Center in Hackberry. This small-town store supplies everything you'll need for your trip – gas, food and drinks, bug spray, fishing supplies, cold drinks, and other outdoor necessities.
There are several wildlife refuges and sanctuaries along the Creole Nature Trail. Most offer elevated walkways through the marshes that keep your feet dry while allowing you to get up close and personal with this natural habitat.
Southwest Louisiana is home to several unique birds, reptiles, and animals. Look for Roseate Spoonbills – these stunning, unusual wading birds have long, flat rounded beaks and bright hot-pink wings. Also look for the red-eared slider turtle – they are easy to identify and are in abundance in Southwest Louisiana. Look for the red marking near their ears.
Holly Beach is a prime location to find a wide variety of sea shells. Clams, conchs, coquinas, cockles . . . approximately 30 different types of shells can be found along 26 miles of natural coastline. Download the Southwest Louisiana Shelling Guide and check off the shells you find! Sea gulls, brown pelicans, and maybe even dolphins can also be spotted.
The Calcasieu Ship Channel and surrounding waterways are home to legendary Pinky the Albino Dolphin. Word on the water is there are actually two pink dolphins who call SWLA home. If you are fantastically fortunate, you may spot one of these rare dolphins as you cross the Cameron ferry.
Avian enthusiasts flock to the bird sanctuaries along the Creole Nature Trail, especially during migration seasons. Southwest Louisiana lies in the path of the Mississippi Flyway, one of the busiest flyways, and is annually home to over 400 species of birds, making it one of the Top 10 birding destinations in the country. Look for Peveto Woods Sanctuary west of Holly Beach, and Rockefeller Refuge in Grand Chenier.
For a closer encounter with the wildlife, make use of the Pintail Wildlife Drive on the east side of the Creole Nature Trail. This is a perfect spot for nature photography or simply to observe fauna. You'll also find birds in abundance as well as alligators along the 3-mile driving loop.
When you finally begin your drive back to Lake Charles after a full day of fun and adventure, Chesson's Grocery offers refreshment. The store is located right on the Creole Nature Trail at 1005 Hwy. 27, Bell City. In addition to soft serve ice cream, they also serve burgers, poboys, hot dogs, boudin, root beer floats, and so much more!  
When you're out on the trail, be sure to take photos and use #VisitLakeCharles to share your experience! To download the Creole Nature Trail tour app, click here. Additional information about the trail can also be found by downloading the Creole Nature Trail Brochure or by visiting www.creolenaturetrail.org.