Biking is an exhilarating way to connect with nature in Louisiana's Playground – or have a more immersive experience in the city or enjoying a clear view of the lake. If you are an avid biker and travel with your bike, there are several ways to explore the destination from the vantage point of cycling from local parks or cruising in the city. Otherwise, we have options for renting your wheels for a guided tour!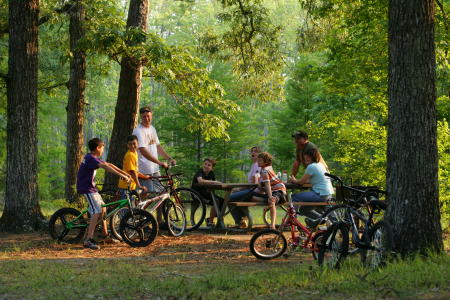 To have a full state park experience, Sam Houston Jones State Park was recently renovated with new amenities such as upscale cabins and Tentrr campsites for glamping under the stars! Bring your bike with you to check out a few trails while reconnecting with nature. There are two trails in particular that you can try. The Yellow Trail is ¾ of a mile with the Orange Trail at 1.6 miles. Even though the Orange Trail is longer, it has less elevation than the Yellow Trail. An upcoming event for kids at the park is Take a Kid Mountain Biking Day, so mark your calendars for Oct. 8.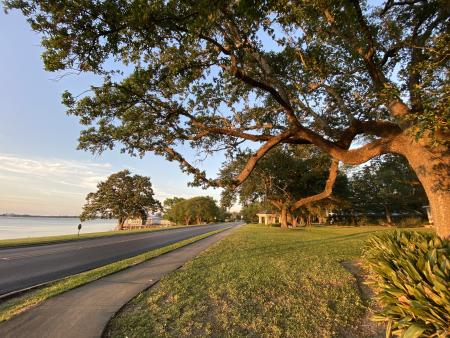 Photo - Kathryn Shea Duncan
City side, you can enjoy biking along the downtown lakefront and onto Shell Beach Drive where some of the area's most stunning mansions line the shores of Lake Charles. Along the lakefront, you can get a sweeping view of downtown, and even take a break at a restaurant or two if you need a pick-me-up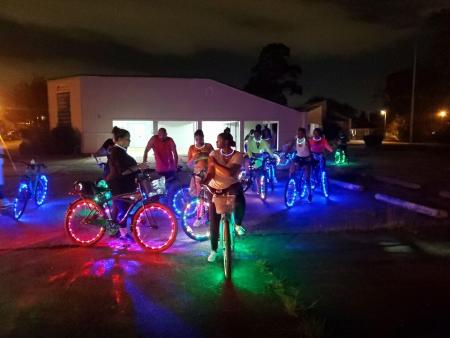 If you are more of a casual biker or do not travel with your two-wheeled companion, check out Lake City Cruisers for evening glow bike tours. Bike rentals are $25 each with glowing wheels of blue, green, red, and rainbow colors! They have a fleet of single rider bikes and a double rider trike that will allow parents of children and young adults with special needs to participate in the rides. However, single rider bikers must be 13 years and older.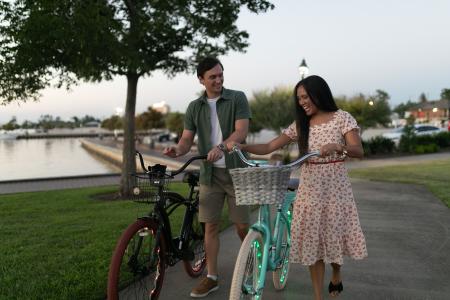 Other places to ride bikes in Louisiana's Playground include Prien Lake Park in Lake Charles or McMurry Park in Sulphur. While in town, if you need your bike to be tuned, check out Southern Bicycle Company and Capitol Cyclery for professional biking assistance or needs. Happy biking in #LouisianasPlayground!