Crying Eagle Lakefront & Port Wonder
Lake Charles is on the move with new developments and lakefront attractions that are soon to be a reality. One of the major attractions that will land on the lake is Crying Eagle Brewery's lakefront location. It will be a gem right along the shores of Lake Charles with food, music, and local craft brews with a gorgeous view of evening sunsets. Right next door will be Port Wonder which will serve as a children's museum and science center to learn about the unique ecosystem of Southwest Louisiana. This world-class facility has a futuristic design and will be the perfect complement for families traveling to the area.
Lake Area Adventures & Paul's Rib Shack
Another development is a dual partnership between Lake Area Adventures and Paul's Rib Shack with kayak, paddle boarding, and watersport activity rentals right along the shores of Lake Charles. Paul's Rib Shack will provide tasty barbecue to complement hungry paddlers who have worked up an appetite.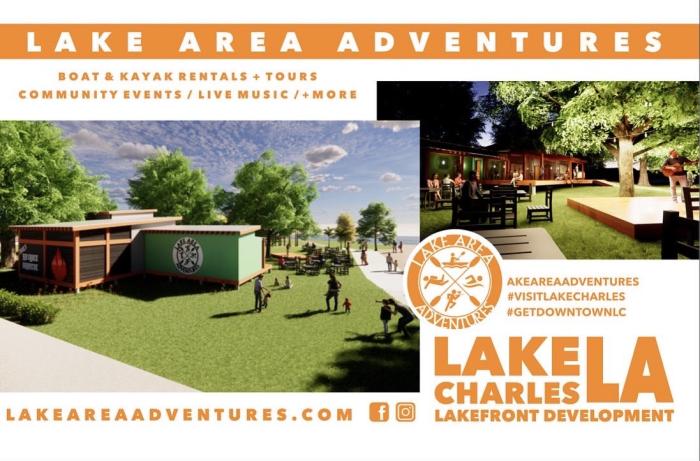 Horseshoe Casino Resort
The Horseshoe Casino Resort will soon become a reality with more than $200 million in updates and renovations. There will be over 18,300 square meters of gaming space with approximately 1,000 games. Not to mention – restaurants and amenities to support the luxurious experiences to be enjoyed. The Horseshoe Casino Lake Charles will be the newest resort casino in the South!
Lake Area Adventures'
Family Entertainment Complex
Opening in January of 2023, Lake Area Adventures is bringing a new Family Entertainment Complex to Southwest Louisiana. The 35,000 square-foot complex will include a 1,800 square-foot indoor, competition length, temperature-controlled pool. In addition, there will be a 10,500 square foot custom designed inflatable jump air park. The space includes state-of-the-art video game lounge featuring gaming consoles, PCs and virtual reality gaming. The complex also includes Southwest Louisiana's first bouldering/rock climbing wall! There will be configurable event space available, a performance stage for live entertainment as well as a restaurant for patrons to enjoy!
Pinderosa Park Recreation Complex
This new recreation complex will feature 1,000 feet of lazy river, a 3,100 square foot splash pad, four fume slides, along with 7,000 square feet of concessions. As of August 2022, the construction is predicted to take three years.