Crying Eagle Lakefront & Port Wonder
Lake Charles is on the move with new developments and lakefront attractions that are soon to be a reality. One of the major attractions that will land on the lake is Crying Eagle Brewery's lakefront location. It will be a gem right along the shores of Lake Charles with food, music, and local craft brews with a gorgeous view of evening sunsets. Right next door will be Port Wonder which will serve as a children's museum and science center to learn about the unique ecosystem of Southwest Louisiana. This world-class facility has a futuristic design and will be the perfect complement for families traveling to the area.
Lake Area Adventures & Paul's Rib Shack
Another development is a dual partnership between Lake Area Adventures and Paul's Rib Shack with kayak, paddle boarding, and watersport activity rentals right along the shores of Lake Charles. Paul's Rib Shack will provide tasty barbecue to complement hungry paddlers who have worked up an appetite.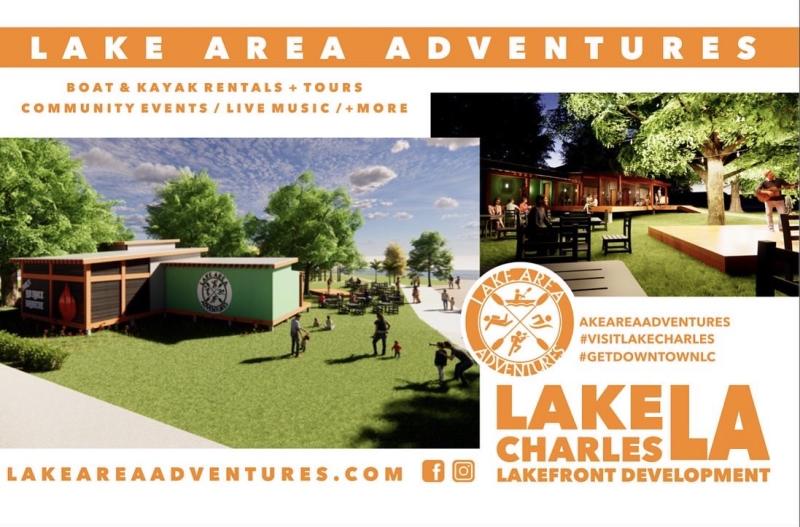 Pinderosa Park Recreation Complex
This new recreation complex will feature 1,000 feet of lazy river, a 3,100 square foot splash pad, four fume slides, along with 7,000 square feet of concessions. As of August 2022, the construction is predicted to take three years. 
New Mardi Gras Museum of Imperial Calcasieu 
The original Mardi Gras Museum, housed inside Central School Arts & Humanities Center, provided a space where people could experience the magic of Mardi Gras year-round from 1998 until the devastation in 2020 caused by Hurricane Laura. To advance the museum into the future, community leaders and the Mardi Gras Museum board of directors announced the proposal for a new Mardi Gras Museum to be built in the heart of the Nellie Lutcher Cultural District at 641 Enterprise Blvd. The plans for the museum include a 6,000 square foot one-story museum with versatile applications. This project will also help kickstart an economic revitalization for the entire area as part of the SWLA Community Foundation's Just Imagine SWLA Resilience Master Plan. Read More