Are you ready for an unforgettable football season? Look no further than McNeese State University's home games to experience heart-pounding action, camaraderie, and the electrifying energy of college football. Don't miss out on a single moment of the excitement - grab your season tickets now and be a part of the roar from the stands!
Why Choose Season Tickets?
Season tickets are the ultimate way to immerse yourself in the spirit of Cowboy football. With a season pass in hand, you won't have to worry about scrambling for tickets before every game. You'll have a guaranteed seat waiting for you, ensuring you never miss a second of the action-packed matchups. This season includes five home games against Tarleton State, Nicholls State, Incarnate Word, Northwestern, and Houston Christian University.
Unparalleled Home Game Experience
As a season ticket holder, you'll have the chance to enjoy every home game from the best seats in the house. Watch as the Cowboys charge onto the field, feel the adrenaline of each touchdown, and join fellow fans in rallying behind the team. Investing in season tickets is not just about securing your spot at every home game – it also offers some savings versus buying individual tickets. By purchasing your tickets in advance, you'll be able to enjoy all the games while keeping your wallet happy.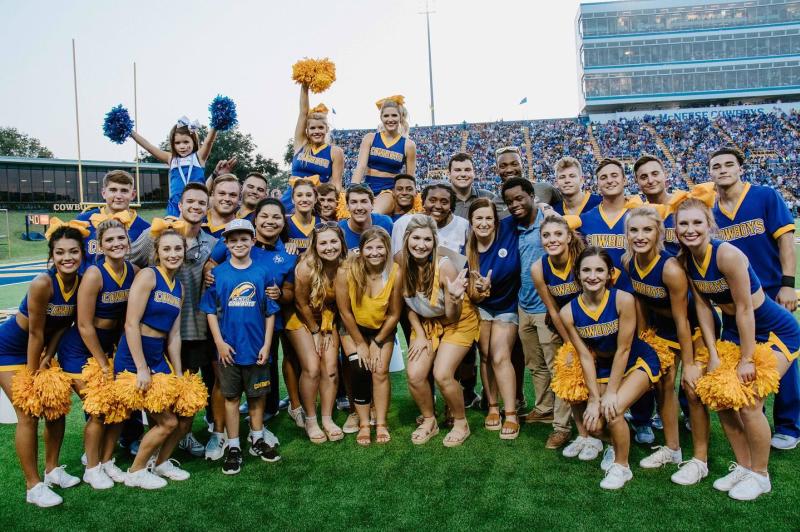 How to Secure Your Season Tickets
Getting your hands on those coveted season tickets is a breeze. Visit the McNeese State University Athletics website or call the ticket office at 337-562-4678 to explore available packages and pricing options. Choose the package that suits you best – whether it's reserved seating or family-friendly options, there's an option that will work for you.
Friday Fun at the Cowboy Block Parties
The McNeese Athletic Foundation is hosting the Cowboy Block Parties for the third year in a row, taking place every Friday night before home games. Held at the Robert Noland Alumni Pavilion ("The Grove"), the parties will feature a variety of bands from 7-9 p.m., followed by DJ Sparrow's music from 9:15-10:45 p.m. Entry and parking are free, and attendees can bring outside food and drinks. Food trucks will also be available on-site.
2023 Cowboy Block Party Lineup
Sept. 1: The Flamethrowers
Sept. 29: Wayne Toups
Oct. 20: Steel Shot
Oct. 27: LA Roxx
Nov. 10: The Chee-Weez
Saturdays are for Tailgating
Come out and spend the afternoon tailgating. There's plenty of food, music, and celebrations. And you don't have to leave the kids at home because there are plenty of games and activities so everyone can feel a part of the festivities! Tailgating is a football tradition and the perfect way to pregame before kickoff. 
Don't Wait, Dive into the Action!
The countdown to an unforgettable football season has begun, and the best way to experience it all is by becoming a proud holder of McNeese State University football season tickets. Join the sea of blue and gold, and cheer for the Cowboys to victory. Get ready to immerse yourself in the heart of the game – secure your season tickets today!