Game2Life - Laser Tag & Axe Throwing!

The Game2Life facility, located at 3311 Broad St. in Lake Charles, sits in a nondescript part of town across from the Calcasieu Parish School Board office and a tractor supply, but when you drive up, you realize this is something special. Game2Life brings an entirely new level of fun and competitive spirit to the Lake Area with its tactical combat laser tag and axe throwing. Both activities bring two entirely different crowds, but the goal is always the same: to absolutely crush the competition.

Game2Life hasn't been around for a terribly long time, but business is booming. After the storms of 2020, it's no surprise that plenty of customers are looking to blow off some steam. Game2Life is an indoors/outdoor experience complete with a bar and grill as well as lounge seating for your non-competitive friends. The axe throwing lanes are outside with the ping pong table and washer boards while the laser tag takes up the inside.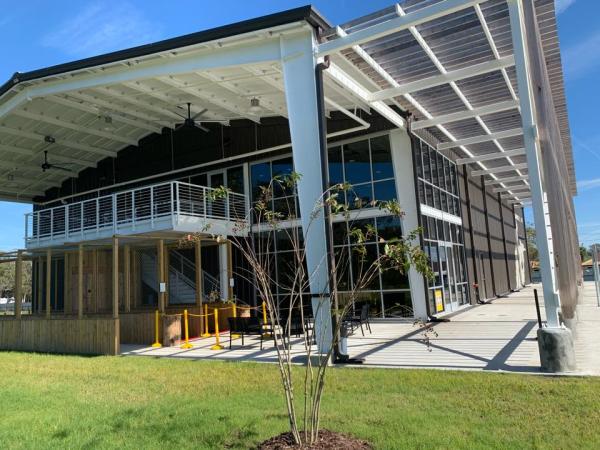 Laser Tag
This isn't your grandma's laser tag; this is tactical combat laser tag in a setting straight out of your favorite shooter video game. Before you enter, a Game2Life staff member briefs you about the game, rules, dos and don'ts, and general safety. You don your body armor and gear, grab your laser assault rifle, and step into the arena, which is a labyrinth of hallways, crates, and stairs. Your senses are overloaded with pulsating music, sirens, flashes, and fog. There are two teams of up to 20 players, and you can choose various gameplay types, such as capture the flag, team death match, dominion, sniper, and others.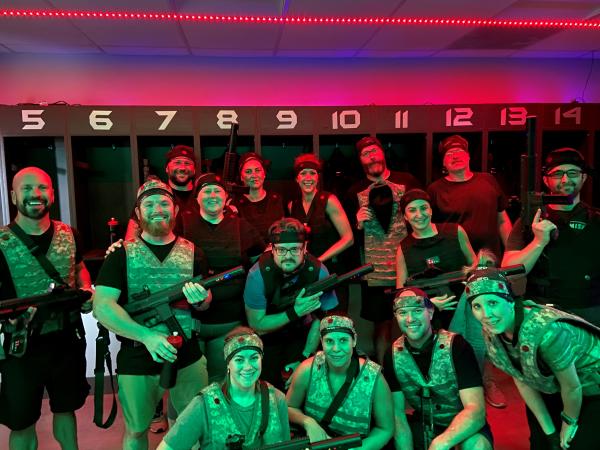 Friend Squad Gone Savage!
(Laser tag brings out the competition, but we still love each other.) <3 
The respawn area has your team's leaderboard, and it's where you go back to reset your gun when you're been "terminated." That moment when you're a first-timer waiting for the game to start is like standing on a cliff ready to take the plunge. Now I've been known to play quite a bit of Call of Duty and Battlefield on Xbox, so I expected to totally own it, but sitting on your couch is a bit different than navigating a dark multi-level arena with shadows running from cover to cover while you frantically try to figure out how to reload your gun. You think you're ready, but you won't be.
The siren signals the start, and you run to cover. You're already drenched in sweat. This is not the place for your jeans– come in standard workout gear. The first 20 minute session feels like only a few minutes, but it'll wake up your competitive spirit and you'll want more. Typical game play is an hour, so pace yourself. It's quickly apparent that your team mates have their own strategies: the Leroy Jenkins who runs kamikaze into the fray; the camper who sits up top and waits for prey; the defender who protects the objective; or the ninja who flanks the enemy with stealth. Regardless, it's guaranteed you'll have the most fun you've had in a while. When it's over, you'll be exhausted and feel like you ran a 5K, but it's a satisfying release of energy and steam. Just be sure to apologize to your friends on the other team for getting a little too aggressive (Sorry, Cody).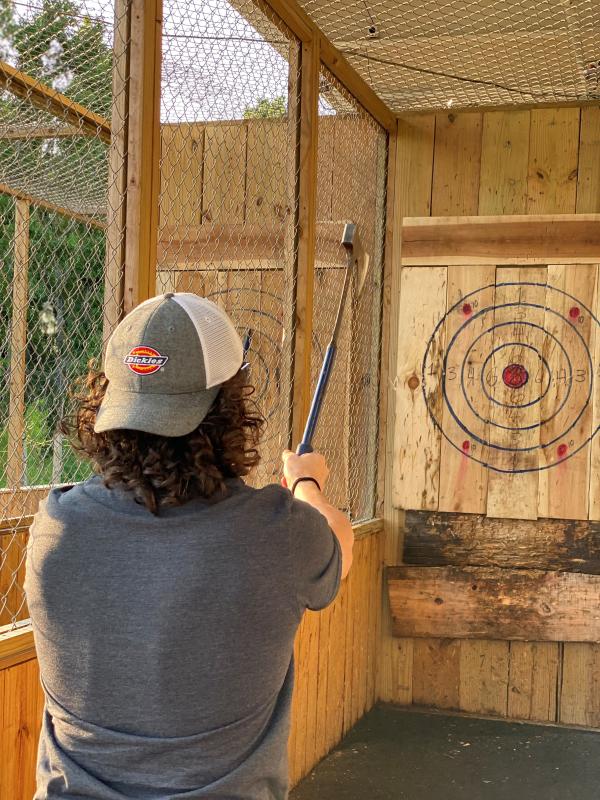 Axe Throwing
While the laser tag attracts groups of intense players, the axe throwing side of Game2Life draws a more laid-back crowd. There are four lanes of throwing in the outdoor area, but there's plenty more to do. Lounge seating and swings give it a comfy, relaxed setting, and you can enjoy other outdoor games while axes are thrown.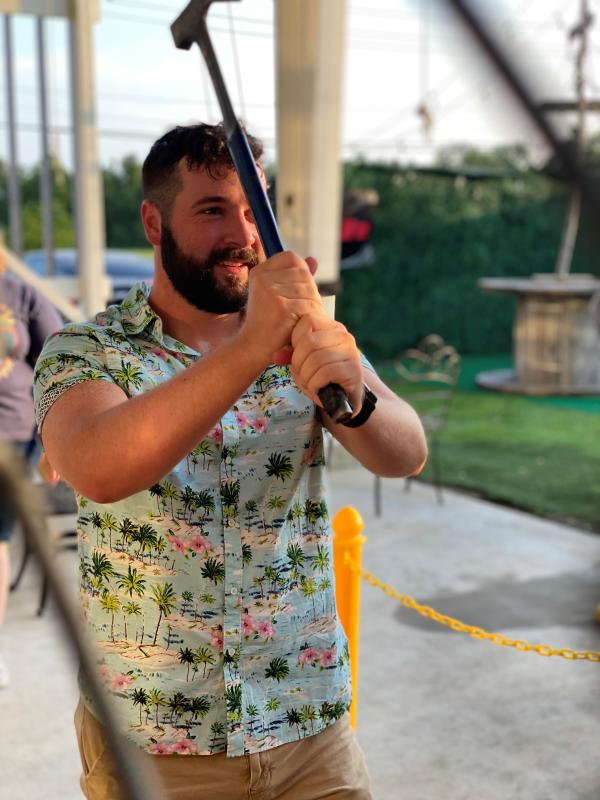 Now I may not be the ace shooter in laser tag, but I can throw an ax. My 10% Viking ancestry had it under control, and I was surprised at how much fun I had. A staff member gives you either a one-handed axe or the two-handed bigger version. We brought a group of friends to hang out and five of us threw axes, which is what they recommend for a lane. When you're there, you'll see first dates, family outings, and relaxed hang outs with friends.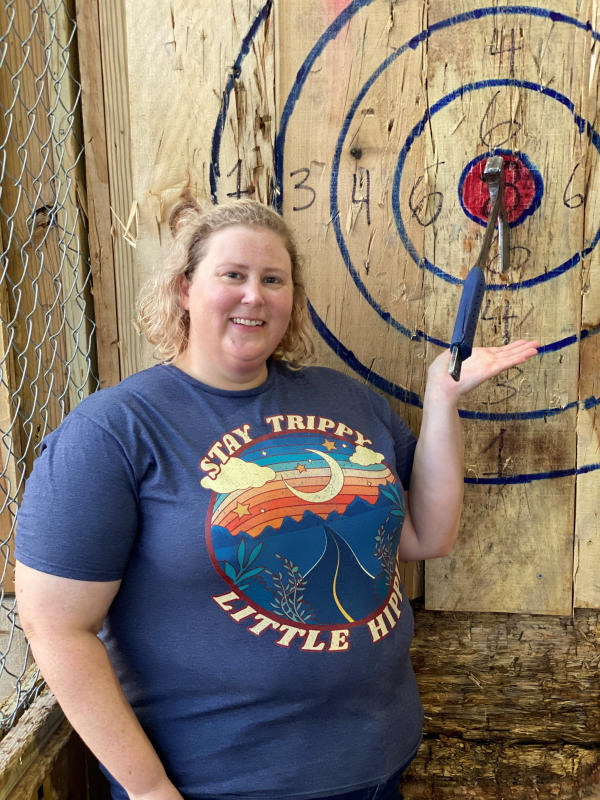 Axe throwing is an art form. Staff will give you a brief explanation on the best way to hit the target, but it's all about balance and release. We're not on a medieval battlefield hurling giant axes; this is a chill, precise skill that doesn't need to dislocate your shoulder. It's easy to get discouraged when the axe flings handle-first into the side of the lane or bounces back at your feet (wear closed-toe shoes!), but when it slices into the target, it's such a rewarding feeling. The hour goes by quick, but you can enjoy food and drinks from the Shooters Bar & Grill on the second story.
After all that axe throwing and laser tagging, you might want to get some sustenance, Game2Life has Shooters Bar & Grill! Check out their menu with a wide array of specialty cocktails, shots, brews and seltzers. There are also lots of hearty food items to choose from with pizzas, wings, Philly cheesesteak, mozzarella wedges, curly fries and more! (They also offer rates for parties and corporate events).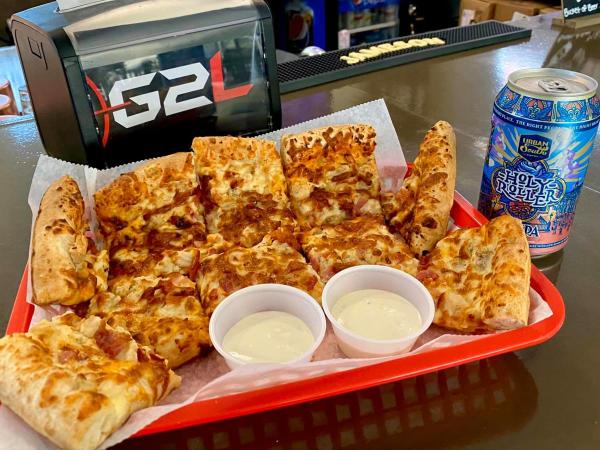 Game2Life is open Thursday through Sunday.
Visit www.game2life.net to book sessions, view leaderboards, or learn more.