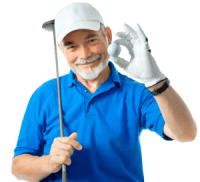 After reviewing three tremendous golf facilities in our Lake Charles Golf Course Review Pt. 1, let's take a deeper dive with a few additional courses that cannot be missed.
Here is the second part of our Lake Charles golf course review series, featuring courses that deliver the goods for players searching for a fantastic golfing experience around the popular travel destination.
What makes me qualified to review courses? I am a golf enthusiast. Golf has always been my passion, ever since I was a kid. I fell in love with helping others improve their game. As a golf expert, my advice has been published in several publications including Golf Tips Magazine, FORE Magazine, GolfMagic, and USGolfTV. Get more tips and info at https://www.golfinfluence.com.
Golf Course #1: The National Golf Club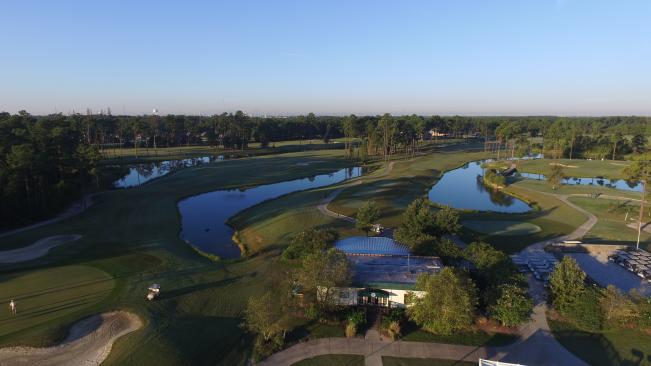 In nearby Westlake, The National Golf Club stands tall as one of the most beautiful golf courses in the region. Golfers from all over the south enjoy coming to The National for its open layout and challenging design.
Measuring over 7,000 yards from their professional tees, The National can play long for some amateurs, but that shouldn't deter you from writing this course on your list. With 14 lakes and 65 bunkers, the course is an absolute pleasure to play from tee to green on each of the impressive 18 holes.
What I tell golfers looking to play The National is that you should arrive early and enjoy the first-rate practice facilities. The club has over an acre of hitting areas, two enormous chipping greens with sand bunkers, and a jaw-dropping 12,000 square foot green that gives you a complete putting practice experience.
My favorite hole on The National is the 5th hole, a par-3 that is worthy of a postcard. With water running along the left side of the hole to an elevated green, golfers will have to bring their accuracy to scramble for par.
Known for its beauty and solid play, The National Golf Club is a gem worthy of the short drive to Westlake.
Golf Course #2: Frasch Park Golf Course
If you are looking for a relaxing day on the links without wearing a hole in your wallet, then the Frasch Park Golf Course is a terrific place to spend an afternoon. The well maintained par-71 course has excellent practice facilities that will help you get warmed up for your round.
If you intend to get out and play a quick 18 in the Lake Charles area, you'll be best served to make the 10-minute drive down I-10 to Sulphur, home to Frasch Park. You'll soon discover that what is great about this course is how relaxed you'll find yourself during the round. Once you hit the first tee, you'll notice how charming the layout is with large fairways and greens that don't penalize your wayward shots.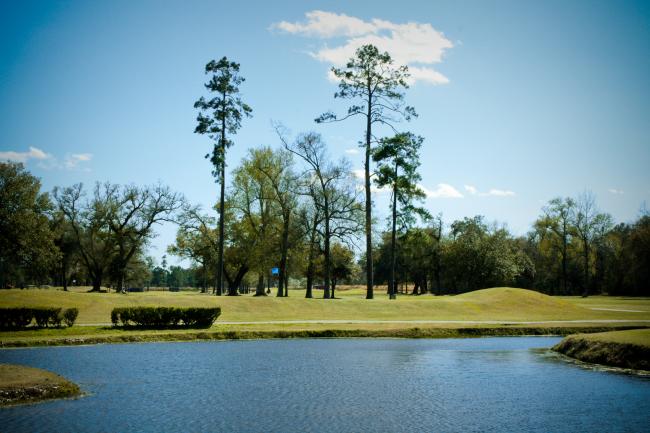 Another great aspect of Frasch Park is that the course isn't too long, making it ideal for high-handicappers. Measuring just under 6,000 yards at the intermediate tees, Frasch Park is a perfect getaway course for the golfer looking to focus on hitting them straight without too much distraction. Most of the par-4s play in the mid-300 yard range, which is great if you have a rangefinder, making them potentially drivable from the tee box for the big hitters in your group.
Affordable and well worth your time, Frasch Park offers a delightful alternative to the expensive courses around the area.
Golf Course #3: Mallard Cove Golf Course
Another club that provides an exceptional experience for a low green fee is the Mallard Cove Golf Course. With water on 12 of the 18 holes and over 25 of the biggest bunkers you'll ever see on a course, Mallard Cove has set itself apart from other surrounding courses by offering top-tier golf for a great value.
Always well maintained, Mallard Cove stays busy year-round, so it would be wise to make sure there's a tee time a few days in advance if you're looking to play the course.
The layout at Mallard Cove isn't too demanding, rewarding the golfer who sticks to the fairways and keeps it close on the greens. Several holes offer risk versus reward shots that could create terrific scoring opportunities or sink your final score.
If you are adventurous, the professional tees do stretch out to almost 7,000 yards, while the mid-level tees are around 6,500 yards in length.
If there is one tip I can give you before playing Mallard Cove, it is to take a few minutes to practice putting before your round as these greens are slick but a blast to play, especially once you are ready for their speed.
Comfortable and accommodating, Mallard Cove is an outstanding option for terrific golf in the Lake Charles area.
Related Content
Did you miss the courses in my Part 1 review? Check out the other golf courses in Southwest Louisiana here.