THE IMPORTANCE OF COASTAL WETLANDS 
The Creole Nature Trail All American Road leads you through south Louisiana's coastal wetlands, one of our country's most important natural assets. Today, these wetlands are threatened both by past manmade adaptations and through environmental changes. We all need to work to understand and preserve them for future generations. The quiet serenity and splendor of these marshes mask a powerful and vital environmental engine that works unceasingly to support and sustain a vast portion of the North American ecosystem. They did not form overnight. They were thousands of years in the making, and every aspect of these years contributes to their environmental usefulness. These life-giving, life-supporting wetlands are a national treasure and a critical part of our country's remarkable heritage.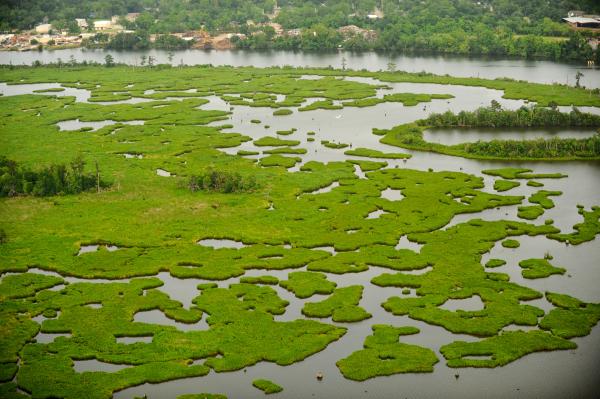 Function of the Wetlands 
Witnessing the astounding beauty of the Creole Nature Trail's coastal wetlands, you realize that of itself, this splendor is worthy of preservation. And there are many, many other critical functions the wetlands fulfill making them vital not just to Southwest Louisiana but to the whole country. Louisiana's wetlands represent an estimated annual economic value in excess of $74 billion, and contribute either directly or indirectly to the lives of the United States. Each of these wetland functions are intrinsically linked to one another.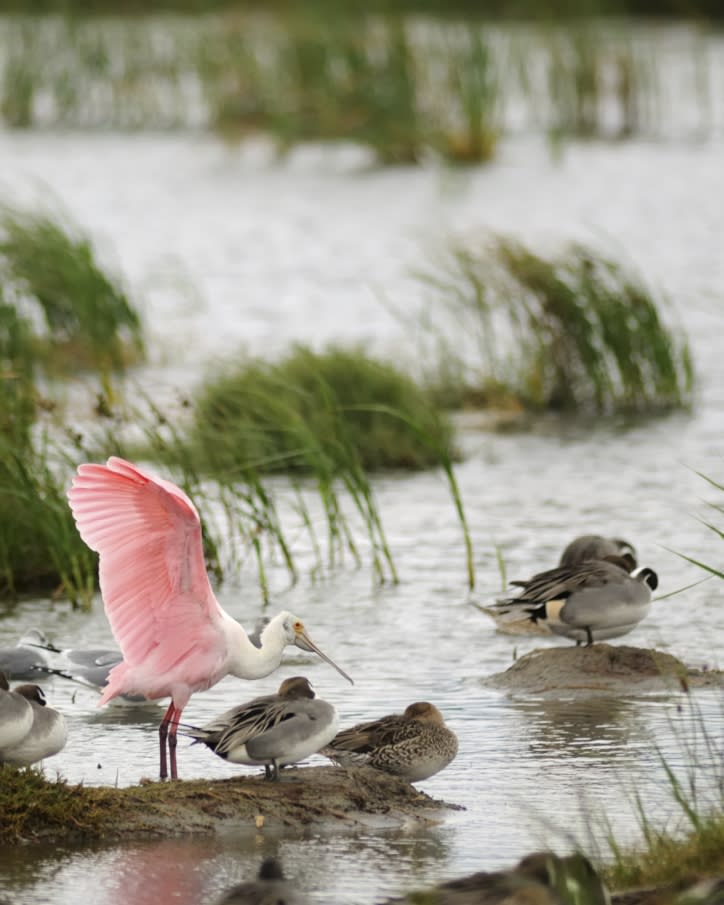 The Creole Nature Trail's coastal marshes: 
Provide a natural defense against erosion, and act as a critical first-line buffer against storm impacts preventing greater environmental damage. 

Create the fertile base necessary for an ecosystem food web that feeds millions of migrating waterfowl and songbirds annually. 

Provide valuable breeding, spawning, feeding and nursery grounds for many for more than 75% of Louisiana's commercially harvested fish and shellfish which provide nearly one third of all the seafood consumed in the United States. 
Function as a giant natural water treatment system filtering sediments, nutrients and chemical pollutants. 

Maintain health and sustainability of the alligator population through habitat protection. 

Provides vital habitat for resident wildlife. 

Support coastal populations who harvest the fruits of marsh and sea sent to nationwide markets. 

Sustain a more productive system than many highly yield agricultural lands. 
Supports large colonies and numbers of nesting water birds. 

Serves as the source of more than 40% of the nation's wild fur harvest including nutria, muskrat, mink, raccoon, otter, bobcat, beaver, coyote and opossum. 

Help protect the vast infrastructure of nationally significant oil and gas facilities including refineries and pipelines, and most recently, liquified natural gas (LNG) export facilities. 

Produce about 21% of the nation's natural gas supply. 

Support gulf fish populations for recreational fishing. 
Be sure to pack in what you need and pack out anything you brought with you (pack it in, pack it out) to preserve the flora, fauna and amazing viewing for future generations.