Beaches & Shelling 
The Creole Nature Trail has 26 miles of Gulf beaches with amazing views and plenty of things to do. These beaches, for the most part, are untouched by development, providing a very natural beach and picnicking setting. The beaches are also conveniently located only 45 minutes from Lake Charles.

Take a look at our Shelling Guide.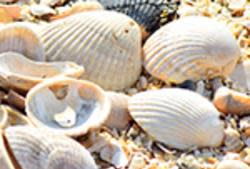 Since the beaches along the Creole Nature Trail are relatively secluded they offer the perfect opportunity for finding shells without dealing with large crowds. Located west of the Mississippi Delta, they are constantly replenished by the "muddy river's" southeast tidal flow which carries rich deposits of driftwood and a wide variety of shells including whelks, cockles, angel wings, cat's eyes, olives, wentletraps, coquinas and periwinkles. The best part is that you can keep all the shells you find as souvenirs!
Low tide following a storm system offers prime shelling. With a little luck, you'll find a "Sea Bean" - a pod carried all the way from Central and South American forests.