Red, White, Blue and You! 4th of July Celebration 2019 🎆🔴⚪🔵🎇
Downtown and Lake Charles Civic Center
900 Lakeshore Drive

Lake Charles, LA 70601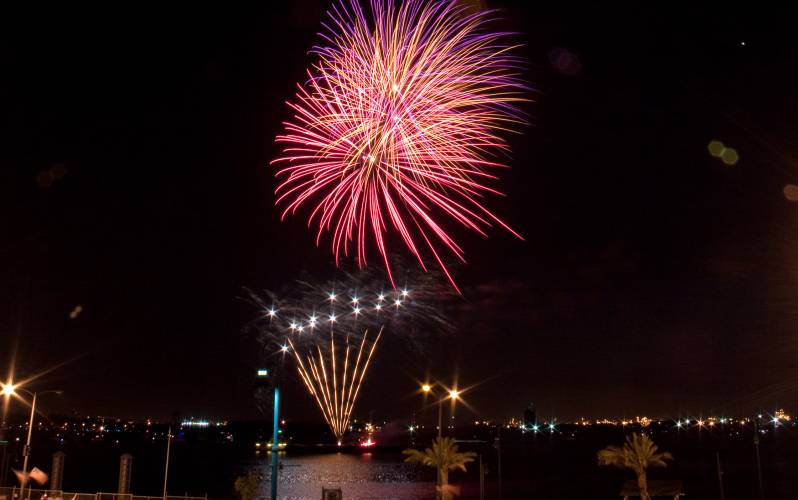 Summer in Lake Charles just wouldn't be summer without the Red White Blue and You Festival. There is nothing like getting everyone together under the stars on one big blanket (or boat!) for 4th of July fireworks! We live for those moments during the firework show that brings out our biggest "ooo's and ahh's!" Sitting there with a big grin on our face waiting for our favorite kind of firework to light up the sky or playing a guessing game of the next color of firework!
Parade- 6 PM
The Fourth of July, whether you are looking for a parade and live music or delicious food, Lake Charles has it. Red White Blue and You kicks off with a star-spangled community street parade rolls through downtown starting at 6:00 PM. Anyone who would like to decorate their vehicles, golf carts, or bicycles are welcome to join in! The route from Pine Street heading south on Ryan Street toward Lock Park/7th Street is perfect for kids!
Concert- 6:45 to 9 PM
After the parade, 6:45 PM, the sounds of music will fill the Arcade Pavilion of the Lake Charles Civic Center. Look forward to the patriotic concert and sing-along provided by the Lake Charles Community Band and Louisiana Choral Foundation as a special tribute to the Armed Forces.
Fireworks- 9:15 PM
After the concert, a grand finale fireworks display will illuminate the sky. The show starts at approximately 9:15 p.m. so make sure you get to the seawall early for "the best seats." Or if you are lucky enough to be on a boat, fireworks over the lake, are spectacular!
Other Items
Previous years have included a festival celebration at the Lake Charles Civic Center Arcade Pavilion with concessions, face painting, and a patriotic program.
In the past the Red White Blue & You has been voted one of the "STS Top 20 Events" among 12 states for the month of July by the Southeast Tourism Society which promotes travel to and within the Southeastern part of the United States.
For more information call 337-491-9159 or www.cityoflakecharles.com.