Honey B Ham & Deli
Lake Charles
506 E. Prien Lake Rd.

Lake Charles, LA 70601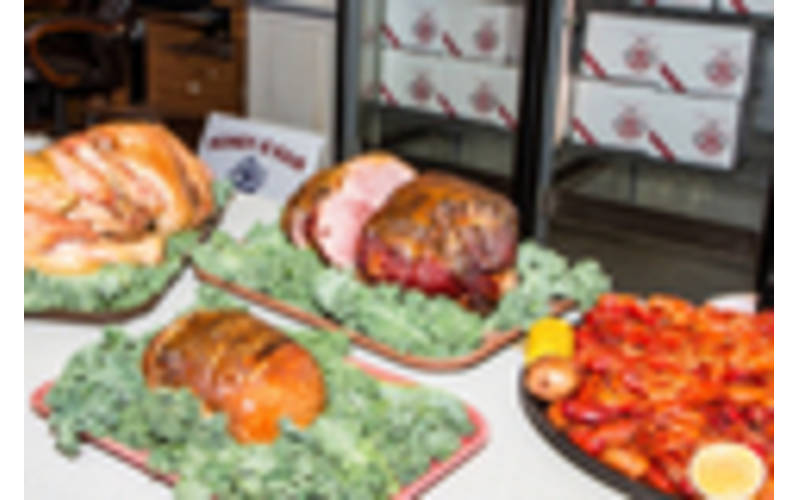 Temporary Hours
Mon. - Sat.: 8 AM - 8 PM (drive-thru open until 8:30pm)
Sun.: 11 AM - 6 PM
Drive thru and to go orders only.
Welcome to Honey B Ham and Deli! Located in Lake Charles, LA, Honey B Ham and Deli is known for our top-of-the-line hams and turkeys, as well as our superior customer service. Our goal is make sure the process of getting the ham or turkey you want from us to your table is simple and stress-free.
Our Honey Glazed Hams are hickory smoked, spiral sliced and baked with a thick and rich honey & spice glaze. Ready for the table, our hams and turkeys make any occasion truly special. We choose only the finest meats, then carefully trim and slowly dry cure. Every ham is spiral-sliced around the bone to give you ready-to-serve, uniform slices.
If you are looking for a crowd-pleasing ham or turkey to be the main dish of your next dinner party, holiday event, or family get together, you've come to the right place. Call one of the friendly staff members at Honey B Ham and Deli today! (337) 478-3354
General

Temporary Hours:

Mon. - Sat.: 8 AM - 8 PM (drive-thru open until 8:30pm)
Sun.: 11 AM - 6 PM
Drive thru and to go orders only.

Hours of Operation:

Hours: Mon.-Fri.: 8 AM - 5:30 PM Sat.-Sun.: 8 AM - 3 PM Crawfish Season Hours: Mon. - Sat.: 8 AM - 8 PM (drive-thru open until 8:30pm) Sun.: 11 AM - 6 PM

Tags

SWLA Boudin Trail:

General

Take Out/Delivery:

Order Options

Delivery:

Take Out/Curbside:

Drive-Thru:

General

Open For Business: