McNeese State University
Lake Charles
4205 Ryan St.

Lake Charles, LA 70609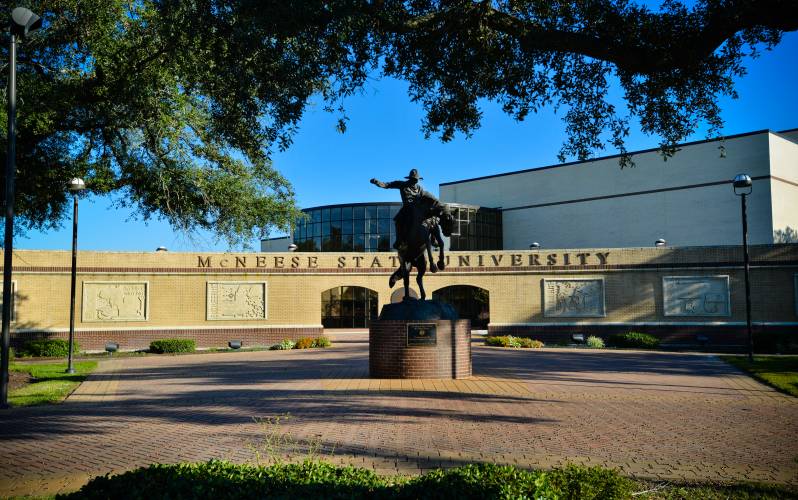 Founded in 1939, McNeese State University is the only university in Louisiana that's named after an educator. John McNeese was a renowned Southwest Louisiana educator and the first superintendent of schools in Imperial Calcasieu Parish. The McNeese campus, located in Lake Charles, Louisiana, consists of the 121-acre main campus, the 503-acre Farm, the 65-acre Doland Athletics Complex, and nearly 1,600 acres of donated farm property used for research, farming, and ranching. The main campus, dotted with live oak trees and azaleas, comprises approximately 30 buildings including the three original structures – Kaufman Hall, Ralph O. Ward Memorial Gym (the Arena), and Francis G. Bulber Auditorium. Bulber Auditorium, a striking example of Art Deco architecture, is listed on the National Register of Historic Places.
As a member of the University of Louisiana System and a selective admissions institution, McNeese offers programs through the Department of General and Basic Studies and six academic colleges: Business, Education, Engineering and Computer Science, Liberal Arts, Nursing and Health Professions, and Science and Agriculture. McNeese's student body is comprised of students from throughout Louisiana, the United States, and approximately 50 countries.
McNeese's athletic programs are NCAA-certified for competition at the Division I level. McNeese is a member of the prestigious Southland Conference, and competes for championships in football, basketball, indoor track, cross country, outdoor track, baseball, and golf for the men and cross country, indoor track, outdoor track, tennis, golf, volleyball, basketball, softball, and soccer for the women.
Throughout its history, McNeese has maintained a dedication to its core values of academic excellence, student success, fiscal responsibility, and university/community alliances. McNeese State University remains a major influence in the rich cultural and economic success of Southwest Louisiana and continues to lead through innovative education, dynamic programs, and dedicated service to the region and beyond.
Sports Facilities
McNeese's Cowboy Stadium: Constructed in 1965 and renovated and expanded to a 17,410 seating capacity complex in 1975. With the addition of the Robert Noland Skyranch in 1998, Cowboy Stadium has some of the finest luxury suite/club seating options in the area. A new scoreboard and sound system were installed in 2005. New Turf Football Field – GeoMax2 in filled replicated grass field with GSE ProDrain 57 drainage and shock attenuation blanket. Field House Project - 7500 sq. ft. weight Room / New offices and meeting facilities, including a new athletic administration wing and ticket office / Seating area and balcony overlooking Cowboy Stadium to include 132 seats on 3 tiers / 112 locker spaces State of the Art Technology to be installed in all offices and meeting rooms, including wireless internet, flat screen TVs and much more.
Cowboy Diamond: 2,000 seating capacity outdoor baseball diamond has a lighted stadium and a grass playing surface; equipped with indoor batting and pitching facilities.
Cowgirl Diamond: The McNeese softball team plays all of their home games on the Cowgirl Diamond, constructed in 2003. Field dimensions are 205 feet down the lines and 215 feet straight away centerfield. 1 Field, 1,000 Seating, 500 Parking, Concessions & Lights available.
McNeese Recreation Complex: 200 meter, four lane indoor track; 50 meters long x 25 yards wide indoor/outdoor L-shaped pool; eight outdoor tennis courts; five indoor volleyball courts; two outdoor sand volleyball courts; four racquetball courts; steam room; sauna; weight room.
McNeese Driving Range: 150 yard long lighted driving range; can accommodate up to 45 people at a time Burton Memorial Coliseum Coliseum: 24,000 sq. ft. indoor arena.
The Memorial Gym at McNeese: A perfect fit for gymnastics meets, martial arts competitions, volleyball. In 1999, it received new hardwood floors, and in 2002, a sound system was set in place. A new acoustic-paneled roof and ceiling were added in the fall of 2004.
McNeese Track: The McNeese track has recently been resurfaced with a rubberized all-weather product. Jumping and vaulting pits were also added in the infield of the track. In addition, the track has a scoreboard, fieldhouse and press box. 1 Track, 1,000 Seating, 5,000+ Parking, Concessions available. 400 meter, eight lane oval track with a 110 meter straightway; Bram 13 millimeter urethane all-weather surface; separate areas for weight events; double lanes for pole vault, long jump, and triple jump; expanded areas for high jump.
Tennis Courts: McNeese's women's tennis complex consists of eight all-weather courts, with four being lighted. The McNeese tennis courts host a variety of local, state, and regional tournaments and clinics. 8 Courts, 1,000 Seating, 1,000+ Parking, Lighted Courts available.
Swimming: The Olympic sized swimming pool is "L" shaped. The outdoor portion is 50 meters long, and the indoor portion is 25 yards long, each having six lanes. During the winter, the pool is heated to 82 degrees. A lifeguard is always on duty. Within proximity of the pool is a steam and sauna room, as well as shower and locker rooms. 1 Pool, 500 Seating, 1,000+ Parking, Locker Rooms
Personal Protection

Masks Required-Staff:

Masks Required-Guest: