Bus & Trolley Routes
The Department of Public Works Transit Division provides bus transportation for residents within the City of Lake Charles. There are currently five fixed routes operating within the City. Bus service is provided Monday through Friday from 5:45 A.M. through 5:45 P.M. (except on City holidays). All routes depart the Transit Customer Service Center located at 1155 Ryan Street, every 45 minutes after the hour.
Maps & Stop Locations: 
Para Transit Service 
The city of Lake Charles Para Transit Service offers a special mode of transportation to disabled persons who have met Federal eligibility guidelines. The Transit System is equipped with vans with wheelchair access and can transport passengers from origin to destination, such as hospital clinics, doctor's offices, medical centers, grocery stores, pharmacies and more.
 
The Para Transit's hours of operation are 5:45 A.M. to 5:45 P.M. Monday through Friday, except on City holidays. The fare is $1.00 per trip or $2.00 per round trip. Eligible passengers should call (337) 491-1267 one day in advance to schedule appointments.
Trolley Schedule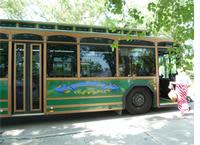 Route 1 (Kirkman/University): Monday
Route 2 (Simmons/Prater): Tuesday
Route 3 (Mill/Sowela): Wednesday
Route 4 (Oak Park/Power Center): Thursday
Route 5 (Prien Mall/Nelson): Friday
 
(In the event of unforeseen circumstances, the trolley may not run as scheduled.) 
 
Bikes on Buses 
You will find our Gillig buses are equipped with bike racks located on the front exterior of the buses. The rack holds up to two single seated, two-wheeled, non-motorized bicycles. Cyclists secure their bicycles independently of one another.
 
Regular fares apply for each passenger. Your bike rides for FREE!

Bus Fares
Full Fare- $ 1.00
One way trip on any fixed route
Special Rates: Requires proper identification and must apply at the Transit office.
Seniors: $0.50 (Persons age 65 or older. Must present current picture ID with birth date)
Disabled/Medicare/Medicaid: $0.25 (Must present current picture ID. Must present government issued ID with red disabled symbol. For Medicare/Medicaid discount, Medicare/Medicaid card must be presented.)
Student Rates $0.50 (Must present Student ID when boarding)
Veterans: $0.50 (Must present a Veteran Picture ID when boarding)
All discount cards must be shown each time you board to ride at a discounted rate.

Children under 3 years: FREE
Transfers between routes: FREE
Transfers will be issued upon request when fare is paid.
​Transfers are valid for one continuous trip.
Transfers are not valid for stopovers.
Please have exact change for fares as operators do not carry change. All fares are to be paid into the fare box upon boarding.
Bus Stops
Buses stop only at designated bus stops. Drivers do not deviate from their routes unless there is a safety issue. 
Download and print the new City of Lake Charles Transit Brochure
For more information, visit www.CityofLakeCharles.com