Guide to Lake Charles Mardi Gras
What to pack? Where to go? What to expect?
If you're planning a trip to celebrate Mardi Gras in Lake Charles, check out this handy how-to guide to make the most of your experience.
When is Mardi Gras?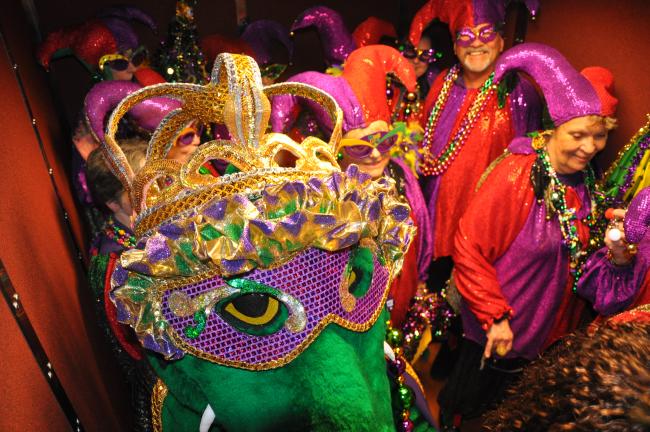 The 2020 carnival season in Southwest Louisiana kicks off with 2 days of events at a party and poster reveal in Downtown Lake Charles on Friday, January 3 and the annual Twelfth Night Celebration introducing the royal courts of more than 50 krewes in elaborate costumes on Jan. 4 and continues through Mardi Gras day––Fat Tuesday celebrations on Feb. 25, culminating in the finale Krewe of Krewes Parade on Mardi Gras Day.
What to Pack/How to Dress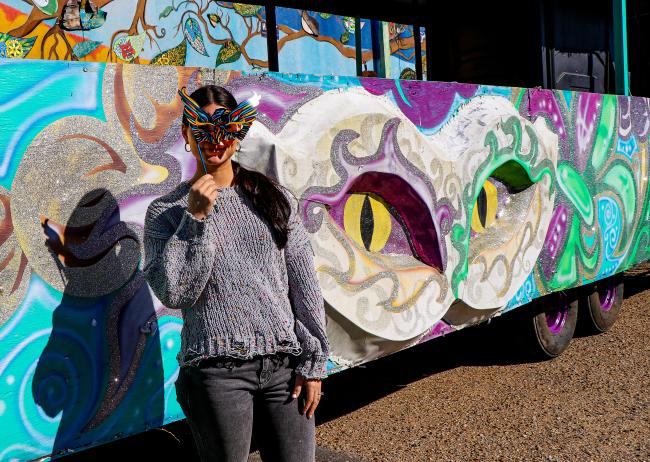 Although Louisiana summers are hot, carnival season in January-February brings milder temperatures ranging from the mid-40s at night to the mid-60s during the day. Be sure to pack for cooler weather and bring light layers you can easily add or remove based on current conditions. Comfortable shoes are a must, too. There's a lot of walking – and dancing – to be done! 
Don't forget to wear the right colors. What better way to celebrate Mardi Gras than by wearing its traditional colors of purple, green and gold. Visit the many local party stores to pick up great shirts, hats, and beads to wear during the festivities.
Parking
Lake Charles offers ample free parking. But to know where to park, you will want to know where the parade routes are. Park near the route, but be sure to follow the parking rules and not to block driveways, roads or other cars. For the larger parades such as the Krewe of Krewes, to get a good parking spot and viewing spot, arrive about 30 minutes to an hour before the parade is scheduled to roll. You will also want to consider what side you will want to view the parade from and think about your exit strategy if you need to leave before the parade ends (but who would willingly leave early?)
Parade Roundup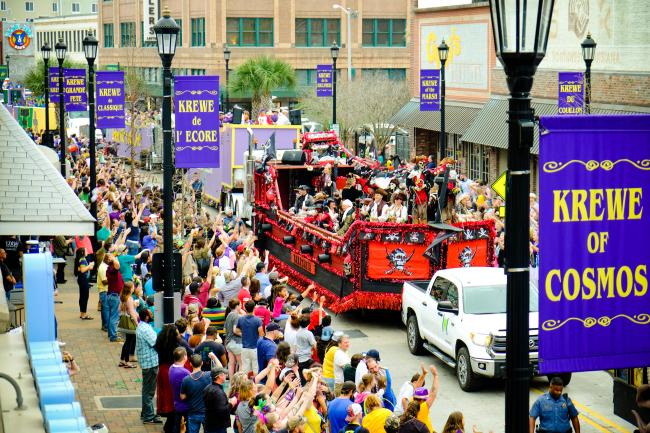 More than a dozen Mardi Gras parades will roll through Southwest Louisiana during carnival season, but here are just a few you won't want to miss.
The granddaddy Krewe of Krewes Parade winds four miles through Lake Charles, with more than 100 elaborate floats tossing thousands of beads, cups, doubloons and other fun items to cheering crowds along the way.
Young and old line up along the seawall at the lakefront promenade behind the Civic Center to be dazzled by lighted boats parading along a glimmering Lake Charles during the Lake Charles Mardi Gras Boat Parade.
Pets and pet lovers strut their stuff to adoring fans during the popular Krewe of Barkus Parade, while a sea of purple, green and gold delights the young (and young at heart!) at the Children's Parade.
Jeep lovers unite for the jammin' Jeeps on Parade, hot rods and classic cars take center stage at the Motor Gras Parade, local businesses and social organizations make festive floats for the Merchants Parade, and Mardi Gras music fills the air during the festive Second Line Stroll.
Fat Tuesday parades and events begin 8 AM and last until the sun goes down! Bring a tote for all of your Mardi Gras treasures, an ice chest with plenty of snacks and drinks and scope out potty options ahead of time.  

For more parade details, check out our full Mardi Gras parade schedule showing dates, times and routes.
Can I Bring the Kids?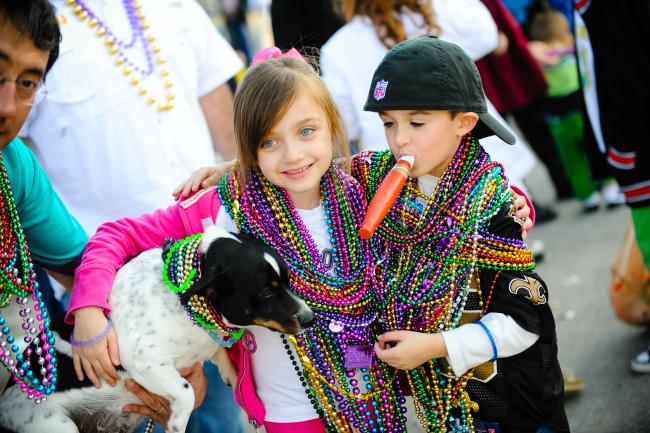 You not only can, but you absolutely should bring the kids! Mardi Gras in Lake Charles is a family-friendly festival with special activities catered to children and teens. They'll enjoy all of the history, pageantry, and traditions of this one-of-a-kind celebration in a safe, welcoming atmosphere. You can bring blankets and picnic baskets, and get there early to enjoy the day. As parade time nears, the crowd will gather everywhere, and you'll have to put up the blankets and ice chests. Don't be surprised if someone jumps on your blanket to reach a pair of beads though! For ideas on what to do with the kids while you're here, check out the top Mardi Gras family activities on tap.
Where Should I Plan to Eat?
For Mardi Gras weekend, plan your meals ahead. Many restaurants along the parade route will close or not allow entry or departure during the parades. You may opt to eat street vendor food or pack your own snacks and sandwiches. It will be a long day, so plan ahead! Also, bring wet wipes or tissues with you to clean up before/after eating. Your hands will get very dirty, and it won't be easy to find a sink and soap.
For a true taste of Mardi Gras you won't want to miss the World Famous Cajun Extravaganza and Gumbo Cook-Off. Sample spicy gumbo from a collection of amateur and professional teams, all putting their own spin on this Louisiana classic to a backdrop of foot-stomping music.
Mardi Gras Fun Facts
One of the earliest recorded Mardi Gras celebrations in Southwest Louisiana was believed to have taken place nearly 140 years ago, back on Tuesday, Feb. 21, 1882.
Southwest Louisiana's Mardi Gras celebration is the second-largest in the state behind New Orleans, featuring more than 60 different krewes.
The Mardi Gras Museum of Imperial Calcasieu contains the largest collection of Mardi Gras costumes in the world.
The average Mardi Gras costume weighs more than 50 pounds and construction for next year's costumes often begins just days after this year's event.
The tall, pointy hats typically seen at a Cajun Mardi Gras celebration are called "capuchins" and are meant to parody the headdresses of France's noble ladies.

How Can I Get the Latest Updates?
For the latest Mardi Gras news and notifications for activities happening while you are here, be sure to download the Lake Charles Events app in iTunes or Google Play.
Share your Experience
#swlaMardiGras