The Brunch Tour
Brunch! It's that magical time of day when day drinking is socially acceptable, and you can carb-load in the name of classy living. Over the past several years, the brunch scene has ramped up in the Lake Area, and the city is teeming with brunch options - with each one tastier and more decadent than the last. It's time to get our brunch on.
Our first stop out of the gate is the Villa Harlequin (324 Pujo St.; Sundays, 10 a.m. to 2 p.m.). This heavy hitter remains to be one of the best restaurants in town. If you find yourself with only an hour left to live on a Sunday and need that perfect "last meal," then you better get yourself their Savory Bread Pudding. Two poached eggs are perched atop two bread pudding cakes (without any sugar or typical sweetness) and drenched in a crawfish cream sauce. I kid you not, it was the best brunch dish I've had in years. It reminds me of that full-body warmth you only get from a lazy, summery mid-morning spent in the sun with a full stomach of comfort food. The Villa Harlequin's crafted dishes somehow transcend from just food to an experience that engages multisensory memories.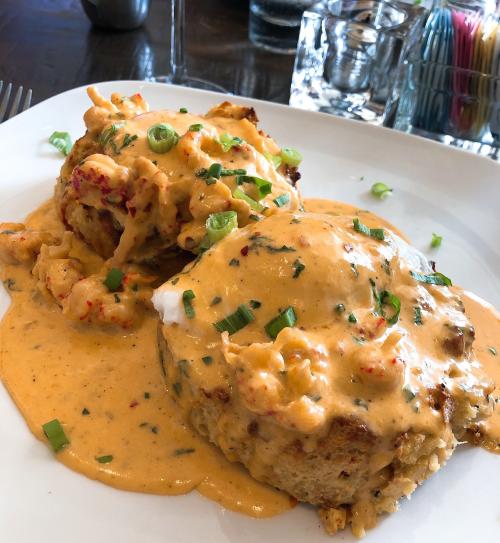 But Chef Amanda Cusey doesn't quit there. Chicken and Waffles seems to be the mainstay on any standard brunch menu, but Chef Cusey pours a jalapeno blueberry gastrique over a pair of Belgian pearl sugar waffles to create a sweet, spicy, and tart play of tastes. And don't skip the Loaded Fries; their crispy fries are lovingly soaked in the restaurant's signature beef and sausage Bolognese and topped with melted mozzarella. The Steak and Eggs were perfectly cooked yet not overwhelming in serving size (if you're worried about eating a whole steak of breakfast – but really, who is?). Everything considered, the Villa Harlequin proves that resiliency and creativity yield tasty, tasty things.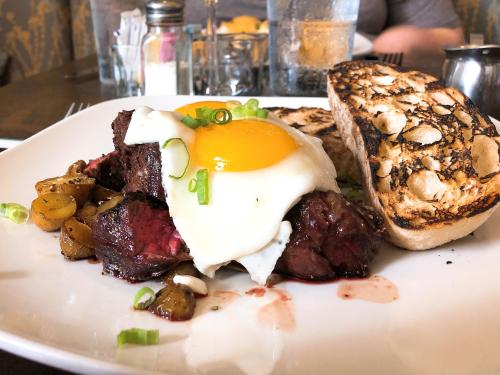 Next on the tour is Fire and Oak (5656 Nelson Rd.; Sundays, 11a.m. to 2:30 p.m.), which has only a few brunch days under its belt but is regularly delivering elevated dishes to the brunch scene. Chef Andrew Green thinks brunch should be fun, and he melds together gastronomy techniques with Southern favorites to create accessible brunch options that still make you feel classy and sassy.
When Chef Green is traveling to other food epicenters like Austin or Dallas, he likes to collect the dishes that stick with him and create his own version of them for Fire and Oak. Expect the brunch menu to evolve as they hone their flavors, but you can always expect it to bring together traditional favorites with fine dining techniques and inspirations. If you're looking for that satisfying brunch dish, then the Chicken and Waffles are it. A large spicy chicken breast sits atop a jalapeno cheddar waffle drizzled with bechamel and brown butter. For the lighter fare, you will be blown away by the Smoked Salmon Toast. It's easy to overlook it on the menu when it's sitting next to steak and eggs, but it's an incredibly fresh and flavorful mix of cream cheese, avocado, capers, red onion, and tomatoes bedded on toast with fresh smoked salmon.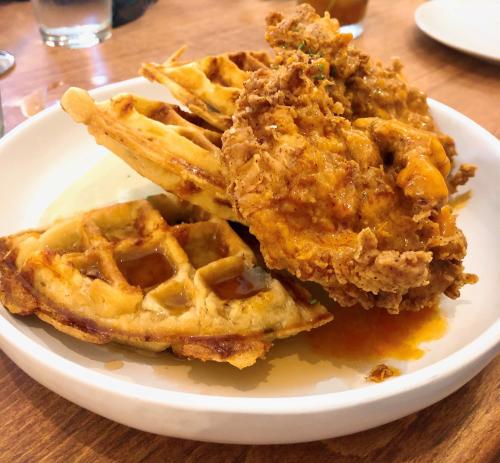 Now, deep breath, and throw away your scale! You owe it to yourself to order the Chocolate Stuffed Beignets, which come with coffee ice cream, banana crème anglaise, strawberries, and a dulce de leche sauce. (Dear God, it shook me). Chef Green is perhaps most proud of his Eggs in Brioche dish, which nestles an egg, gruyere cheese, ham, and béchamel into a large brioche roll straight from Helen Street Bakery Bread. It's one of the least expensive options – only $13 – and showcases the full breadth of skill that Fire and Oak brings to the table. Don't forget to order one of their life-changing Bloody Marys – it has a sweet tangy BBQ flavor that you won't find elsewhere.
Head back up north on Ryan Street and pop in at Rikenjaks (3716 Ryan St.; Sundays, 11am to 3pm) for their Sunday Zydeco Brunch. Rikenjaks prides on being the only restaurant in Lake Charles that doesn't close after brunch; the music keeps going and turns into a jazz Sunday night affair. Zydecane entertains the brunch crowd while the Jay Ecker Jazz Quartet soothes the evening group. Their $3 mimosas lure you in and their eclectic brunch menu keeps you satisfied while the jams keep flowing. Interim General Manager Stephen Casanave says the staff at Rikenjak's has put together three different brunch menus over the last year and a half. What remains today are the superstar dishes like the Monte Cristo and Beignets, but they also throw in twists on their favorites, like Fruity Pebble Waffles and Seafood Benedict.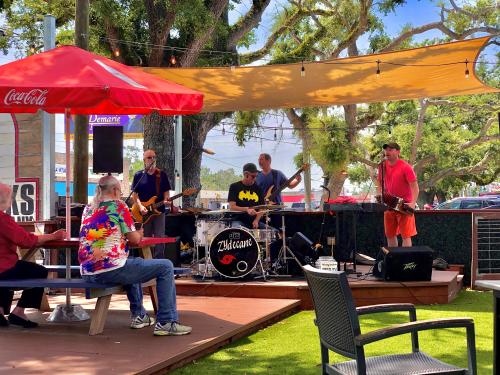 The Seafood Benedict adds a whole new layer of texture and taste to the traditional Eggs Benedict. It trades out meat for succulent shrimp and crab meat, and a poached egg sitting on a homemade biscuit is drenched in crab fondue sauce. It's divine, rich, and will keep you happy all day. For the protein lovers out there, Rikenjaks scrambles are the way to go. Casanave says the scrambles were meant to be just another easy dish, but they have taken off. They now offer five different scrambles, each with their own flavor profile. The Western Scramble is served with fajita beef or chicken, queso, peppers, and onions, while the Boudin Scramble brings together pepperjack cheese-stuffed spicy boudin with a sweet chili sauce. The three other scrambles are equally appetizing.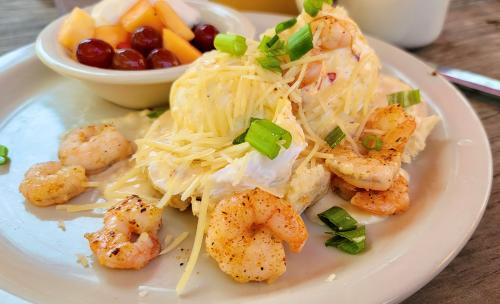 *Seafood Benedict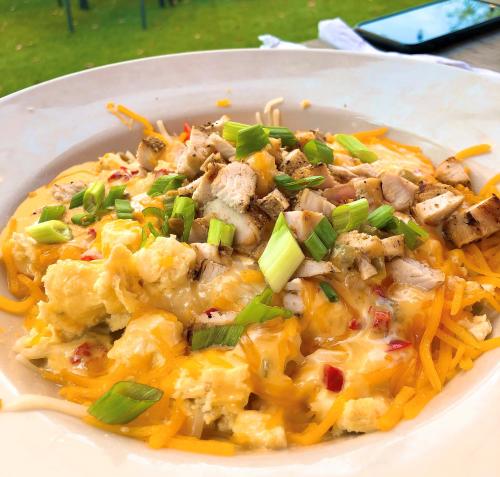 *Western Scramble
The Bloody Mary at MacFarlane's Celtic Pub (417 Ann St.; Sundays, 10am to 3pm) carries a reputation that lives up to the hype, but be sure to get in line early since no reservations are taken. Try their hearty Celtic Breakfast, which is a take on the traditional Irish breakfast, or dig into the Cluck and Squeak – three fried green tomatoes and three poached eggs served on grits and hollandaise.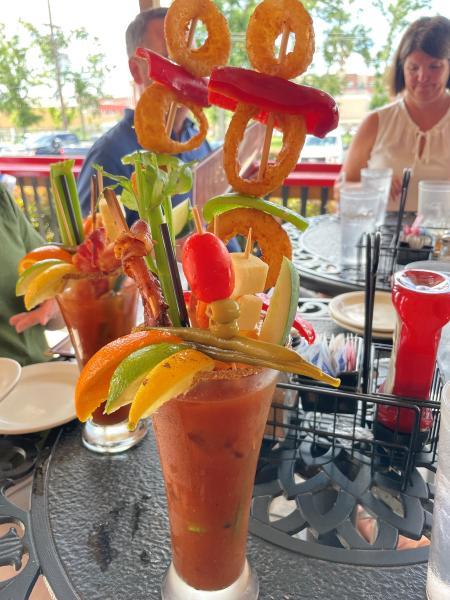 *Bloody Mary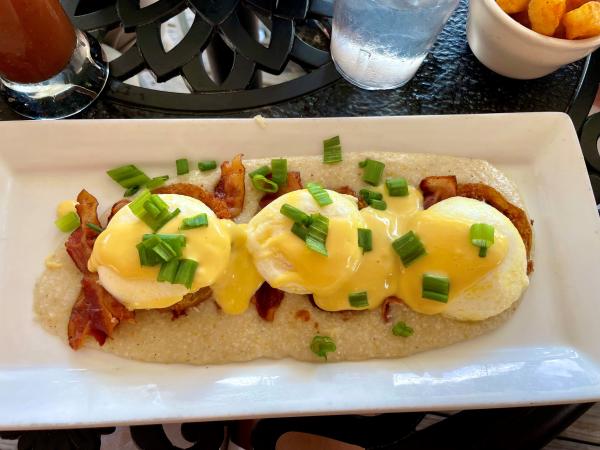 *Cluck and Squeak
While you're downtown, head to Restaurant Calla (1400 Market St.; Sundays, 10:30 a.m. to 3 p.m.) for an elevated brunch experience and order their Shrimp and Grits with roasted poblano crema or their Salmon Power Bowl, which includes seared pineapple, roasted cauliflower, Brussel sprouts, quinoa, sweet potato, cucumber, and blistered tomatoes. They also serve complimentary pastries while you enjoy their signature brunch cocktails like Vanilla Lavender Mimosa or Hibiscus Palmer.
Pujo Street Cafe (901 Ryan St.; Saturdays 11a.m. to 2 p.m.) continues the downtown streak with their Saturday brunch, which has set the standard for elegant dining with their limited yet decadent brunch menu. While they open at 6am for breakfast, you can only get dishes like Eggs Benedict, Maryland Benedict, and Pain Perdu and Chicken during brunch. The Maryland Benedict seals the deal with jumbo lump crab cakes topped with poached eggs and hollandaise.
It's hard to mention brunch options without talking about the jazz brunch at Luna Bar & Grill (719 Ryan St., Sundays, 10 a.m. to 3 p.m.). You'll find some of the best brunch flavors (or flavors in general) in their Eggs Calcasieu – two eggs, fresh boudin, hollandaise, brioche bread, fried shrimp – or Galactic Crab Cakes –galactic crab dip filled crepes with crab cream sauce. Enjoy a variety of tried and tested dishes while listening to local jazz. Right next door to Luna, you'll find Tia Juanita's Fish Camp (723 Ryan St., Sundays, 10:30 a.m. - 3 p.m.), also a fantastic brunch spot with jazz to boot! They have creative selections that you might catch such as French toast using Bailey's Irish cream, topped with fruit and served with Steen's syrup and 3 strips of bacon. What's not to love?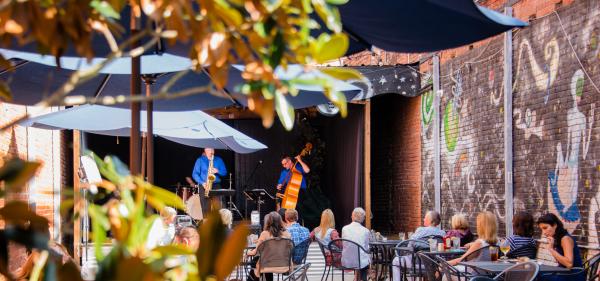 When it comes to brunch, anything goes. So get out there, start your own brunch trail, and experience the best of Lake Charles. Don't forget to brunch responsibly!
PS If you are the Ultimate Brunch Machine (or a late sleeper), you can check out the Brunch After Party (2 - 9 p.m.,) over at Crying Eagle complete with drink specials, food trucks and live music!
Photos by Erica McCreedy
Luna "jazz" photo by Lindsey Janies