Growing up in the Rice Capital of America, and in a VERY Cajun family, my Maw Maw Eloise incorporated rice in just about every meal. Chicken and sausage gumbo, rice and gravy, crawfish étouffée, jambalaya, rice dressing, shrimp sauce piquant, and of course, red beans and rice! 
While I may never be as good of a cook as my Maw Maw, I have challenged myself to recreate her dishes using ingredients from Southwest Louisiana. 
I first heard of Insane Sausages a few weeks after I moved here and became intrigued by their—you guessed it—INSANE creations! You can stock up with a traditional pork or beef sausage or test out their specialty items such as Southern Country Breakfast, Steen's Syrup, or Hawaiian Chicken sausages. Their list of insane unsmoked and smoked boudin and sausages is a mile long, and you may leave with more than you set out to buy!
Pro Tip: Order a Cajun Hangover and a few Pepper Jack Boudin Roll Ups for the ride back home.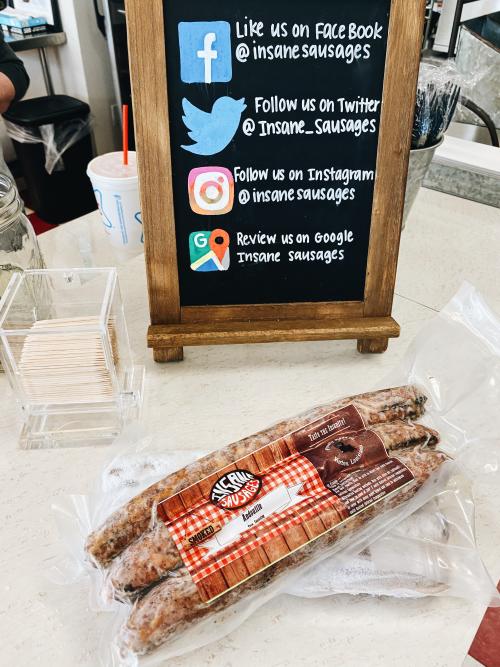 I thought I would share a dish I recently made after my first-ever trip to Insane Sausages. I hope you enjoy a little taste of Southwest Louisiana! Allons manger!
Ingredients:
1 lb. Red Kidney Beans, soak overnight (I used Camellia Brand)
1 lb. Smoked Sausage and/or Andouille (I used Insane Sausage Green Onion Pork Smoked Sausage)
1 Yellow Onion, chopped
1 Green Bell Pepper, chopped
3 Sticks of Celery, chopped
3 Cloves of Garlic, minced
5 Cups of Water (for pre-boil)
2 Cups of Water (for simmer)
32oz Chicken Broth
2 Bay leaves
Cajun Seasoning to taste
Louisiana-Grown Long or Medium Grain White Rice (I used Toro Long Grain Rice packaged by Falcon Rice Mill, Inc.)
Instructions:
Soak beans overnight. Chop the onion, celery, bell pepper, and garlic and set aside.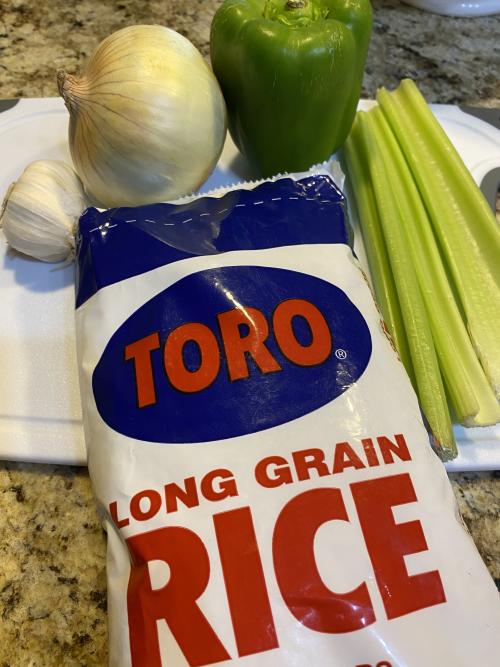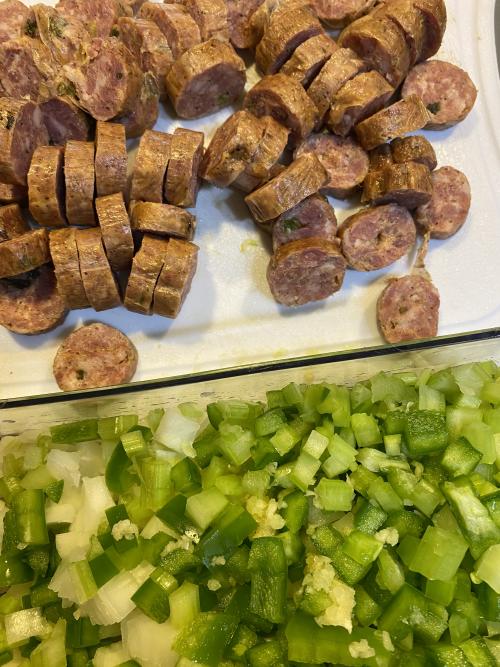 Slice sausage into ½" pieces. In a medium cast iron skillet, heat oil or butter on medium heat, then brown the sausage for about 5-10 minutes. Remove meat from skillet and set aside. Add vegetables and Cajun Seasoning to skillet and sauté until translucent.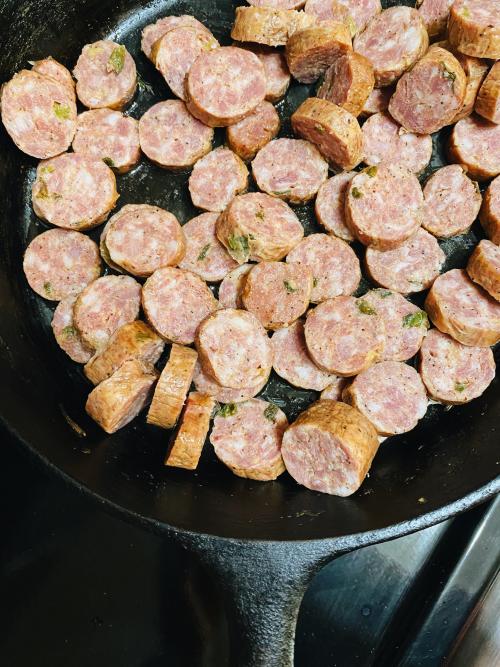 In a large cast-iron Dutch oven, add 5 cups of water and the chicken broth and put on high heat. Rinse the beans in a strainer and then add to the Dutch oven. When a rolling boil has been achieved, boil for exactly 10 minutes uncovered. After 10 minutes, turn heat to low and add sausage, vegetables, 2 cups of water, bay leaves, and Cajun seasoning. Raise the heat to high and bring to a boil, then reduce to a simmer and cover for two hours. Stir occasionally to avoid burning beans. After the two hours, mash about half of the beans against the side of the pot to achieve mushy texture.
Serve over rice and pair with your favorite homemade cornbread!