In prehistoric eras, cavemen drew pictographs on rock walls. This need for self-expression continues today. In any society, the work of local artists helps define and portray the culture of that community. Never is art so visible and appreciated than when it is big, bold, and painted on the side of a building or large indoor wall space.
Several area artists have recently been working hard to beautify Southwest Louisiana with the creation of murals throughout Lake Charles and Sulphur. Consider the many purposes murals serve within a community.
They preserve our history and invoke nostalgia.
1. Fred Stark designed and painted this mural, depicting the history of Lake Charles, to celebrate the city's bicentennial in 2012. 411 Ryan St., Lake Charles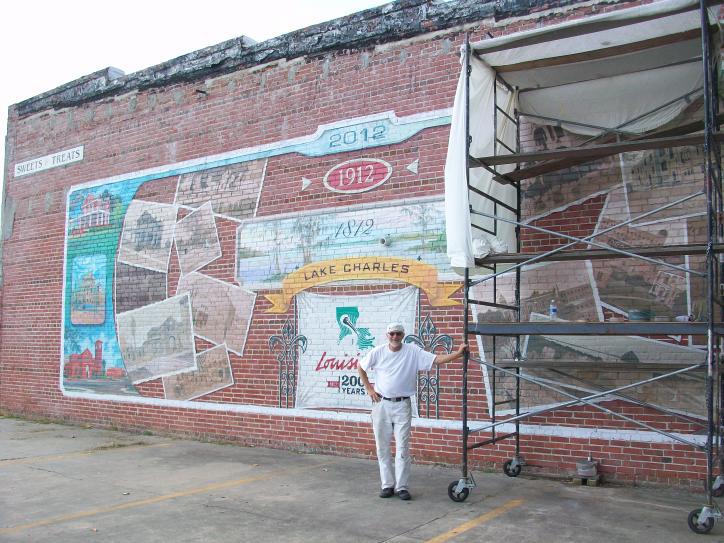 2. This mural by Texas artist Paula Collins at the entrance to Sulphur Regional Library at 1160 Cypress St. is uniquely made of bricks in bas relief and depicts the rich history of the city of Sulphur.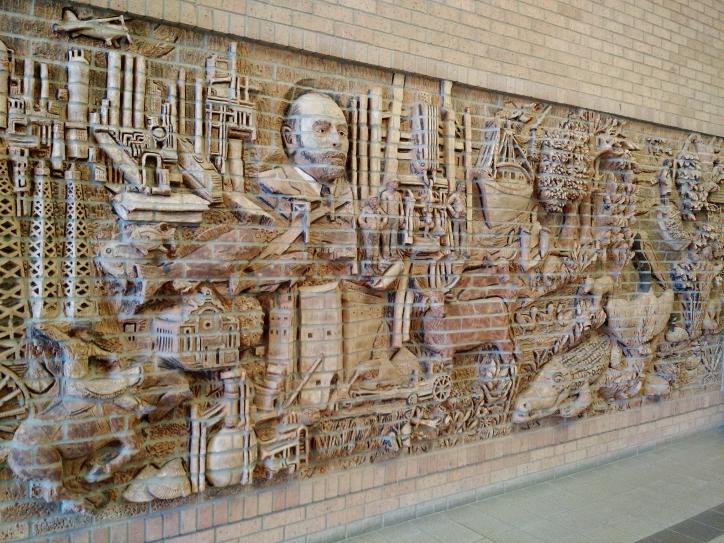 3. This vintage mural advertising Walgreens and Elmer's Candy (of Gold Brick Egg fame) had faded and chipped over the decades. Last year, Jeremy Price and Ashley Broussard (part of a team of artists called Blujay Arts, which also includes Lindsey Johnson, Shawn Ardabili, Rachel Andrepont Rougeau, Jon Meaux, and Alex Landry) revitalized the wall near the corner of Ryan and Broad in downtown Lake Charles with a fresh coat of paint. Price feels this mural is one of his most significant projects because of the community interaction. "While we were working on it, people passed by all day. We heard a lot of stories [related to the mural]. It's a kind of interaction you can't get working in a studio."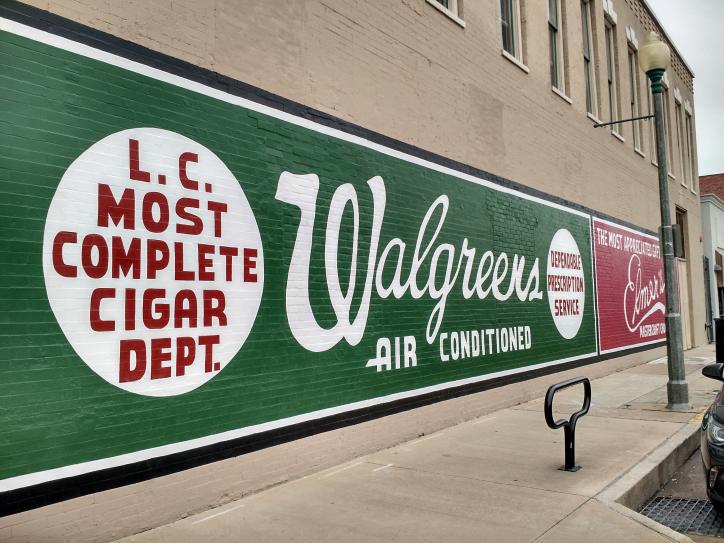 Murals bring a community together for a common goal.
4. It was this sense of community that inspired Candice Alexander to design the Tree of Life mural on the wall outside her art studio at 900 Ryan St., Lake Charles. From this ongoing project's inception, Alexander has involved school groups, businesses, and interested citizens in the creation of this fascinating mural.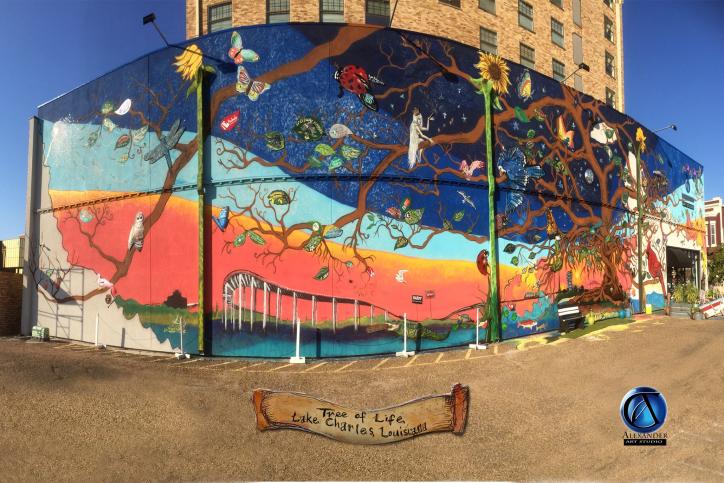 Murals entertain us.
5 - 6.  These two murals at Millennium Park on Bord du Lac were designed by Erik Jesson and painted by Danny Allain.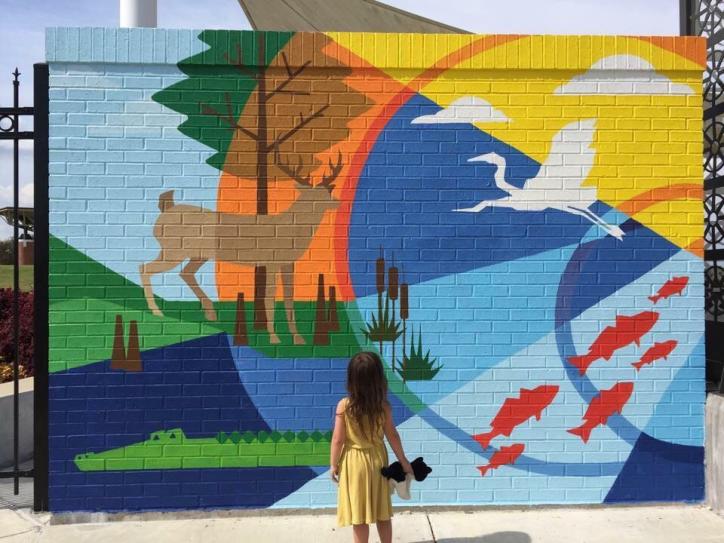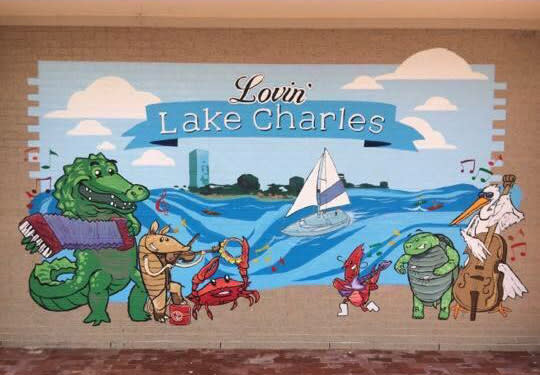 7 - 8. You can find these two murals by Price and his team in Luna Live, 710 Ryan St., Lake Charles. Jimmy Hendrix is a favorite of Price. For the second mural, Price was inspired by ancient symbolism.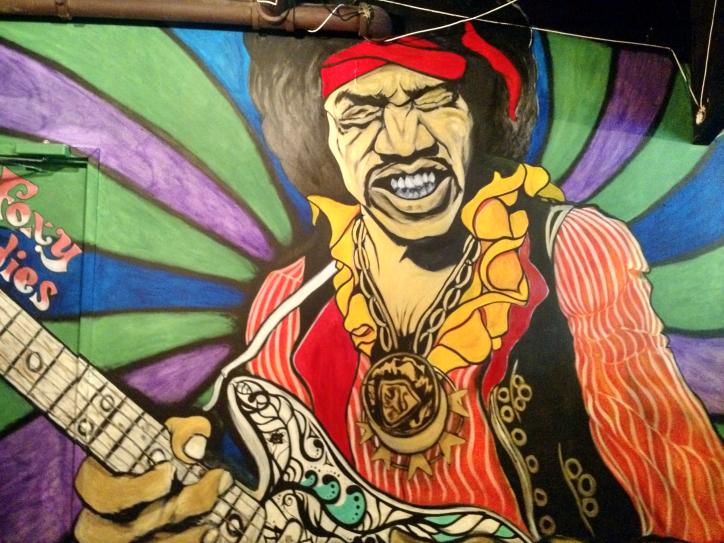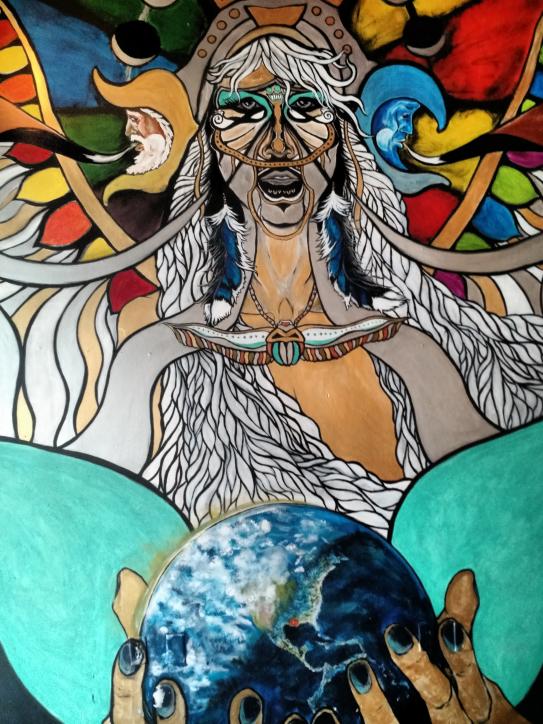 9. The Blujay team painted this mural of Bacchus, the Roman god of wine, outside Cotten's Downtown, locally famous for burgers and other good diner food. Broussard says, "Murals inspire people and encourage them to be open-minded and see things in a new way." 110 Broad St., Lake Charles.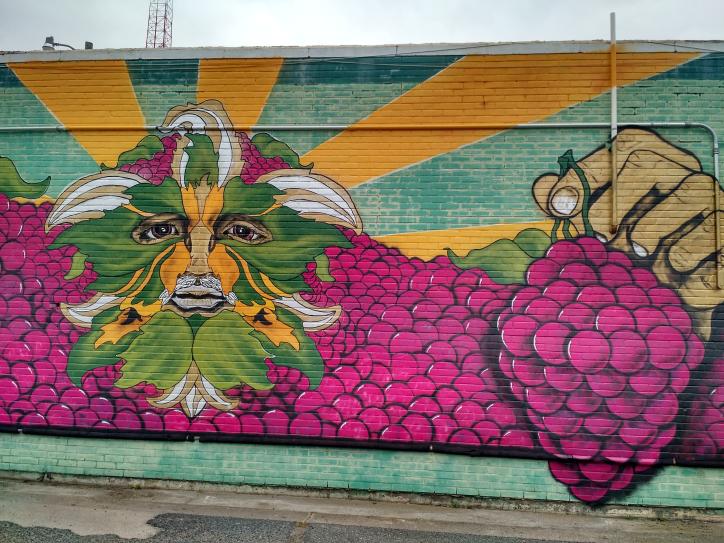 Murals serve as advertising.
10. Just as the Walgreens mural advertised the drug store that once occupied that corner, Allain painted this tempting hamburger outside Cotten's next to the Bacchus mural.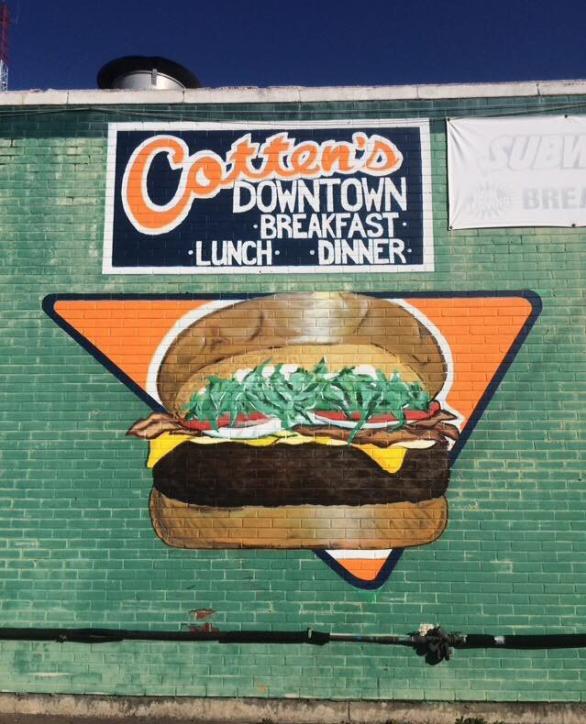 Murals tell stories.
11. This enchanting mural inside the Sulphur Regional Library Children's area covers two adjacent walls.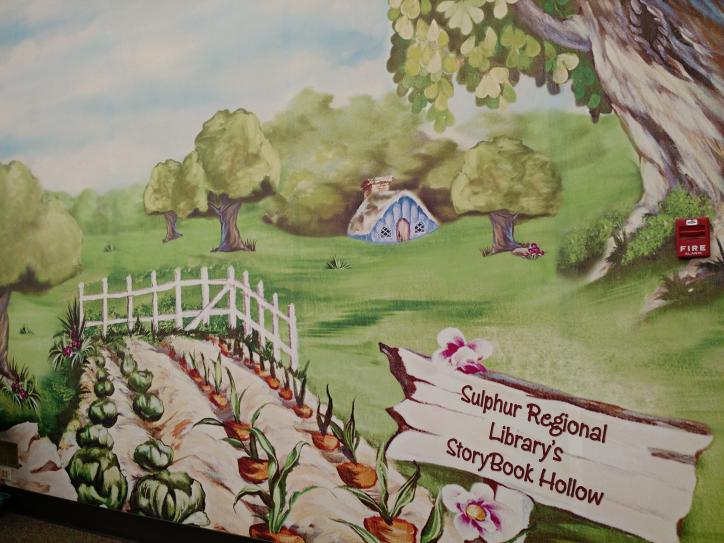 They cause us to ponder.
12. Price and his Blujay Team painted this Freedom Life Church mural for the church that resides in the space once occupied by a furniture store. Who can look at that mural and not wonder why the F in their logo is backwards? 314 Broad St., Lake Charles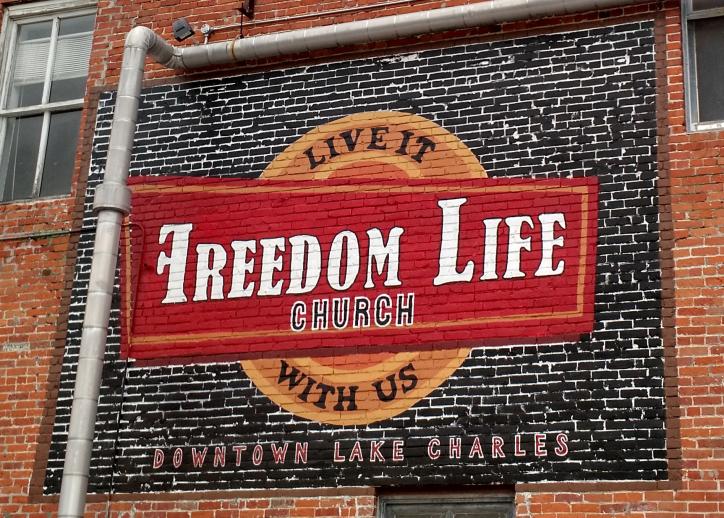 Murals invoke a sense of pride.
13. This mural in the entryway to the West-Cal Events Center at 2900 Ruth St. in Sulphur illustrates the diverse culture and heritage of the area.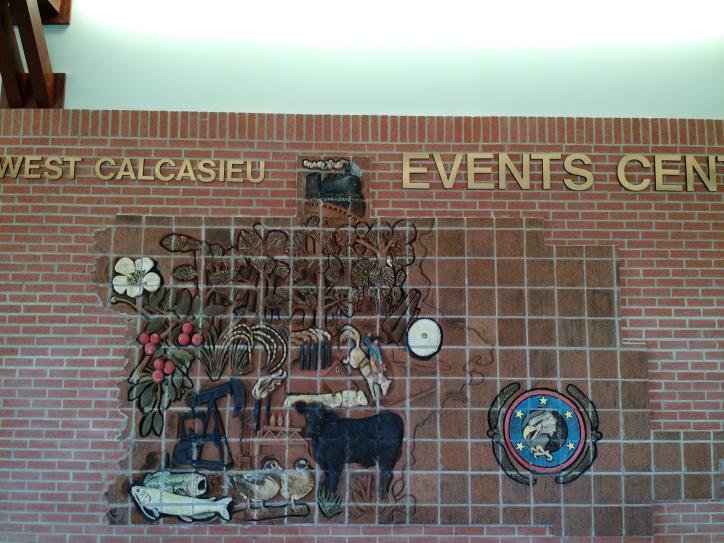 Price and Broussard enjoy creating murals because they are so accessible to the public. "Anyone can enjoy them. You don't have to pay admission." When you visit Southwest Louisiana, take time to appreciate the public artwork throughout the city. You will experience an added sense of the unique culture that is Southwest Louisiana.