I think I have a serious case of winederlust.
It's described as the strong desire to drink wines from around the world, or – in my case – around Lake Charles. It's perhaps the best of the libation ailments out there, and I'm thankful for the chance to conduct "research" around town to see where the best wines live.
3505 Country Club Road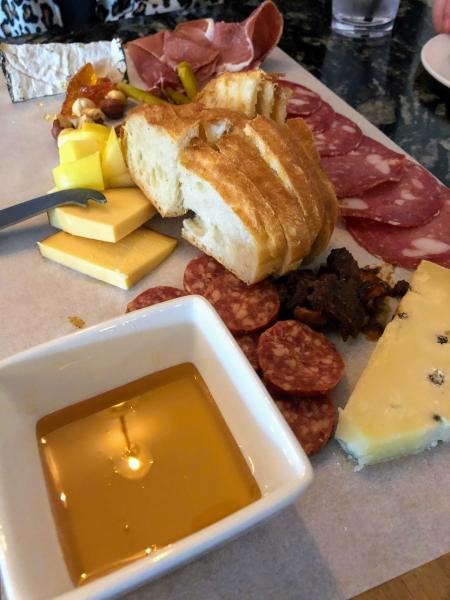 I started south towards the edge of Lake Charles and landed at Bodega Wine Dive, an unapologetic leader in elegant yet accessible dining paired with an extensive wine list. If you've been there, you just know how good it is. Between the insanely gorgeous pizzas, the decadent cheese boards, and their constantly evolving wine list, Bodega Wine Dive is the spot for serious South of Towners. What's the catch? Traffic, maybe. But even then, you'll be dreaming of pizza and wine as you make your way back north.
What to order:
Red: Try their Peirano Six Clones. It's a moderately fruity, strong-bodied merlot from Lodi, California, with tasty hints of raspberry, black cherry, chocolate, and cedar (but, like, a good cedar). Pair it with Bodega's proven Prime Time pizza. The smoky BBQ flavor, smoked gouda cheese, and goat cheese will work its magic on the wine.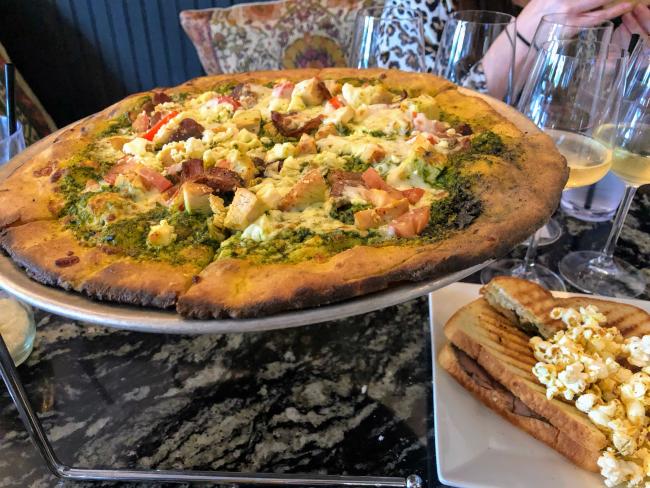 White: We recommend the Revolution Wine Torrontés. The intensely fruity white comes from Argentina and offers delicate floral aromas with some tangy citrus flavors. You'll taste Meyer lemon, lemon peel, and peach. Order the Bacon Lover Grilled Cheese with it. It's CRAZY GOOD bacon jam and smoked cheddar will give more depth to the wine's airy florals.
Rosé/Bubbly: I went crazy for the Gérard Betrand Sparkling Rosé, and you will, too. It's very fruity, medium-bodied, and will leave a taste of honeydew melon, white cherry, almond, and an almost-toasted flavor. Drink it with the Goat Cheese Grilled Cheese and let the sandwich's spicy pepper jelly and tangy goat cheese balance out the wine's fruit tones.
Tried and True: If you're not a huge wine drinker or just starting out, get a glass of If You See Kay's red blend. It hails from Paso Robles, California, the self-described "anti-Napa Wine Country." The wine is a Cabernet-based red blend and is as easy as Sunday morning.
Staff's Choice: Our server Miranda's go-to wine is the Alpha Box & Dice Tarot, a 2018 Grenache that's a rich and full-bodied red with hints of white pepper, cherry, mulberries, and Blackforest cake. Trust Miranda. It's killer.
The Unexpected: If you want something no one really orders but is amazing then order the Ensédune Marselan. Marselan is a cross between Grenache and Cabernet Sauvignon and produces a highly concentrated wine. The bold red is smooth and celebrates flavors of dark fruit and pepper.
Visit www.bodegawinedive.com for more information.
949 Ryan Street
I headed to downtown Lake Charles to hit up 1910 Restaurant and Bar for their half-off wine bottles deal on Wednesdays. 1910 has quickly become a warm, vibrant center for the downtown crowd that has an exclusive appearance but a very open, welcoming heart. The bartenders and waiters will learn your face and name within a few visits, and their menus – both food and wine – will deliver complex dishes and bold libations. While I was there to focus on wine, don't forget to check out their impressive cocktail list. 1910 has earned its place in downtown culture.
What to order:
Red: We had a bottle of Famille Perrin's Côtes du Rhône Villages Rouge. It's a dark red with an intense nose of cherries and licorice. While it's a full-bodied wine, it has a pleasant and elegant feel with herbal notes of thyme and rosemary. Order some quail bombs and the bacon-crusted filet to match this wine's deep flavor.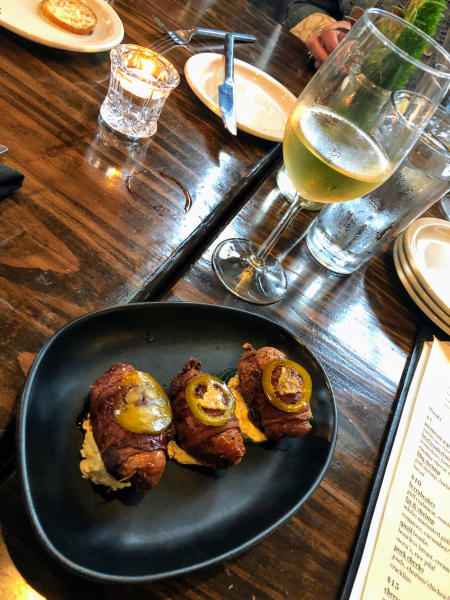 White: While white wine isn't my favorite, I was blown away by the Saint Cosme Little James Basket Press Blanc. Even though it's a mouthful to say, it's an unconventionally wonderful blend of Sauvignon Blanc and Viognier. Blending these two varieties creates an aromatic, fresh-tasting wine with flavors and aromas of peach blossoms, fennel, apricot, grapefruit, and mangos. The fried green tomatoes/shrimp appetizer gives a great depth to the wine.
Rosé/Bubbly: You need to get a glass of the Hogwash Rosé, which is anything but hogwash. It's purely and simply summertime in a glass. From this medium-bodied, vibrant wine, you'll get aromas of watermelon candy, red cherries, and rose water. The fried goat cheese salad and its mix of almonds and blackberries are this wine's match made in Heaven.
Tried and True: If you want something easy and smooth, grab a bottle of Sexual Chocolate (yes, really). It's a deep, rich Syrah/Zinfandel blend with a prevalent fruitiness and subtle chocolate hints.
Staff Pick: Our waiters Mary and Tyler said to try a bottle of Austin Hope Cabernet Sauvignon. It's a full-bodied, rich red with soft notes of coffee, cocoa, and dried spices. It's dark fruit aromas boost its modern, supple style.
The Unexpected: Before we packed up for the night, the waiter, Mary, handed me her cell phone. On the other end was 1910's owner, Andrew Green. I had asked Mary what's a great wine that people would find unexpected, and she went straight to the top of the totem pole for the answer. And that answer is resoundingly Alto Moncayo (I wrote it down as The Princess Bride's Inigo Montoya – I was close). It's a Spanish red that uses the Garnacha grape and comes from vines between 30 and 50 years old. It has balsamic notes with chocolate and black fruits. It's an incredibly warm, pleasant red.
Visit www.1910restaurant.com for more information.
4402 Nelson Road, Building 2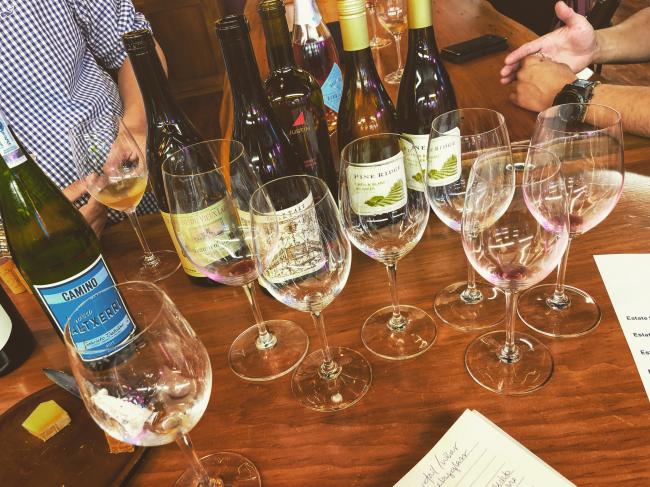 The Wine Store on Nelson Road may be tucked away in a back parking lot, but don't let appearances fool you. The Wine Store is a love letter to wine, and once you walk through the doors, you'll be effortlessly swept up in a procession of full wine glasses and delightful nibbles. I went there thinking I would interview the barkeep and taste two or three wines, but then I met David Foley, wine guru, and sommelier extraordinaire. He simply wants to get more people into wine. When he talks in his wine language, you have no choice but to dive in with him. His passion quickly becomes your passion. David handcrafts his wine menu with love and also literally handcrafts the incredible array of jellies, jams, spreads, and accouterments that make his wines dance.
What to order:
Red: David recommends the Justin Cabernet Sauvignon, and I do, too. It's an aromatic red with luscious ripe black and red cherries, blackcurrant, and berry fruit mixed with baking spice and sweet tobacco. It's dry, full-bodied, light, and carries a long finish. Grab a cheeseboard (yes, they have them and they're crazy good) and drink this with whatever cheese David tells you to, but you need to try his insane bacon jam with it.
White: David pointed me to the Pine Ridge Chenin Blanc + Viognier. It was a delightful white with aromas of summer jasmine, honeyed pears, and chai spice. You'll taste tropical fruits like guava, kiwi, and papaya. It's crisp, summery, and – as David called it – a "patio pounder." David's pineapple jam is a great pairing. Again, David will tell you which cheese to eat. Trust David.
Rosé/Bubbly: The Viva La Vida Rosé Cava is a great sparkling rosé that's fruit-forward but not overly sweet. It's vibrant, medium-bodied, and has aromas of strawberry crème and wildflowers. David's blackberry honey is a great match with this. Again. David. Cheese. His pick.
Tried and True: For the light wine drinkers out there (you heathens), get a glass of the Olema Pinot Noir. It's a smooth, aromatic red with notes of ripe cherry, raspberries, and rose petals. You'll get hints of vanilla and forest floor (I guess that's tasty?).
Staff Pick: When I asked David what his go-to bottle was, there was no question. The Domaine du Vieux Lazaret Chateauneuf-du-Pape was it. I can barely explain how much this wine blew my mind. This elegant red is made from 13 different grapes and shows off a complexity characterized by red fruits and spice and a velvety, plush finish. It's ripe and rich, smooth and bold. I immediately bought a bottle.
Visit www.thewinestorelc.com for more information.
All of the wines mentioned in this post are affordable and most come by the glass. Now, go get your wine on, Lake Charles.