Southwest Louisiana has no shortage of waterways – shimmering lakes, meandering rivers, mysterious bayous, cypress swamps, and salt grass marshes – and where there is water, there are boats. Sailboats, motorboats, bass boats, fishing trawlers, and pirogues . . . but me? I love to kayak!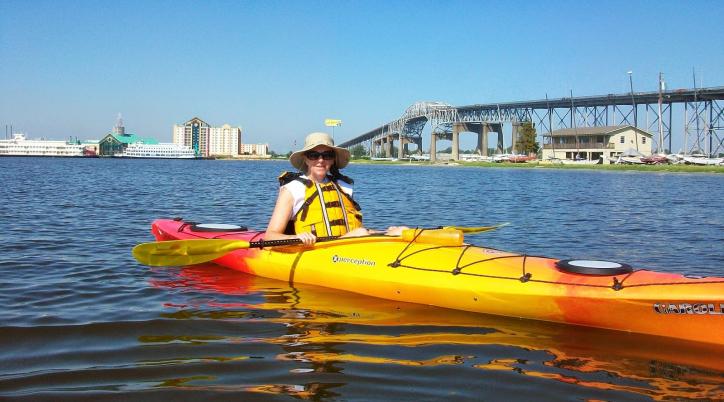 Kayaking enables a paddler to go places other boats cannot navigate. You can squeeze through narrow inlets and float across very shallow water. The slower pace of kayaking allows you to observe more of the beautiful surroundings of southwest Louisiana. The only sound a kayaker makes (unless he/she is conversing with a friend) is the quiet swoosh of the paddle through the water; therefore wildlife is not spooked as you approach. This provides plenty of opportunities to see birds, alligators, turtles, and other animals in their natural habitats.
In my home state of Pennsylvania, I never would have dreamed of kayaking. In the northeast, kayaking is a completely different sport, fraught with danger and a bit too much excitement for my cautious sensibilities. But after moving to Lake Charles in 2007 and discovering all the (calm) water options, I wanted to learn to paddle, though I didn't know how to get started.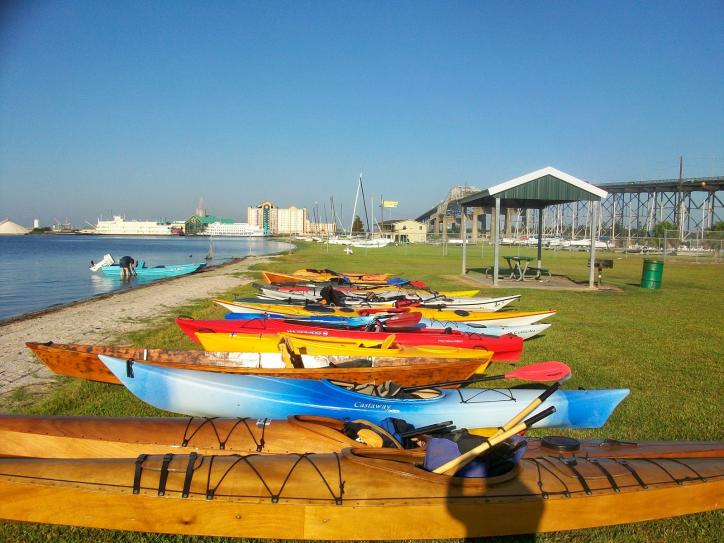 Pelican Paddlers
Then I discovered a fantastic group in town called the Pelican Paddlers. They welcomed me, taught me about the different kinds of kayaks, showed me kayaking techniques and rescue maneuvers, and brought me along on trips. They allowed me to borrow boats until I determined which kayak was the best boat for me. 
The Paddlers meet every Wednesday, weather permitting, 6 p.m. at the I-210 Bridge kayak launch. (during Daylight Savings Time)
Kayak Rentals
If you are interested in renting a kayak, you've got a couple of options. Paddle Up Lake Charles, Lake Area Adventures, and Lloyd's Country Store all provide rental options, and both Paddle Up and Lake Area Adventures offer special tours. 
Purchasing a Kayak 
Several stores in the Lake Area sell kayaks. For personalized knowledgeable advice and service, check out Ship to Shore on Lake St. Other stores include Dick's, Academy, and West Marine. There are so many options to consider when buying a kayak. Do you want a sit-on-top or a sit-inside? How do you want to use a kayak – will you paddle 10-15 miles for a workout or peacefully fish in the middle of a lake? I advise anyone interested in buying a kayak to do some research, talk to experts, and "test-drive" several models before making a purchase. A kayak has to "fit" you and be comfortable. Cost can be an issue, but remember, regarding kayaks, you truly get what you pay for.
Best Spots to Paddle
There is no end to the number of different places one can kayak in southwest Louisiana. Some fortunate Louisianians who live near the water can paddle from their own backyards! For others, popular paddling places include the West Fork of the Calcasieu River from either Sam Houston Jones State Park or Holbrook Park; Indian Bayou (also near Sam Houston Jones State Park); the marsh at the southern end of Nelson Road; Prien Lake Park; Bayou d'Inde. For dolphin spotting, launch a kayak at the ship channel in Cameron Parish near the ferry. More boat launches.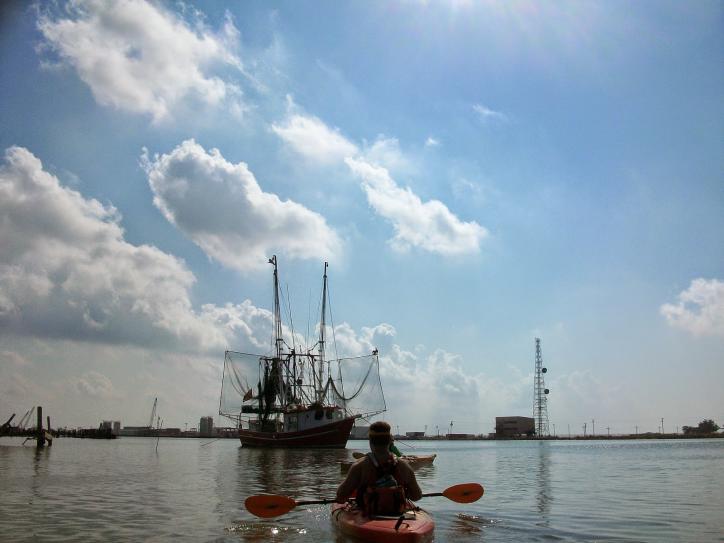 Packing List
Wherever you choose to paddle, bring plenty of water and a snack, a cell phone for emergencies, a camera, and binoculars for watching the wildlife. Take your time and bask in the beauty of southwest Louisiana. And ALWAYS wear a PFD (personal flotation device).
Interested in different water activity, check out paddleboarding!