Louisianans love to party year-round, but it's safe to say that Mardi Gras is the most popular party throughout the entire state. In Southwest Louisiana, Mardi Gras is honored from Twelfth Night to Fat Tuesday with parades, events, food, costumes, and more. This Mardi Gras Bucket List guides you through the area's Carnival season like a local – where to go, what to expect, what to eat, and more. You'll see why the Lake Area gives one of the largest nods to Mardi Gras celebrations and Louisiana culture. 
1. Explore the Mardi Gras Costume Exhibit at the Imperial Calcasieu Museum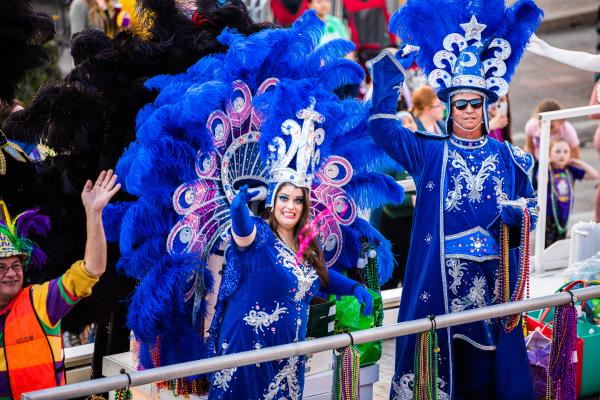 It's fascinating to see the extravagant, embellished Mardi Gras costumes up close and personal. The Imperial Calcasieu Museum gives visitors a chance to view the wardrobe of past Southwest Louisiana's Carnival royalty with an exhibition of the area's most vibrant, gaudy costumes. You'll be blown away by the decorated gowns, crowns, and cloaks, so this temporary Mardi Gras exhibit is definitely bucket list-worthy. Click here for the latest updates. 
2. Chase the Chicken at the Iowa Chicken Run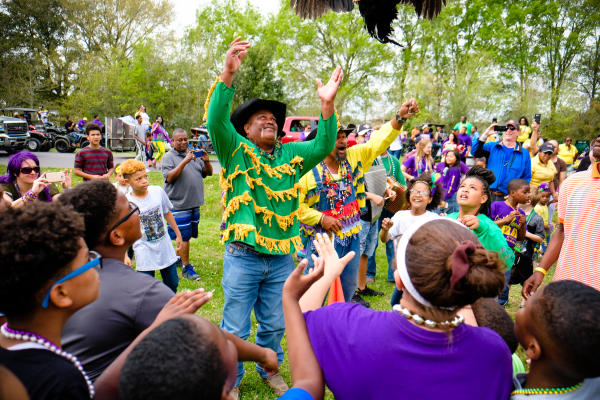 We hear so much about Mardi Gras parades, from lavish floats and high-energy crowds to the tossing of beads and more, but the Iowa Chicken Run is by far the quirkiest Mardi Gras parade in Southwest Louisiana. This tradition includes a series of floats traveling through the Iowa neighborhoods, which is a small town about 20 minutes outside of Lake Charles. You'll see children chasing a live chicken, crowds enjoying Zydeco music and non-stop joy along the route. The Iowa Chicken Run will take place at Knights of Columbus Hall, located at 503 E Highway 90, on Fat Tuesday, Feb. 21, and the parade rolls at 10 a.m. 
3. Eat King Cake for Breakfast at The Bekery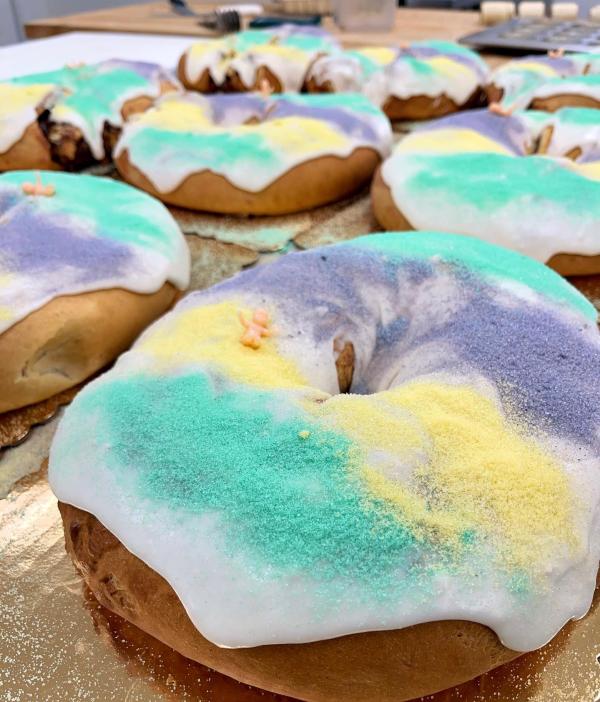 The Southwest Louisiana food scene is serious; everything from smoked meats to fresh seafood, you'll fall in love with the flavor and festivities all at once. But you haven't truly celebrated Carnival season until you started your morning with a fresh slice of king cake. The Bekery is known for its fresh, French-style baked goods, so this is culinary keepsake is for sure a Mardi Gras must-have. The restaurant is a Parisian paradise that will make you feel the Mardi Gras spirit the moment you walk in. For more king cake options, use The Ultimate Southwest Louisiana King Cake Guide as a reference. 
4. Sample Various Boudin Flavors Along the Southwest Louisiana Boudin Trail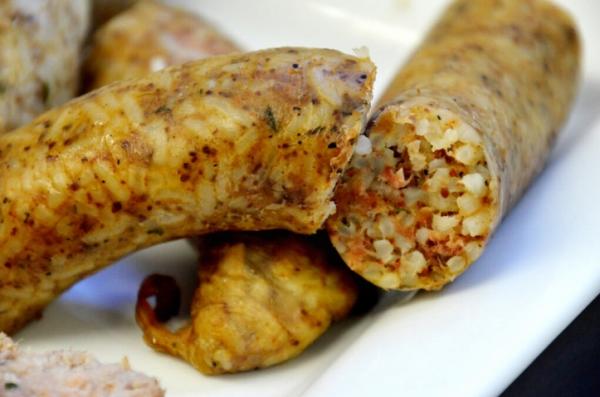 Boudin is considered a staple snack throughout Louisiana. Traditional boudin ingredients include pork, liver, rice, onions, parsley, and flavorful seasonings and can be purchased by the pound. It's one of Southwest Louisiana's favorite finger foods, and that's how the Southwest Louisiana Boudin Trail came to be – you can't just have one. This route comprises more than 25 stops at local restaurants, gas stations, and grocery stores across Calcasieu Parish. Click here for a complete list of locations along the Southwest Louisiana Boudin Trail. 
  
5. Honor Lundi Gras at the Mardi Gras Royal Gala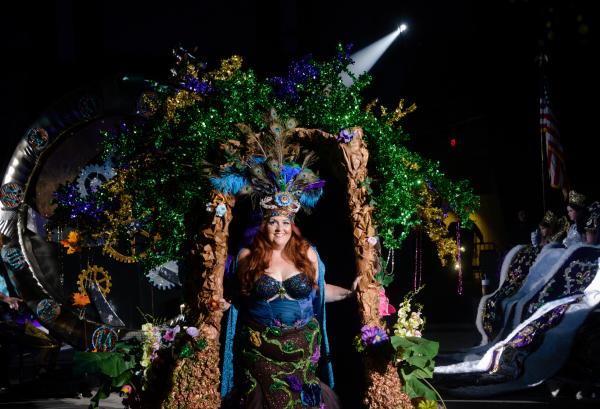 Lundi Gras is the Monday before Fat Tuesday, and that's where all the Mardi Gras Royal Gala magic happens. The event will occur on Monday, Feb.20, at 7 p.m. at the Lake Charles Civic Center's Coliseum. There will be a promenade of krewes' royalty in extravagant, glittering costumes before thousands of residents and visitors. Kings and queens, royal dukes and duchesses, captains, courtesans, and jesters in museum-quality costumes will be on full display, complete with music and dancing for everyone at the second-largest Mardi Gras in Louisiana. 
6. Meet the "Mystikal Dog" at Krewe of Barkus Parade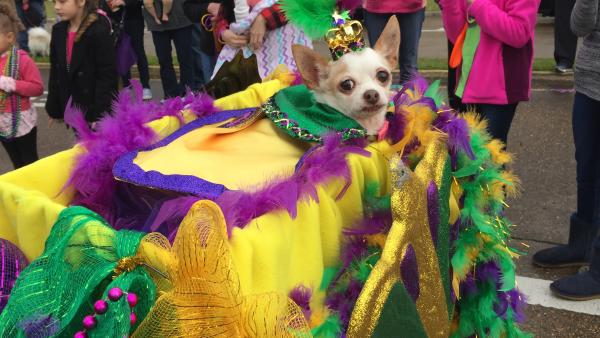 We're a big group of party animals in Southwest Louisiana, literally. At the Krewe of Barkus Parade, you'll see costumed pets and their owners revel in a whimsical, carnival atmosphere. The title of "Mystical Dog" is given to the most strikingly costumed participant. This free, family-friendly, well-attended parade is a highly anticipated Mardi Gras event. The parade will take place on Saturday, Feb. 18, starting at the corners of Ryan and Broad Streets, and the parade will roll from 1-1:30 p.m. and end at Cumulus Broadcasting, 425 Broad Street.
7. Get the Daiquiri Shack Drive-Thru Experience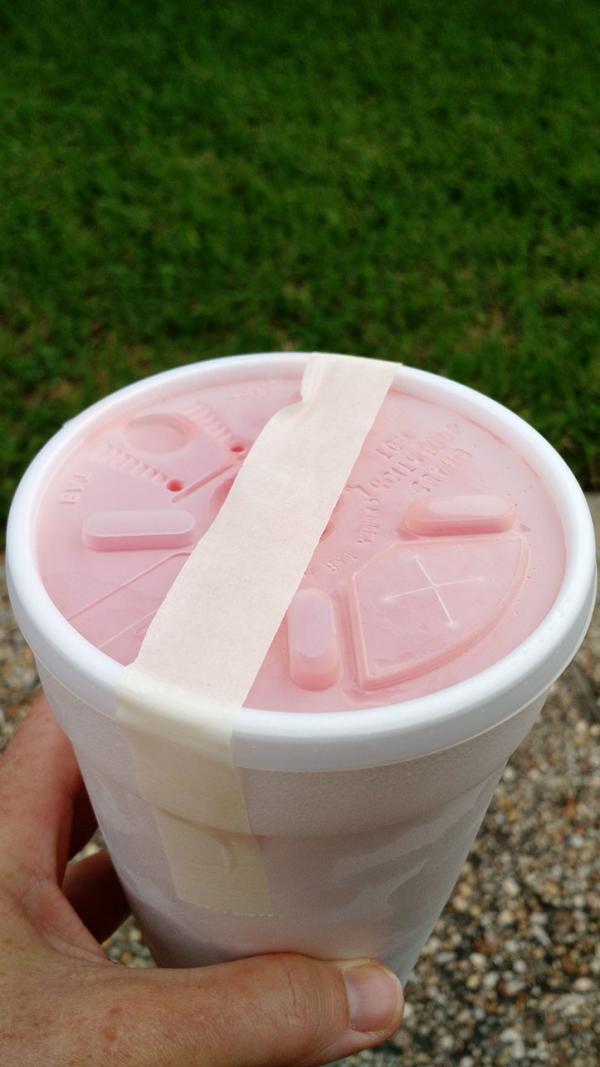 You must order a daiquiri at the Daiquiri Shack during Mardi Gras season to experience their fun flavors like king cake, peach fuzz, funky monkey and more. These frozen adult beverages are a popular way to embrace Louisiana's party culture, but what may be surprising is that the state allows adults to purchase daiquiris from a drive-thru window. Your drink will come in a plastic gallon jug or a styrofoam cup with a strip of tape over the lid and a straw. To keep the open-container laws intact, the container must remain sealed with tape and the straw unopened while the vehicle is in motion. Once you reach your destination, you can enjoy the drink at your leisure. For a complete list of drive-thru daiquiri shops, click here. 
8. Join the Second Line Stroll Walking Parade in Downtown Lake Charles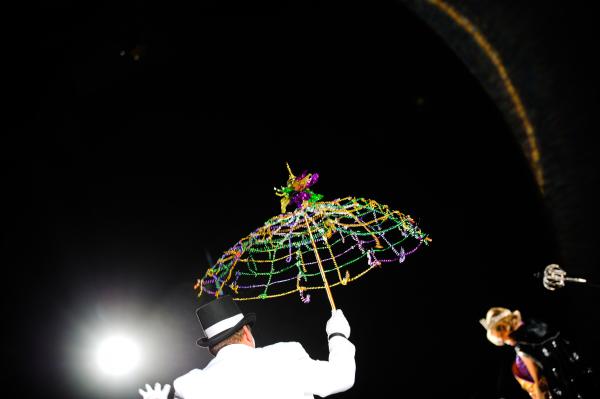 Dancing is inevitable at Mardi Gras, and you'll witness a bunch of it at the Second Line Stroll Walking Parade. The event will take place on Fat Tuesday, Feb. 21 at 1001 Ryan Street at 1 p.m. The band will strike up the music and strut their Mardi Gras spirit through downtown Lake Charles. Don't be surprised if your neighbor reaches for your hand to dance and try not to shy away if the second line swings by your friends or family. The Cajun/Creole heritage is rooted in unity, and we express it best when it's time to party. Come to Lake Charles and experience it yourself. 
9. Experience the World Famous Cajun Extravaganza & Gumbo Cook-off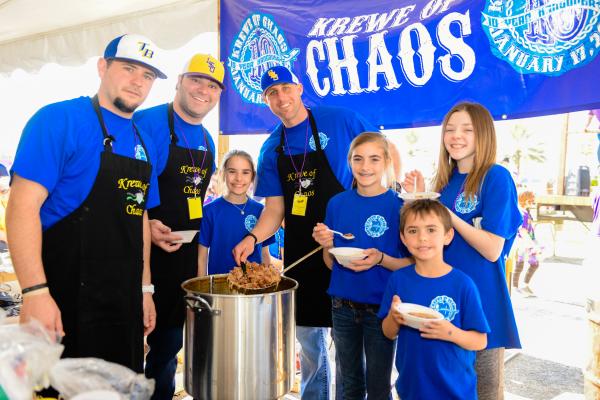 The World Famous Cajun Extravaganza & Gumbo Cook-off is a ton of tasty fun for the while family, taking place on Saturday, Feb. 18. If you miss the cook-off, you can always enjoy Mama Reta's Kitchen. Mama Reta's is a legendary drive-thru joint, where every menu item has the warmth and savory flavors of home-cooked soul food. This gumbo is an age-old family recipe that must be experienced first-hand. Everything from the whole chicken leg to the bowl's aroma will send your taste buds into a frenzy. There's no hype behind this meal, so be sure to mark this dish off of your bucket list. For more gumbo options, you can read this story about Where to Get Gumbo in Lake Charles. 
10. Take Home a Few Louisiana Souvenirs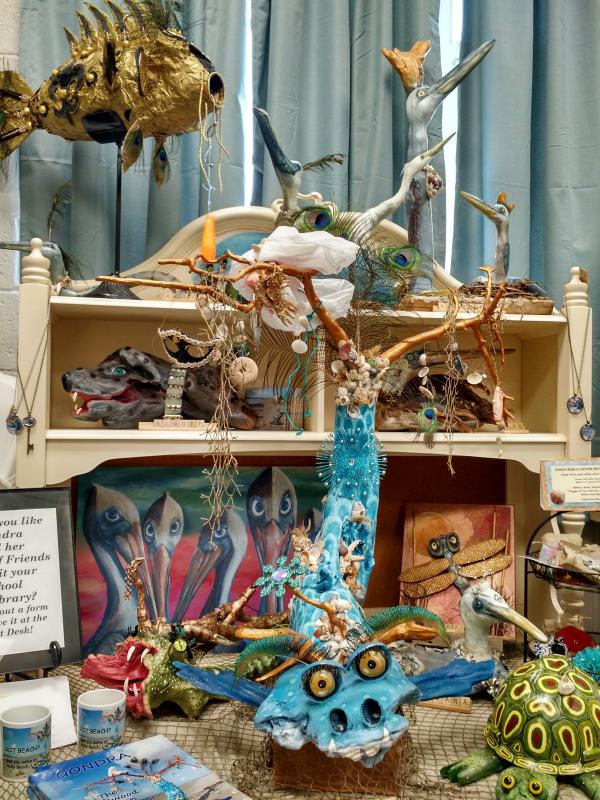 You'll cherish these Mardi Gras memories forever, so take home a few souvenirs from Flock of Five Gift & Art Emporium to hold onto tangible memories. This shop houses treasures from local artists that showcase Louisiana's unique history and culture. You'll discover gifts and trinkets crafted by local artists. Expect to find hand-made jewelry, pottery, soaps, hand-poured candles, paintings, carvings, furniture, vintage items, books and other Louisiana-themed souvenirs. For a full list of local shops and boutiques in the area, click here. 
There is no shortage of Mardi Gras celebrations in Southwest Louisiana so you can discover new Mardi Gras bucket list items at events, restaurants, shops, and more. Stay updated on the festivities in real-time by following #SWLAMardiGras and #VisitLakeCharles on social media channels.