Whenever a cool snap hits in Southwest Louisiana, everyone starts talking about gumbo weather. Of course, no one makes gumbo as good as "mama," but we have some delicious contenders that even the most discerning Cajun or Creole palate would agree are super tasty. Usually, gumbo in Southwest Louisiana is made from a darker roux, and the flavors are rich, complementing the generous supply of chicken, sausage, or shrimp, crab, or other seafood delicacies for seafood gumbo - also a popular treat! Check out some of the best places to get gumbo in Southwest Louisiana.
Seafood Palace offers both seafood and chicken and sausage gumbos, so you need to try both of them! Each gumbo has a rich, dark color, and you can tell it's been on the stove for hours. Their gumbo recipe has evolved over the last 20 years to meet customers' expectations. The sausage slices are thick, and the chicken meat is dark. Their seafood gumbo always has a good amount of crab and shrimp, and it has a slightly darker roux that makes it indulgent.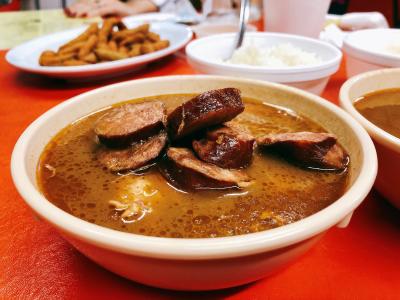 Seafood Palace, Chicken & Sausage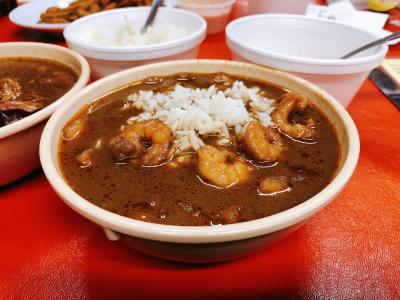 Seafood Place, Seafood Gumbo
Nina P's Cafe chicken and sausage gumbo' flavor is mild, but deep, even though there's not much fat in it compared to other gumbos. Nina P's uses white meat chicken, although a mixture with dark meat is more prevalent in Southwest Louisiana. It can be a nice touch to have leaner meat in it while still enjoying the hearty roux flavor.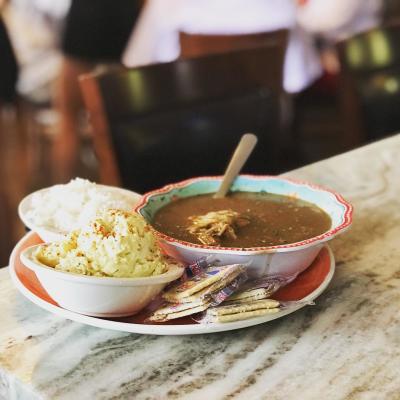 @ninapscafe
Known for its French New Orleans and Mediterranean-inspired fine dining (and those soufflés!), Mazen's has gotten a lot of things right on its menu. Their seafood gumbo is full of crab, shrimp, and crawfish, and it has a nice background of spice. The roux is dark, and the style comes from years of experimenting with Lafayette-inspired techniques. The gumbo is made fresh daily, and you can tell a lot of love is put into it.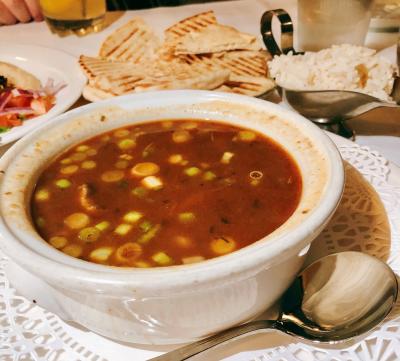 Mazen's Gumbo Lake Charles
Leonard's Food Quarters has renowned chicken and sausage gumbo. The flavor packs a punch with spice, and the right amount of fat is used to enhance it. While it's not a super dark roux, it stands in a great middle ground of color and thickness. The entire chicken is used, so you get a great balance of dark and light meat without it being overwhelming. This gumbo tastes like it's made at home in a kitchen full of family squabbling about whose roux is better! Leonard's gumbo is just like the restaurant: family-focused with a touch of soul.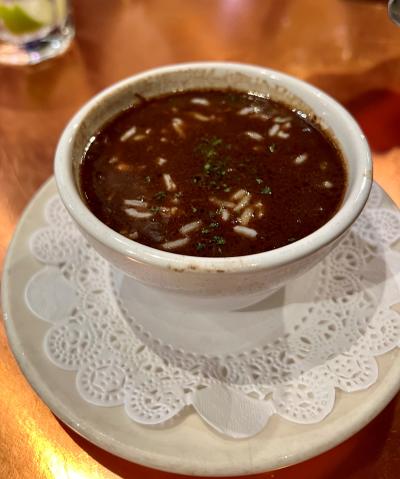 Pujo St. Cafe's Gumbo
In the heart of Downtown Lake Charles, Pujo St Cafe is a community staple that boasts a welcoming outdoor patio space and a u-shaped bar. Pujo's menu features classic sandwiches, gourmet salads, and surf and turf. Most notable is their rich-in-flavor chicken and sausage gumbo featuring a dark roux. Remember to ask for the potato salad when ordering! 

A popular drive-through soul food place is Mama Reta's. One thing is for sure, you will feel a lot of love and delicious smells coming from Mama Reta's childhood home! Mama Reta Durgan is a legend when it comes to soul food in Southwest Louisiana, and she does not skimp on chicken when it comes to her famous chicken & sausage gumbo! You'll get the whole leg! We know you'll love her gumbo just as much as local fans.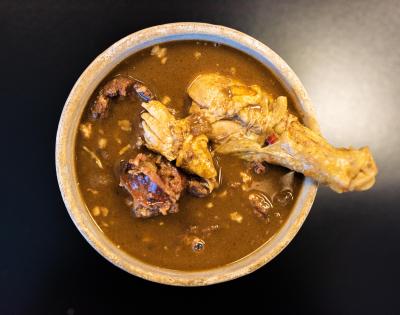 Mama Reta's Gumbo
Landry's Seafood House at Golden Nugget boasts not one but three gumbos on their menu: Creole seafood gumbo with okra and tomatoes, filé seafood gumbo, or the classic chicken and sausage gumbo. It's a trifecta of gumbo goodness, and if you are new to the gumbo scene, it's the perfect way to see what suits you the best!
If you need gumbo no matter what time of the day, then KD's Diner is like your gumbo ER! The 24 hour diner aims to please, and it's a Lake Charles staple. When you order your steaming bowl of gumbo it comes piping hot and fresh - along with potato salad on the side. You might need to indulge in the potato salad for the great debate - "Potato Salad - in or out!" It's one of those things that you don't bring up in polite conversation in Southwest Louisiana because it could start a food fight! Not really, but people are passionate about it either way. 
 
Over in Sulphur, you cannot go wrong with a hearty bowl of gumbo from LeBleu's Landing. The shrimp and crab gumbo is cooked in a savory roux, and the best part is - that it's completely loaded with fresh shrimp and crab. Another crowd favorite is the chicken and andouille gumbo that is brimming with chicken and smoked andouille sausage. The ancestors of the owners of LeBleu's Landing were settlers in the Lake Area in the 1800s, so you know the recipes have been honed over generations to the perfection that is today's gumbo for you!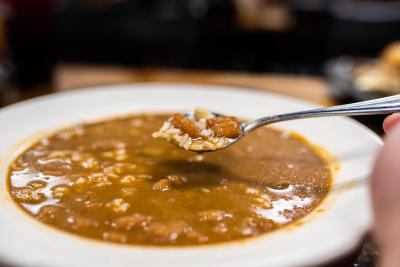 LeBleu's Landing in Sulphur
Other delicious hot spots for gumbo that are recommended by locals:
 Hollier's, Big Daddy's, Walk On's, Pat's of Henderson

Fun Fact:
A tradition in many rural towns is the Fat Tuesday Run or Courir de Mardi Gras. Dating back to Medieval France, the parade of Mardi Gras celebrators, often in costumes, go from house to house collecting ingredients for their gumbo by performing dances and chasing a chicken. Locally, the Iowa Chicken Run happened every Mardi Gras Day!

Pro Tip:
Find those places that put their love language into their gumbos – the family-owned restaurants with their own secret recipe that's been passed down for decades. You can taste the love in the roux and in their lit-up faces when you ask about their gumbos. So, when you're in town, ask a local where their favorite gumbo is found in #LouisianasPlayground! Check out places to eat in Southwest Louisiana.
Co-written by Angie Manning & Erica McCreedy