Many of my favorite memories of my dad involve his gumbo. If you knew the Iowa-born (the state, not the city), New Orleans-raised, Scottish heritage, adopted Cajun, then you knew that his gumbo was his shining achievement. It fed countless people in town and warmed many bellies. Food was his love language; everything unsaid between us manifested in the shared day-long gumbo making. He said "I love you" in the way he showed me how to chop celery and stir the roux.
Every gumbo-making family has a similar story. Food, family, and love blend together like gumbo. Now it's important to know that I am one of those people who refuse to order gumbo at restaurants because I know my dad's gumbo was the epitome of the craft. It's no surprise that when we posted a Facebook poll about who has the best gumbo in town, more than half of the respondents said "My home" or "My grandma's house." But if we are going to dive into local restaurant gumbo, let's dive in headfirst. This was my first time eating many of these gumbos, and I have to say, I was nicely surprised. Let's get our gumbo on!
Nina P's Cafe chicken and sausage gumbo has been named Best Gumbo many, many times by various publications, and it's easy to see why. The quaint restaurant pulls a huge lunch crowd, but even though I ate my gumbo at my office, I could still experience the warm, family-oriented vibe of Nina P's. It's truly a family affair, and it's reflected in their gumbo. The flavor is mild but deep even though there's not much fat in it compared to other gumbos. Nina P's uses white meat chicken but I was surprised how much I liked it. I know a solid mix of dark and white meat (or just dark meat) is the way to go, but it was nice to have leaner meat in it while still enjoying the hearty roux flavor.
Seafood Palace offers both seafood and chicken and sausage gumbos, but you'll want to order both. I have always ordered their seafood gumbo with potato salad (stop yelling at me!), but honestly, I fell in love with their chicken and sausage as well. Both gumbos have a rich, dark color, and you can tell it's been on the stove for hours. Owner David Papania's pride in his gumbo reminds me of my dad; when he talks about it, it's like he's talking about a loved one. For 11 years, Chef Anna Delafosse has made 28 gallons of gumbo a day, and it remains one of their most popular dishes. Their gumbo recipe has evolved over the last 20 years to meet customers' expectations, and I am always impressed by the consistency every time I order it. The sausage slices are thick, and the chicken meat is dark. Their seafood gumbo always has a good amount of crab and shrimp, and it has a slightly darker roux that makes it indulging.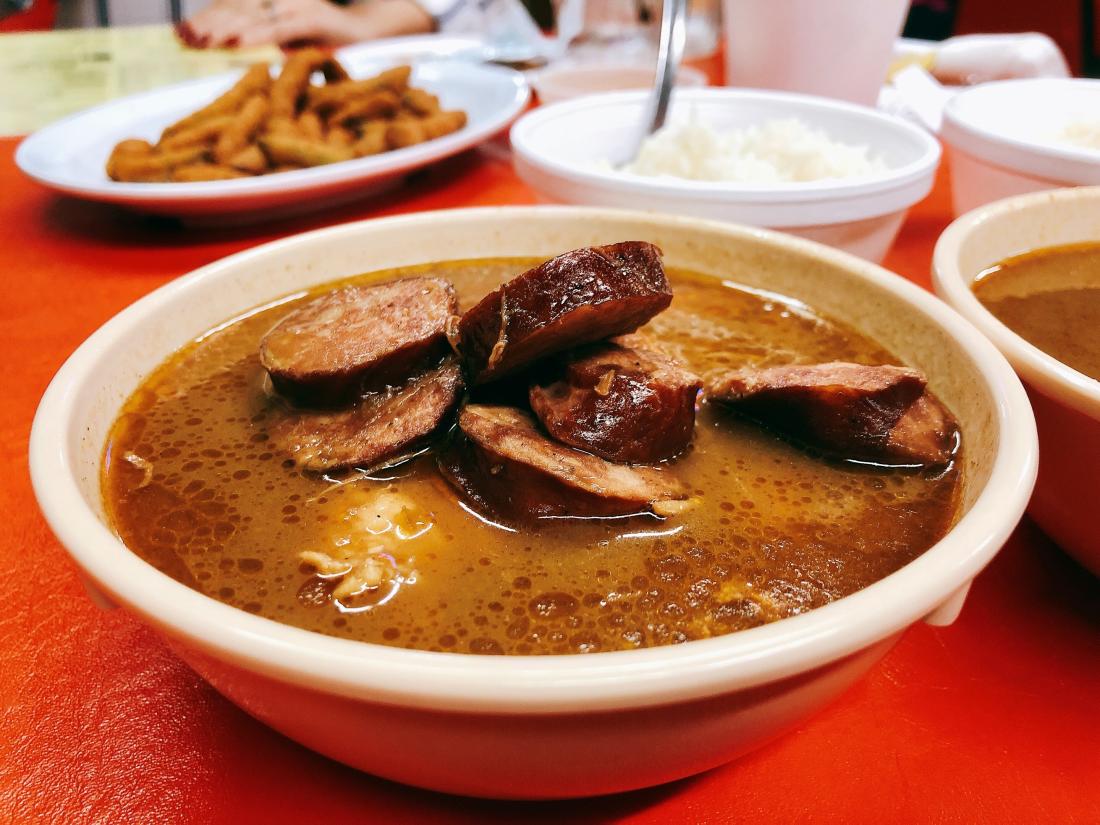 Seafood Palace's Chicken and Sausage Gumbo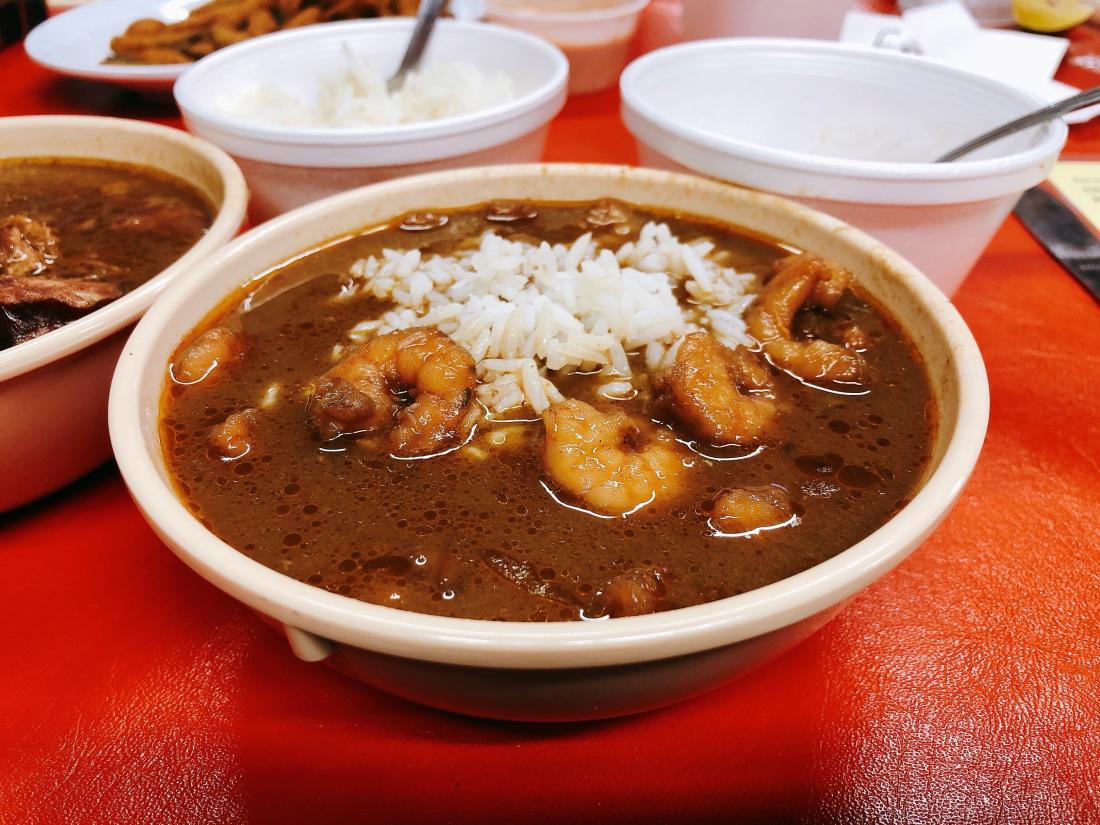 Seafood Palace's Seafood Gumbo
Now the next one may surprise you: Mazen's. When we were compiling a list of places to visit, more than a few people told me to head there to try their gumbo. Known for its French New Orleans and Mediterranean-inspired fine dining (and those soufflés!), Mazen's has gotten a lot of things right on its menu. Currently, they only have their seafood gumbo, and their signature chicken and sausage gumbo will hit the menu once it gets colder. Their seafood gumbo is full of crab, shrimp, and crawfish, and it has a nice background of spice. The roux is dark, and the style comes from years of experimenting with Lafayette-inspired techniques. Owner Mazen Hijazi is known to visit with guests regularly, and he takes their input to heart. The gumbo is made fresh daily, and you can tell a lot of love is put into it.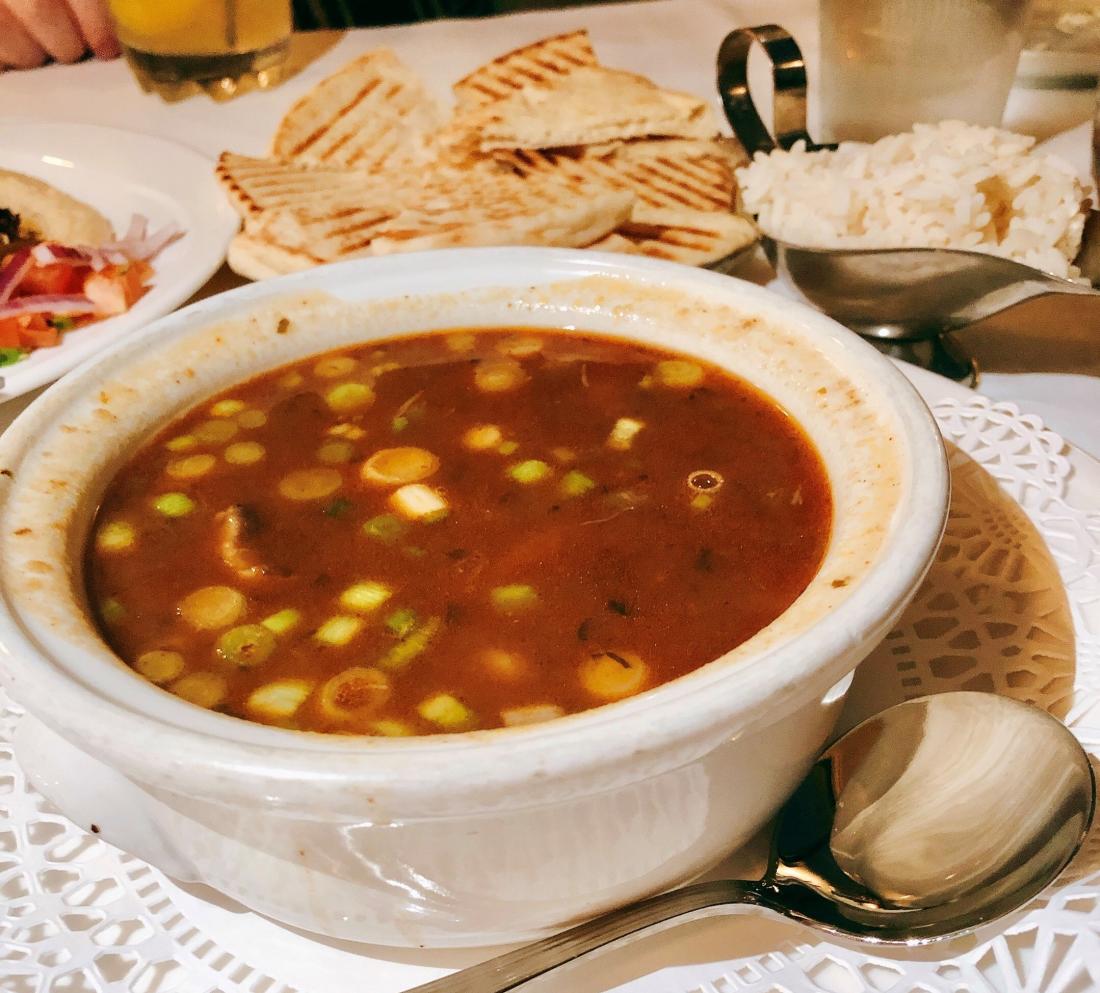 On my gumbo journey, I knew I had to hit one of the best spots. I visited Leonard's Food Quarters to get their renowned chicken and sausage gumbo. This was perhaps the closest to dad's gumbo. When my brother in Baltimore is homesick for Cajun food, my sisters and I send him Leonard's gumbo. The flavor packs a punch with spice, and the right amount of fat is used to enhance it. While it's not a super dark roux, it stands in a great middle-ground of color and thickness. The entire chicken is used, so you get a great balance of dark and light meat without it being overwhelming. The taste is deep, slow-cooked, and made by someone who also uses food as a love language. This felt like a gumbo made at home in a kitchen full of family squabbling about whose roux is better. Leonard's gumbo is just like the restaurant: family-focused with a touch of soul.
Okay, everyone calm down! I know I didn't mention your favorite gumbo spot yet! Our honorable mentions include KD's Diner. You may go there for their 24-hour breakfast, but try their gumbo next time. It's warm, inviting, and soothing, especially at 3 a.m. Landry's Seafood House at Golden Nugget boasts not one but three gumbos on their menu: Creole seafood gumbo with okra and tomatoes, filé seafood gumbo, or the classic chicken and sausage gumbo. If you'd rather pick up some gumbo to heat up at home, visit Hebert's Specialty Meats for their four different gumbos, from chicken and sausage gumbo and seafood gumbo to duck and andouille gumbo and shrimp and okra gumbo.
Now it's time for you to go discover your own favorite gumbo in town! Don't knock it 'til you try it; restaurant gumbo can be aaaalllmost as good as at-home gumbo. You just have to know where to go. Find those places that put their love language into their gumbos – the family-owned restaurants with their own secret recipe that's been passed down for decades. You can taste the love in the roux and in their lit-up faces when you ask about their gumbos.